Dr. Dennis "Denny" E. Hausmann - DVM 1971
Western Veterinary Conference 2015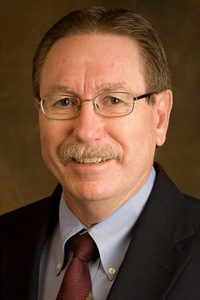 Dr. Dennis "Denny" E. Hausmann, Erie, Colorado, was the recipient of a 2015 Alumni Recognition Award presented Feb. 16, 2015 at the Western Veterinary Conference in Las Vegas in recognition of his career in veterinary medicine and for having served as an exemplary role model for future alumni in a professional and community setting.
Dr. Hausmann was born in Mitchell, South Dakota, and grew up in Bonesteel, South Dakota. He attended South Dakota State University from 1963 to 1965. He later attended Kansas State University where he earned a Doctor of Veterinary Medicine degree in 1971.
From 1971 to 1987, Dr. Hausmann was in private clinical practice in South Dakota. In 1987, he moved to Colorado and conducted equine appraisals for Rocky Mountain Equine Appraisal until 1989. From 1989 to 2012, Dr. Hausmann was involved in technical services with various nutritional and pharmaceutical companies. During that time Dr. Hausmann had the opportunity to speak in several foreign countries. He retired from Merck Animal Health in June 2012. Although retired, Dr. Hausmann is currently consulting part-time for several companies.
"I'm very grateful to receive this award," Dr. Hausmann said. "Any contribution I have made to veterinary medicine is because I have been blessed to work with knowledgeable, professional people. I'm indebted to my family, my clients in practice and the numerous veterinarians and nutritionists I have been associated with over the span of my veterinary career for the guidance they have given me. I'm very proud to be a K-Stater and especially to be a K-State veterinarian."
"We are very pleased to recognize Dr. Hausmann and his lifelong dedication to the veterinary profession," said Dr. Ralph C. Richardson, dean of the College of Veterinary Medicine. "We feel the scope of Dr. Hausmann's career, in both private practice and in the nutrition and pharmaceutical industry, helps demonstrate the value of the broad-based education provided at Kansas State University. We hold him up as a fine example of character and commitment for future generations of veterinarians to follow."
Dr. Hausmann is a member of the Colorado Veterinary Medical Association, and American Association of Bovine Practitioners. He is also a member of the Academy of Veterinary Consultants and has served on its public relations/sponsorship committee.
Dr. Hausmann and his wife, Nancy, have two children: Michael and Kelly.