Drs. John Harvey and Mark Skeels
Drs. John Harvey and Mark Skeels to Receive K-State Alumni Recognition Awards
Manhattan -- Two graduates of Kansas State University's College of Veterinary Medicine were recognized by K-State's Veterinary Medical Alumni Association.

Dr. John W. Harvey and Dr. Mark N. Skeels received Alumni Recognition Awards at the K-State alumni reception held in conjunction with the North American Veterinary Conference. The awards ceremony took place January 13, 2002 in Orlando, Florida. The veterinarians were recognized for time and effort devoted to advancing the profession of veterinary medicine and for being exemplary role models for future alumni of the College of Veterinary Medicine at Kansas State University.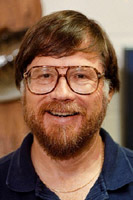 Originally from the southwest Kansas town of Hugoton, Dr. John W. Harvey earned a bachelor's degree in 1969 and a doctor of veterinary medicine degree in 1970, both from K-State. He went on to earn a PhD from the University of California-Davis in 1974. He has been board certified by the American College of Veterinary Pathologists (Clinical Pathology) since 1977.
Joining the faculty at the University of Florida as an assistant professor in 1974, he quickly rose through the ranks to associate professor in 1979 and full professor in 1984. He currently serves in both faculty and clinical service positions at the University of Florida: professor of clinical pathology and chairman in the Department of Physiological Sciences and clinical pathologist in the Veterinary Health Center. His expertise and research interests are comparative hematology and erythrocyte metabolism. Impressively, Dr. Harvey discovered and named the Ehrlichia platys organism that infects dog platelets and, along with coworkers, first recognized and reported four different inherited erythrocyte enzyme deficiencies.
Dr. Harvey has received several honors and awards for his contributions to the veterinary profession. The University of Florida recognized him as the recipient of the Daniels Pharmaceuticals Senior Clinical Investigator Award in 1993 and as the recipient of the Norden Distinguished Teacher Award in 1984. He was the recipient of the C.L. Davis Foundation Journal Scholarship Award in 1991.
Dr. Harvey is a former president of the American Society for Veterinary Clinical Pathology, and he also served a four-year term on the Morris Animal Foundation Scientific Advisory Board. He served on a number of editorial boards including Comparative Hematology International, a position he began in 1990. Other professional involvements include the American Veterinary Medical Association, Florida Veterinary Medical Association, American College of Veterinary Pathologists and American Society of Hematology.
Throughout his distinguished career, Dr. Harvey has published over 120 journal articles and book chapters concerning comparative hematology. He has presented more than 170 scientific and continuing education talks and seminars. Dr. Harvey is also a coeditor of a textbook "Clinical Biochemistry of Domestic Animals, 5th edition" and coauthor of a second textbook "Clinical Laboratory Medicine, Interpretation and Diagnosis, 2nd edition." He recently authored a color atlas titled "Atlas of Veterinary Hematology, Blood and Bone Marrow of Domestic Animals."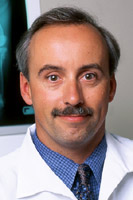 Originally from Mendham, N.J., Dr. Mark N. Skeels earned a bachelor's degree in Animal Science and Industry in 1981 and a doctor of veterinary medicine degree in 1986 from K-State. As a veterinary student, Dr. Skeels earned the Weide Award for Proficiency and Performance in Veterinary Diagnostic Medicine in 1983 and the Excellence in Equine Reproduction in Clinical Practice award shortly before graduation.
Soon after, he began Veterinary Imaging Associates to perform ultrasound exams in nearly 300 hospitals across the New Jersey and New York area. By 1994 the practice grew to five doctors and other mobile sonographers. It became the largest mobile ultrasound practice of its kind.
In 1995, Dr. Skeels extended transtelephonic ECG services to nearly 1,500 hospitals across the nation. By utilizing current technology and up to 32 board certified specialists to perform remote consultations on cases in 40 states, Veterinary Imaging became the largest telemedicine consulting group just a few years later.
In 2000 Dr. Skeels merged his company with Sound Technologies, one of his largest users of telemedicine services. The merger enabled mobile ultrasound services to go nationwide and reach eight other major cities. Dr. Skeels' current role with Sound Technologies is chief medical director and manager of veterinary mobile services. The company now employs 120 workers and consultants in 20 states.
Dr. Skeels is also involved in two other business ventures. He is an owner of the soon to be completed Veterinary Imaging and Radiation therapy facility in Clifton, N.J. This facility will provide MRI and CT imaging as well as radiation therapy to the New York and New Jersey metropolitan areas. This is the first facility of its kind to be 100 percent dedicated to animals. Dr. Skeels is also the co-founder of HyperCat, a franchise organization providing radiation treatment for cats with hyperthyroid disease.
Dr. Skeels is on the board of directors for the non-profit Society of Aquatic Veterinary Medicine, which provides education seminars around the world on marine and land based animal issues. He plays an active role in numerous professional organizations including the American Veterinary Medical Association, New Jersey Veterinary Medical Association, Metropolitan New Jersey Veterinary Medical Association and Northern New Jersey Veterinary Medical Association.
Dr. Skeels and his wife Shelli, a 1985 graduate of the K-State College of Veterinary Medicine and owner of Montville Animal Hospital, live in the Pocono mountains of New Jersey and are active members of the their yacht club and water-ski groups. They spend most of their vacation time traveling throughout the world on ecotravel and scuba diving excursions.
The K-State College of Veterinary Medicine is proud to have such outstanding alumni represent our institution and the veterinary profession. Congratulations!