Dr. Russell Hardin - DVM 1946
American Veterinary Medical Association 2017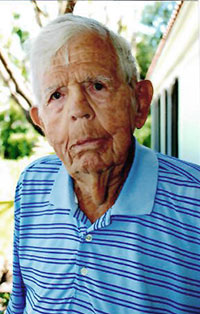 Dr. Russell Hardin, Lebanon, Indiana, has been selected by the Kansas State University College of Veterinary Medicine and its Veterinary Medical Alumni Association for the 2017 Alumni Recognition Award to be presented during the annual convention of the American Veterinary Medical Association (AVMA) in Indianapolis, Indiana, on July 21. This award is given to veterinarians whose careers have served as exemplary role models for future alumni in a professional and community setting.
Dr. Hardin was six credit hours from earning a bachelor's degree from Purdue University when he was drafted to the U.S. Army in 1942. He was sent to camp Robinson, Little Rock, Arkansas, for 13 weeks of basic training then sent to Ft. Bliss in El Paso, Texas. Dr. Hardin was asked to apply for the Army Specialized Training Program to study veterinary medicine and was the only one without a degree to be accepted. In 1944, he was stationed in Fort Riley, Kansas, to earn a Doctor of Veterinary Medicine degree from Kansas State University. While at K-State, Dr. Hardin was a member of the football team for two years and was the team captain in 1945. Dr. Hardin completed his DVM in January 1946 and then moved to Lebanon, Indiana, to practice veterinary medicine, where he established the Lebanon Veterinary Clinic in 1948.
After 35 years of practice Dr. Hardin retired and sold his practice to his colleagues, Dr. Paul Nordman and Dr. David Hawkins. He continues to be active in farming on his large hog farm with 600 acres of beans and corn.
"If I had my life to do over again, I would still choose to be a veterinarian," said Dr. Hardin.
"Dr. Hardin has devoted his lifetime to providing outstanding service to the profession, to his country and his community," said Dr. Tammy Beckham, dean of the college. "We are very proud to take this opportunity to present this recognition award to Dr. Hardin, and hope that he will be an inspiration for the veterinarians of the future."
Dr. Hardin professional involvement includes: AVMA; Indiana Veterinary Medical Association; past president of Purdue Agriculture Alumni Association; representative on Purdue Board of Trustees; Indiana State Veterinary Exam Board and received certification of Distinction from Purdue, 1990.
Dr. Hardin's civic involvement includes: sergeant in the Army; First Presbyterian Church of Lebanon, member, past deacon and elder; American Legion member; Chef-De-Gar; Masonic Lodge; Lebanon Rotary member, 32 years of perfect attendance, president 1957-1958; Paul Harris Fellow; Ulen Country Club board of directors; United Fund Chairman for Boone County;
member of John Purdue Club; Natural Resources Commission; Senator Richard Lugar Campaign Chairman in Boone County; Distinguished Jaycee Services Award, Boone County, 1980; Lebanon School Board; Lebanon School Board state president, 1971-1972; Lebanon City Council; Elks Lodge; Union Federal Savings and Loan Association board of directors and chairman of board, 1987-88.