Dr. H. Alan Hallman - DVM 1985
Western Veterinary Conference 2022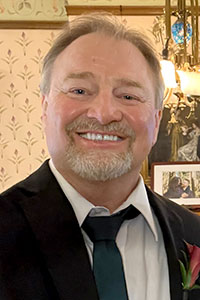 Dr. H. Alan Hallman, Star Valley, Arizona, has been selected by the Kansas State University College of Veterinary Medicine and its Veterinary Medical Alumni Association to receive a 2022 Alumni Recognition Award. The award is presented March 6 in conjunction with the Western Veterinary Conference in Las Vegas in recognition of his career in veterinary medicine and for having served as an exemplary role model for future alumni in a professional and community setting.
Dr. Hallman did his undergraduate work at the University of Wyoming. He received his Doctor of Veterinary Medicine from Kansas State University in 1985. Dr. Hallman opened Star Valley Veterinary Clinic in May of 1985, where he continues to practice today.
"I have truly learned how to enjoy practice and I enjoy my clients more than ever," Dr. Hallman said. "I have been blessed to have able to mentor many veterinary students and new grads, and have learned as much from then as they have learned from me. It's a real honor to receive this award from my alma mater. It is heartening to know that I am in a profession that will allow me to work as long as I am physically and mentally capable."
"Dr. Hallman has had a varied career and has served not only in a longtime veterinary practice, but also as a mentor and community leader," said Dr. Bonnie Rush, dean of the College of Veterinary Medicine. "His passion and commitment serve as great examples of what veterinary students can strive for in their own careers. The Western Veterinary Conference provides an excellent opportunity for us to recognize Dr. Hallman among his former classmates, colleagues and peers."
Dr. Hallman has been a consulting veterinarian for the Humane Society of Central Arizona, Payson Pro Rodeo, Payson Zoo, Payson Natural Resources Committee, and the Arizona Game and Fish Department.
Sled dog medicine is a passion of Dr. Hallman's, and he has been vetting sled dog races in Alaska and Canada since 1994, including the Yukon Quest 1,000 mile race and the Copper Basin 300. He served as the Yukon Quest Head Veterinarian in 1996, 1997 and again in 2010. Dr. Hallman has been on the board of International Veterinary Sled Dog Medical Association since 2015. Dr. Hallman has served as a race veterinarian at the John Beargrease sled dog race in northern Minnesota, the Scandinavian International Stage Stop Race in Sweden, the Iditarod in Alaska and the Wyoming Stage Stop Race.
Dr. Hallman is a member of the Alaska Veterinary Medical Association, Arizona Veterinary Medical Association, American Veterinary Medical Association and International Sled Dog Veterinary Medical Association, the last of which he served as a board member from 2015 to 2021.
"Sled dog medicine opened a whole new set of doors," Dr. Hallman said. "I am a proponent of continued research and studies into what makes the sled dog the world's premier athlete. Adventure travel in Alaska and in the continental U.S. and worldwide, still fascinates me."
Dr. Hallman's personal interests include hiking, travel, photography and volunteer work.