Dr. Samuel L. Graham - DVM 1959
Central Veterinary Conference 2005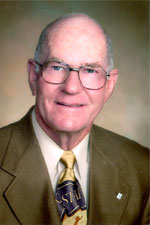 A state public health veterinarian and alumnus of the Kansas State University College of Veterinary Medicine was honored for his service to his profession and for being an exemplary role model.
Dr. Samuel L. Graham, Kingman, KS., was named by the College of Veterinary Medicine and its Veterinary Medical Alumni Association to receive an Alumni Recognition Award. The award was presented by Dean Ralph Richardson at a reception on Aug. 27, 2005 during the Central Veterinary Conference in Kansas City, MO.
Graham has been employed by the Kansas Department of Animal Health since 1988. As a state field veterinarian, he is responsible for investigating reports of livestock disease and works with county officials to quarantine and eliminate the disease. Currently, Graham spends about half his time working with 23 counties in southwest Kansas to establish local emergency management response teams. The teams are trained to isolate and control disease in the event of an animal disease outbreak.
After receiving his doctor of veterinary medicine degree in 1959, Graham joined the United States Army Veterinary Corps, serving as the officer in charge of the animal colony's division of laboratory and surgery at the Army Chemical Center in Edgewood, MD. In 1961, Graham returned to Kansas where he operated a large animal veterinary practice in Kingman for 27 years.
He said he enjoyed his many years in private practice and still values the efforts of the local veterinarians who help state officials maintain animal health in Kansas. "I don't think there is anything more rewarding than general practice because you are on the front line," Graham noted.
Graham received foreign-animal disease training at Plum Island, New York, where he studied major livestock diseases such as brucellosis, tuberculosis, pseudorabies, scrapie and infectious anemia. During Graham's tenure with the Kansas Animal Health Department, the three primary animal diseases – brucellosis, tuberculosis and pseudorabies – were eradicated from the state. Kansas is now ranked in the top five states in the country in regard to animal disease preparedness. "The fact that we can see results from what we're doing in disease control and eradication is rewarding," Graham said.
Graham has been involved in many professional and civic organizations during his career. As a member of the Kansas Veterinary Medical Association, he has held offices as South-Central District Trustee, and served as chair for the Ethics and Food Safety Committee. He is a member of the American Veterinary Medical Association and a former member of the American Association of Bovine Practitioners. Graham is also the editor of the Animal Health News, a quarterly newsletter informing state livestock producers of regulations relating to the industry on state, national and international levels.
Graham and wife of 47 years, Dorothy, are active members of the First Presbyterian Church of Kingman. In his free time, Graham enjoys woodworking, golf, fishing and most importantly, spending time with his family.