The Gigstad Family
Nebraska Veterinary Medical Association Conference 2003
An extended family including four Gigstad veterinarians, all graduates of Kansas State University's College of Veterinary Medicine, were recognized by K-State's Veterinary Medical Alumni Association. Family members received their awards at the Nebraska Veterinary Medical Association Annual Winter Meeting banquet, at the Embassy Suites Hotel in Omaha, on January 14, 2003. The award is given in thanks and acknowledgement of time and effort devoted to advancing the profession of veterinary medicine and for being exemplary role models for future alumni of the College of Veterinary Medicine at Kansas State University.
With brothers Dr. Alfred O., and Dr. Dale C. Gigstad's graduations from Kansas State University's College of Veterinary Medicine in 1954 and 55 respectively, a monumental amount of animal healthcare, research and community acclaim was initiated. The brothers' interest in veterinary medicine was originally kindled by their maternal grandfather Frank Linnscott, and their mother Irene. In 1898 Frank attended Kansas State College in Manhattan for two years, before transferring to a school in Toronto, Canada, where he finished his DVM. He came back to Ottawa, Kansas where he practiced a year before moving to Farmington, Kansas to take over the family farm. He had a lifelong interest in horses and helped generate the family interest in Veterinary Medicine. The boys mother Irene helped pass this interest along to her sons.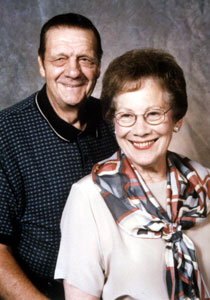 Dr. Al Gigstad met his wife Roberta, KSU '52, Human Ecology, during his fifth year of school, marrying her later that year. In raising four children, they inspired the oldest and youngest to pursue veterinary medicine at K-State. Sons, Dr. Alfred O. "Orval" Gigstad III, KSU '76 works at the Syracuse, Nebraska office and Dr. James F. Gigstad, KSU '93 works at the Nebraska City office of the Arbor Valley Veterinary Clinics started by their father in 1957. Second son Robert E. Gigstad, attended K-State and now farms his maternal grandmother's family farm near Garnett, Kansas and daughter Cheryl, who also attended K-State, is now production manager at the EXEL (Empak) plant in Nebraska City.
After graduating with his DVM degree, Dr. Al Gigstad worked in an Atchison, Kansas clinic before spending two years with the United State Army in Chicago. For Dr. Gigstad, the following years saw hard work in both profession and community. He has been a member the American Veterinary Medical Association (AVMA) and the Nebraska Veterinary Medical Association (NVMA) since 1957. He served as representative member of the Agriculture Council of Nebraska, as chair of the NVMA Nutritional Committee, NVMA District Chair, Co-Chair of the NVMA Centennial Celebration Committee and member of the Nebraska Board of Examiners in Veterinary Medicine.
Community involvement for Dr. Al Gigstad over his career included committee work, chairmanships and appointments to many government, civic, business and service organizations, many of which he is still active. These organizations include: Director of the Otoe County Bank and Trust, Rotary International, the Elks Lodge, First Christian Church of Nebraska City, Nebraska City Jaycees, Nebraska City Chamber of Commerce, Otoe County Historical Society, Nebraska City Board of Education, Nebraska Boy Scouts Advisory Council, Nebraska Water Resources Association Board, Chair, Nebraska Water Advisory Board, Rural Water Dist. #1, Nebraska City, Nebraska Public Advisory Commission for Natural Resources, Nebraska Water Congress, Nebraska Rural Development Commission, the Nebraska Boundary Commission, Board Member representing Otoe County on the 5-Rivers Resource, Conservation and Development Board. Dr. Al has also volunteered extensively at Peru State College, Peru, Nebraska, serving on the Board of Trustees for Nebraska State Colleges.
Dr. Al Gigstad was also elected to public office many times, three times as Mayor of Nebraska City, once as Director on the Nemaha Natural Resources District Commission and once as Nebraska City Parks Commissioner.
Dr. Gigstad currently takes care of a pure-bred angus herd, cultivates 3 ½ acres of grapes, which ties in with his serving on the South East Nebraska Alternate Crops Council and he is working hard to help develop a co-op winery in Nebraska City.
"I have to do something to keep retirement interesting," Dr. Al exclaimed.
Dr. Al and Roberta Gigstad live in Nebraska City. They are far from retired, with Dr. Al supporting rural southeast Nebraska, the Arbor Valley Veterinary Clinics and his wife Roberta at his side, at home or at the office, supporting him, the family, keeping books at the clinic and much, much more.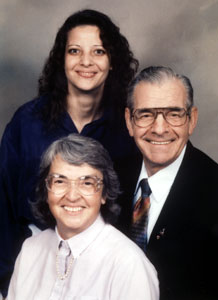 The year before his graduation Dr. Dale C. Gigstad married Patricia Dittemore from Robinson, Kansas. After graduation he took a brief job as USDA veterinary meat inspector in St. Joseph, Missouri and then did a two year stint with the United States Army from 1955 to 1957. These events had a profound influence on his career. "The time we spent at the Army Medical Laboratory in McPherson, Georgia sparked an interest in research that never wavered for Dale," noted Pat Gigstad. The two early government veterinarian jobs inaugurated a civil service research career that would span 35 years.
Dr. Dale and Pat raised four children. The oldest daughter, Martha Taylor and her husband Ken work together, serving international students in Campus Bible Missions at Miami University in Miami, Florida. Second daughter Joyce Gigstad-Stanton and her husband Doug live and work in Aurora, Illinois. Michael Gigstad spent four years in the Marines before graduating from Iowa State and is now Assistant Facilities Director with the school. The youngest, Mary Gigstad, has a degree in art from the University of Maryland and lives and works in Olathe, Kansas.
After the Army, Dr. Dale Gigstad worked at several locations as field veterinarian and USDA meat inspector before moving the family to Ames, Iowa. There he took a job with the National Veterinary Services Laboratories (NVSL) as staff pathologist and studied for a master's degree in pathology at Iowa State University College of Veterinary Medicine, where he graduated in 1970. The NVSL falls under the United States Department of Agriculture, "APHIS" or Animal & Plant Health Inspection Service.
A professional highlight for Dr. Gigstad after graduation in 1970 was spending a year at the Plum Island Animal Disease Laboratory in Greenport Long Island, New York, for training in foreign animal diseases. Coming home to Ames, he continued as a pathologist with the NVSL until 1973 when he took the Training Officer position. "Dale's being a real people person made this position a natural for him," added Pat. He took a similar position with the Hyattsville, Maryland NVSL facility, moving there in 1984, where he retired in 1989. He also worked on the Hyattsville NVSL Domestic and Swine Disease programs.
Pat Gigstad also retired in 1989 after a career as a school teacher, serving as Wing Commander of the Iowa Civil Air Patrol, as Director of the Youth Services Bureau in Ames, Iowa, and as Episcopal Church Secretary in Hyattsville, Maryland.
Upon retiring Dr. and Mrs. Gigstad moved to Olathe, Kansas to help in the care for Dr. Gigstad's parents. They spent their retirement time together, doting over their five grandchildren, keeping in touch with friends and attending civic and fraternal meetings. Charity interests for them include fund-raising for the Shrine Hospitals for Children and the Kansas City Zoo. Dr. Dale Gigstad passed away in March of 2000.
In 1976, Dr. Alfred O. "Orval" Gigstad, III, oldest son of Dr. Al and Roberta, graduated with his DVM, married his wife Carolyn and moved to Syracuse, Nebraska to work with his father and manage a satellite of the Arbor Valley Animal Clinic in Syracuse. He has also been Inspector at the Southeast Nebraska Livestock Sales in Syracuse since 1980.
He and his wife Carolyn have two children; son Grady attends the University of Nebraska-Kearney and daughter Amber attends the Syracuse-Dunbar-Avoca High School.
Dr. Orval Gigstad, like his father has been very active in both profession and community. He is an AVMA member, NVMA member, past NVMA District Director and Committee Chair, President Elect of the NVMA (he will take office at the January 2003 meeting), American Association of Bovine Practice (AABP) member and an American Association of Small Ruminant Practitioners (AASRP) member.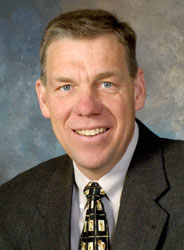 Dr. Orval has been active locally in his community organizations including: the United Methodist Church of Syracuse, 4-H Club, Syracuse Chamber of Commerce President and Nemaha NRD Board of Directors. He has also worked with many Nebraska State organizations including: Past President of the Nebraska Jaycees, President of the Nebraska Association of Resource Districts, Alternate Delegate for the National Association of Conservation Districts and Nebraska Water Policy Committee member.
Dr. James F. Gigstad finished his DVM at Kansas State University and moved back to Nebraska City in 1993. He and his wife Tammie were married in 1996 and have a daughter Anna, born in 2000.
Jim and his brother Orval are partners in the mixed practice, Arbor Valley Animal Clinics of Nebraska City and Syracuse, Nebraska. "After two bouts with cancer, Al needed to slow down a little--having the boys come back was great," said their mother Roberta, who still does the company accounting, "Kids don't always come back to the hometown to live and work."
Volunteerism and professional involvement in his career have Jim busy with memberships in the AVMA and NVMA. In the community he naturally follows family footsteps being past President of the Nebraska City, Elks Lodge, is current President of the Nebraska City Rotary Club, a member and past trustee of the First Christian Church of Nebraska City and is an active volunteer for the FFA and 4-H clubs.
The Kansas State College of Veterinary Medicine is proud to have such outstanding alumni represent our institution and the veterinary profession. Communities and the profession of veterinary medicine cannot be better served than by families like the Gigstad family.