Dr. Megan M. Ehlers - DVM 1999
Nebraska Veterinary Medical Association 2013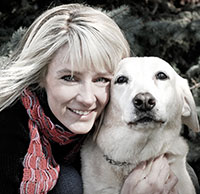 Dr. Megan M. Ehlers, Lincoln, Neb., was the recipient of the 2013 Alumni Recognition Award for the winter meeting of the Nebraska Veterinary Medical Association on Jan. 25 at Kearney, Neb. The award was presented in recognition for the time and effort devoted to advancing veterinary medicine and for being an exemplary role model for future alumni in a professional and community setting.
Dr. Ehlers has practiced small animal medicine since earning her DVM from K-State in 1999. For eight years she was part-owner of a practice. While there, she specialized in orthopedics, oncology and rehabilitation. Dr. Ehlers described the core of her practice to be the human-animal bond, determining that quality medicine follows true concern for the animals. In 2007, with the help of her classmate Dr. Kevin Christensen, Dr. Ehlers organized an emergency hospital in Lincoln. She served on the board of directors for this clinic for its first five years. Last year, she left her previous practice and opened a small clinic of her own.
"It doesn't matter whether it is a couple without kids who treat their pet as their child, an elderly man who has a dog as his primary companion or a hunter with his dog, each relationship is special and moving," Dr. Ehlers said. "I could never say that I love animals more than someone else, but I do appreciate and empathize with the emotional connection that people have with their pets. And that is the reason why I love practicing veterinary medicine."
"Dr. Ehlers' professionalism, vision, energy and dynamic personality have helped make her a valued leader in her community," said Dr. Ralph C. Richardson, dean of the College of Veterinary Medicine. "Dr. Ehlers is part of a very large group of K-State alumni who practice veterinary medicine in the state of Nebraska, so we're very proud of how she has represented herself through her career as well as our college, the university and our profession."
Dr. Ehlers and her husband, Britt, recently founded the nonprofit organization Runners with a Reason. The organization motivates hundreds of runners to raise money for their passions. Over the past five years, runners associated with the organization have raised more than $150,000 for local and national charities. She has coached multiple sports teams, at both Hill Elementary School and the local YMCA, and has dedicated much of her time to helping at-risk children through mentorships and urban ministries. In addition, Dr. Ehlers helped the Arbor Day Foundation launch a "Trees for Pets" campaign to memorialize loved pets. The program allows veterinarians to plant a tree in a national forest in memory of a client's pet that has passed. The program has encouraged involvement from hundreds of veterinary practices and tens of thousands of trees have been planted.
Recently, Dr. Ehlers was awarded the Lincoln Business Journal "40 Under 40" Award. This award recognizes 40 Lincoln-area professionals under 40 years of age who are having a notable impact on the community.
Dr. Ehlers is a member of the NVMA and American Animal Hospital Association. She and her husband have two daughters, Elizabeth and Addison, as well as one son, Benjamin.