Dr. Jerry Doornbos - DVM 1962
Western Veterinary Conference 2014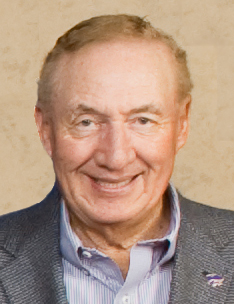 The late Dr. Jerald "Jerry" Doornbos, Scott City, Kan., was selected by the Kansas State University College of Veterinary Medicine and its Veterinary Medical Alumni Association to receive a posthumous 2014 Alumni Recognition Award, presented Feb. 17, 2014 at the Western Veterinary Conference in Las Vegas. This was is in recognition of his career in veterinary medicine and for having served as an exemplary role model for future alumni in a professional and community setting.
Dr. Doornbos was born Aug. 31, 1938 in El Dorado, Kan., the son of H. Clair and Mildred Wilson Doornbos. A lifetime resident of Scott City, Kan., he was a veterinarian, farmer and stockman. He graduated from Kansas State University with a bachelor's degree in 1960 and a Doctor of Veterinary Medicine in 1962. He passed away Jan. 7, 2014, and was preceded in death by his wife, Mary, who passed away in June 2013.
"We are saddened by the loss of Dr. Doornbos," said Dr. Ralph C. Richardson, dean of the College of Veterinary Medicine. "He had a deep affection for his alma mater as well as true passion for the cattle industry and animal health, and we would always count on seeing him and his family throughout the year on their visits to K-State. We celebrate his memory through the presentation of our highest alumni honor to his family."
Dr. Doornbos was active on the board of directors for Farm Credit of Southwest Kansas, Garden City, for more than 20 years. He served on the advisory board for both the K-State Alumni Association and Ahearn Club. He was also a member of the Kansas Livestock Association, Farm House Fraternity, the Kansas Veterinary Medical Association and Scott City Investors Club. Dr. Doornbos served on the Scott County School Board for 10 years including two years as its president.
Dr. Doornbos is survived by a son, Stuart, and daughter, Sara, who both have undergraduate degrees from K-State.