Dr. Merton L. (Cap) Dierks - DVM 1961
Nebraska Veterinary Medical Association Conference 2005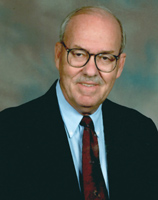 Dr. Merton L. (Cap) Dierks was honored with a 2005 Alumni Recognition Award from the K-State College of Veterinary Medicine. It came in appreciation for his time and effort devoted to advancing veterinary education through the Nebraska legislature and for being an exemplary role model for future alumni.
The award was presented at the banquet during the Nebraska Veterinary Medical Association's annual meeting on Jan. 24, 2005 at the Holiday Inn in Kearney, Nebraska.
Dr. Dierks graduated from the University of Nebraska with a degree in agriculture science in 1954. He obtained his DVM in 1961 from K-State.
As a dynamic member in the community Dr. Dierks sits on the Ewing Board of Education and remains active with the Nebraska Veterinary Medical Association. Dr. Dierks' community involvement over the years includes being on St. Anthony's Hospital Board of Directors and serving as president for the Nebraska Veterinary Medical Association.
1986 was a pivotal year for Dr. Dierks. He was named veterinarian of the year and was elected to the Nebraska senate, a post held for an impressive 16 years. While in the senate Dr. Dierks helped found the Organization for Competitive Markets and was chairman of the agriculture committee. In addition, Dr. Dierks co-owned the O'Neill Veterinary Clinic for 19 years until his retirement in 1992. Growing up on his family's Ewing ranch, which he currently owns and manages, fueled his desire to work with animals.
"I became enamored with the suggestion of being a veterinarian, thinking it would be a challenge," Dr. Dierks says of his desire to become a veterinarian. He provides the veterinary care for all of his own animals in addition to lending a helping hand to neighbors with their animals.
He and wife Gloria, also a K-State graduate, have been married for 46 years. The Dierks have four children and 11 grandchildren and the entire family carries strong ties to animals. The couple's oldest son, Jon, is a veterinarian, and son Christopher lives and works on the family ranch. Their son Thomas is a social worker in Lincoln, Neb. and their daughter, Stephanie, is a registered nurse and married a veterinarian.
"It makes for interesting dinnertime conversations," says Dr. Dierks about his family.
Retiring didn't mean stopping for Dr. Dierks. He actively lobby's the state legislature on issues pertaining to food safety and large animal medicine. In reflecting on his life and career Dr. Dierks said "I wouldn't change anything, I would do it all the same if I had to do it all over again."