Dr. Osmundo Castilla - DVM 1966
Veterinary Meeting & Expo 2020 (formerly NAVC)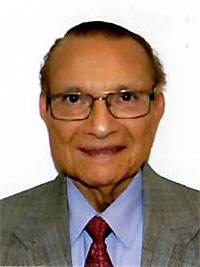 Dr. Osmundo Castilla, Miami, Florida, was selected by the Kansas State University College of Veterinary Medicine's Alumni Association for its 2020 Alumni Recognition Award presented Jan. 19, 2020 in Orlando, Florida, during the annual Veterinary Meeting and Expo. The award is given to veterinarians whose careers have served as exemplary role models for future alumni in a professional and community setting.
Originally from Juigalpa, Nicaragua, Dr. Castilla graduated cum laude with a bachelor's degree in 1964 and his Doctor of Veterinary Medicine degree in 1966, both from Kansas State University. He also earned a master's degree from Cornell University in Ithaca, New York, in 1973.
Dr. Castilla retired in 2016 as senior staff veterinarian for the National Center for Import and Export (now Strategy and Policy) for Veterinary Services in the USDA's Animal and Plant Health Inspection Service in Riverdale, Maryland. He was responsible for designing, negotiating and implementing the animal export policy of the USDA for the Americas and Caribbean. He was also an adviser to the USDA's Area Veterinarian in Charge offices on certification of animals and germplasm for International trade.
"Dr. Castilla has enjoyed a unique veterinary career involving global trade and regulatory veterinary medicine,"said Dr. Bonnie Rush, dean of the veterinary college. "Through this award, we are honoring Dr. Castilla's exemplary service while inspiring future veterinarians to pursue a variety of careers in veterinary medicine and public service."
"This alumni recognition award makes evident the dedicated work that I have done in the United States, Nicaragua, Central and South America, the Caribbean and Africa for the development of veterinary medicine as a component of international trade, particularly in developing countries," Dr. Castilla said. "I am grateful in receiving this award."
Dr. Castilla's career also includes service as the extension veterinarian, senior agriculturalist and credit analyst in his home country of Nicaragua. He is a member of the American Veterinary Medical Association, National Association of Federal Veterinarians and Nicaraguan Veterinary Medical Association.
Dr. Castilla is also a member of the Veterinary Medical Alumni Association at Kansas State University; the alumni association at Cornell University; Alpha Zeta; Gamma Sigma Delta; Volunteers in Technical Assistance, Arlington, Virginia. He is a member at large for the Citizens' Advisory Council of the Fairfax County Chief of Police, Fairfax City, Virginia.
Dr. Castilla and his wife Lina have three children: Carlo, Franco and Sussy.