Dr. James West Carlson - DVM 1959
Nebraska Veterinary Medical Association Conference 2008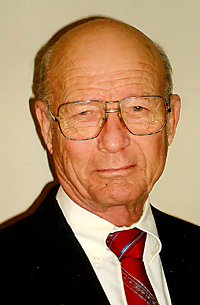 Dr. James West Carlson, Crofton, Neb., was selected by the Kansas State University College of Veterinary Medicine and its Veterinary Medical Alumni Association to receive a 2008 Alumni Recognition Award on Jan. 25, 2008. The award is in recognition for time and effort devoted to advancing veterinary medicine and for being an exemplary role model for future alumni in a professional and community setting.
Dr. Carlson earned a bachelor's degree in 1957 and a DVM in 1959, both at Kansas State University. He had a private mixed practice in Crofton from 1959 to 1985. Dr. Carlson was a member, past director and district representative in the Nebraska Veterinary Medical Association (NVMA). He has been a member of the AVMA since 1959.
"We're proud to recognize Dr. Carlson, not only for his veterinary service, but for his accomplishments beyond veterinary medicine," said Ralph Richardson, dean of the K State College of Veterinary Medicine. "His involvement and service in the Boy Scouts, as well as his time with the National Rifle Association, are extremely noteworthy achievements."
"I consider this quite an honor in view of the other recipients who have been so honored over the years," Dr. Carlson said. "It is indeed humbling to be included in such a group of individuals. I think back on my time at K-State with a great deal of pleasure. I feel very lucky to have attended such a great institution. My education at K-State prepared me well for the life that I have been fortunate enough to lead, both professionally and otherwise. I will always be grateful to the staff for their guidance and help."
One of Dr. Carlson's hobbies has turned into a second career. Beginning in 1971, he became involved in firearms parts manufacturing and sporting goods sales. In addition he is a consultant in the muzzle loading firearms field, since 1974.
Dr. Carlson has written three books on elementary muzzle loading firearm shooting. He was the technical editor of Black Powder hunting magazine; editor of Black Powder for Gun Digest Publications; Technical Editor for Muzzleloader magazine; and editor for New Products for Muzzle Blasts magazine.
From 1976 to 1996, Dr. Carlson was the director of the National Rifle Association in Washington, D.C. He was director of the National Muzzleloading Rifle Association, in Friendship, Ind., from 1977 to 1987.
Dr. Carlson was also involved in several community activities including scout master for the Boys Scouts of America in Crofton from 1960 to 1975. He was director of the Nebraska State Historical Society in Lincoln from 1982-1988, and has been a member of the Museum of the Fur Trade, on its board of directors since 2002. Dr. Carlson also has served as a volunteer fireman and rescue worker since 1960 (he held all offices from captain to chief).
Dr. Carlson and his wife, DeMarus, have two children: Scott and Sheryl.