Dr. Sondra Brown - DVM 1993
North American Veterinary Conference 2016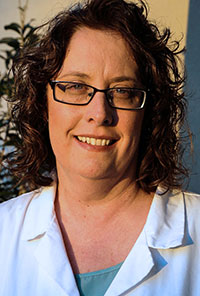 Dr. Sondra Brown, Tallahassee, Florida, was selected to receive a 2016 Alumni Recognition Award at the North American Veterinary Conference in Orlando, Florida on Jan. 17, 2016.
Dr. Brown, originally from Larned, Kansas, received a bachelor's degree in biological science/pre-vet in 1989, a DVM in 1993, and a master's degree in veterinary pathology in 1995, all at Kansas State University. She and her husband, Greg, moved to Montreal, Canada, in 1995 where her husband had a post-doctoral position at McGill University there. In 1997, the Browns moved to Tallahassee where she started working as an associate veterinarian at Northwood Animal Hospital. In January 2000, Dr. Brown and two partners bought Northwood Animal Hospital. In 2005, they bought another clinic, Southwood Animal Hospital, which later was moved and became The Animal Hospital and Pet Resort at Southwood.
"The education and work ethic instilled in me from all my years at Kansas State University helped mold me into the person I am today," Dr. Brown said. "K-State took a small town farm girl and gave me the confidence to be able to live in Montreal, Canada; to preside over a group of professionals in Rotary; to mentor kids who need a little extra attention to keep them out of trouble; to testify in court against perpetrators of animal cruelty; and finally to raise three great children — all while balancing being a busy owner/practitioner. I need to thank my teachers and fellow students for giving me a solid base on which I have built my veterinary career."
"It is a great pleasure to recognize an alumna who is making a tremendous impact in the veterinary profession as well in her local community," said Dr. Tammy Beckham, dean of the College of Veterinary Medicine. "We admire the way Dr. Brown reaches out to young people and champions good animal health and welfare."
Dr. Brown is an active member of Rotary Club of Tallahassee Northside. She was president of the club in 2004-05 and the incoming president for 2016-17. She speaks to groups of all ages about animal care and veterinary medicine.
"I really love mentoring kids interested in the sciences," Dr. Brown said. "For the last 10 years, I have brought in groups of minority students (middle school age) from the Florida State University School of Medicine's SSTRIDE program. These kids get to watch me perform a spay on one of our adoptable cats in hopes of inspiring them to keep their grades up and continue to excel in the sciences. With my M.S. in veterinary pathology, I have been called on by city and county animal control officials specifically for animal cruelty cases and have assisted with live animal exams/necropsies and have been subpoenaed as an expert witness to testify in animal cruelty cases."
Dr. Brown is a member of the American Veterinary Medical Association, American Animal Hospital Association and the Big Bend Veterinary Medical Association. She and her husband have three children: Kirsten, Noah and Ian.