Brothers
Brothers Receive Alumni Recognition Awards
Dr. Marion Szatalowicz | Dr. F.T. "Irish" Satalowich
The K-State College of Veterinary Medicine and Veterinary Medical Alumni Association recognized Dr. Marion Szatalowicz (KSU '51) and his brother Dr. F.T. Satalowich (KSU '61) with 2003 Alumni Recognition Awards. The awards were given in thanks and acknowledgment of time and effort devoted to advancing the profession of veterinary medicine and for being role models for future alumni of the College of Veterinary Medicine of Kansas State University. The awards were presented at the K-State reception held in conjunction with the American Veterinary Medical Association (AVMA) Annual Meeting, Sunday evening, July 20, 2003 at the Adams Mark Hotel in Denver, Colorado.
Dr. Marion T. Szatalowicz (KSU '51) and younger brother Dr. F.T. Satalowich (KSU '61) naturally have a lot in common, even though F.T. changed the spelling of his name when he was in the Air Force. They both grew-up on the family farm in Thorp, Wisconsin, have real estate licenses, graduated from K-State CVM, have the middle name Thomas, from their father, and have been active in their state and national Veterinary Medical Associations (VMAs), both working at the American Veterinary Medical Association (AVMA) national level at the same time. Yet probably the most unique similarity is their having the same incongruous nickname, "Irish", each receiving it for different reasons at different times. For F.T. the nickname stuck and he has been "Irish" for most of his life.
For all these similarities, their careers took decidedly different paths.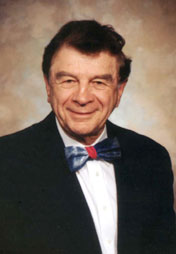 Dr. Marion Szatalowicz
Just out of high school, a 17 year-old Marion Szatalowicz joined the U.S. Army Air Corps, earned his 2nd lieutenant bars, flight engineer's wings and served on active flight duty in B-29's before the end of World War II.
While in flight training in the Aviation Cadet Program at Oklahoma A & M, Marion met Helen Greb, an A & M student and wife to be. Helen had an inkling that Marion wanted to be a veterinarian and began checking on options even before the war was over. Her encouragement and research, along with his farm background and admiration for the family veterinarian in Wisconsin, steered Marion towards K-State's College of Veterinary Medicine and a career with an emphasis on dairy cattle. Helen and Marion were married May 3, 1946 in Manhattan, Kansas. "Helen had the dollar to pay for the marriage license," noted Marion.
After graduation in 1951, they set up a solo, mixed practice in Stanley, Wisconsin, just seven miles from where he grew up. They would raise five children in Stanley, Wisconsin, Victoria, Sharon, Karen, Michael and Philip. He took a partner in 1958 when neighboring veterinarian, Dr. John Thomas, lost his office to a tornado. He had partners during the rest of his 50 plus years in practice. Dr. Szatalowicz brought an extra dimension to his business by becoming licensed as an auctioneer and realtor. He is a member of the state and national organizations for both auctioneers and realtors.
Service to the profession quickly became a passion for Dr. Szatalowicz. He has been an influential member of the Wisconsin, Northwest Wisconsin, Minnesota and Kansas VMAs, as well as the American Association of Bovine Practitioners and the American Association of Small Ruminant Practitioners. He also served as president of the K-State Veterinary Medical Alumni Association.
Dr. Szatalowicz served in many capacities for the AVMA nationally: Executive Board Chair, 1998-1999; District V Representative, 1994-1999; Vice President, 1991-1993; and Wisconsin delegate from 1976-1991. He also served as treasurer of the American Veterinary Medical Foundation, is a member of the United States Animal Health Association (USAHA) and represented the AVMA on the USAHA Governmental Relations Committee.
Dr. Szatalowicz received awards for service including the Distinguished Veterinarian, Meritorious Service and Veterinarian of the Year awards from the Wisconsin VMA. The University of Wisconsin, School of Veterinary Medicine honored Dr. Szatalowicz by dedicating their 13th Annual Graduate Conference to him. He was also honored with service appreciation awards from the Illinois and Indiana VMAs.
Dr. Szatalowicz lost his wife Helen two years ago. He is retired and lives in a house they built in Stanley. "I warm my feet on a fireplace made with Kansas limestone," Dr. Szatalowicz explained. "We just loved Manhattan and wanted a little bit of Kansas here with us in Wisconsin."
Dr. F.T. Irish Satalowich
F.T. Satalowich's early desire to be an architect was easily overcome by veterinary medicine influences. He grew up on the same farm as his brother, watched the same veterinarians make calls at home and as a freshman in high school, rode with his brother making client rounds in his new Wisconsin practice. After high school F.T. was off to K-State to work his way through school.
F.T. washed dishes for meals, became a campus fireman (the job came with a room) and worked as a troubleshooter for the campus power plant. These jobs took him regularly to Aggieville and would require a stop at Palace Drug Store, where hometown girl, Roberta Kuhn, would fix him a cherry coke. Roberta and F.T. dated and were married in 1960, after she graduated with a nurse's degree from Marymount College in Salina. He graduated with his DVM in 1961.
During F.T. Satalowich's third year at CVM, classmates helped persuade a change from food animal to companion animal as his career choice. After graduation, he entered into a mixed animal practice in Kansas City, Kansas. This practitioner had one of two Kansas licenses for the production of pathogen-free pigs. Before the operation could get started, the draft board transformed Dr. Satalowich into 1st Lt. Satalowich, sending him to Holloman AFB in New Mexico for a year before assigning him to overseas duty.
F.T. thought the European Command assignment would be ideal, little did he know that Libya, in North Africa was considered Europe. The joys of the job were taking care of the King of Libya's Arabian horses and the Queen's cats. The next stop was really in Europe where they spent three years in Germany.
Returning stateside, the Air Force offered Dr. Satalowich a Residency in Pathology but thinking that he was more of a people person; he chose instead a career in epidemiology and public health. "For me that was a difficult and landmark decision," Dr. Satalowich said. "The majority of the profession is focused on private clinical practice and if your not doing that, there is something wrong with you, you're not a really veterinarian." The rewards of a great epidemiology and a public health career would diminish this early worry. Dr. Satalowich earned a Master's of Science Degree in Epidemiology and Public Health from the University of Missouri. He completed a Residency in Global Epidemiology at the Armed Forces Institute of Pathology (AFIP) in Washington D.C. and attained a board certification by the American College of Veterinary Preventive Medicine (ACVPM). He then took a staff position at AFIP, where he worked in concert with federal intelligence agencies, evaluating worldwide zoonotic diseases and potential threats to the US involving biological agents.
In 1969, Dr. Satalowich was leased from the Department of the Air Force and attached to the State Department and sent to the World Health Organization's Pan American Health Organization office in Buenos Aires, Argentina, as Epidemiology consultant. There he assisted in developing a rabies surveillance program for the Southern Hemisphere that, among other things, traced the movement of rabies in vampire bats.
Stateside assignments followed at Wright-Patterson AFB in Dayton, Ohio and at NASA at the Johnson Space Center in Houston. At NASA he assisted in pioneering the use of satellites and space technology in tracking the patterns of diseases on a global basis. It was overseas again to Thailand and then a return to the US and Colorado Springs where he completed his military career in 1982.
The Satalowich family doubled in size during time in the Air Force with the additions of sons Thomas and Todd. They and their mother Roberta followed F.T. to five continents and 12 locations during his twenty year career.
After the Air Force, Columbia, Missouri again became home for the family and Dr. Satalowich became Missouri State Public Health Veterinarian and Epidemiologist. Duties included consulting with physicians, hospitals, veterinarians and other health care providers and communities on zoonotic diseases, food safety, and environmental issues.
Putting down roots in Missouri allowed Dr. Satalowich to give back to his profession. He became a member of the Missouri Veterinary Medical Association (MVMA) and more involved in the AVMA. Prior to this time he attended every AVMA convention except when he was overseas. He was involved in scientific sessions providing lectures and setting up seminars on various zoonotic diseases and environmental issues. Dr. Satalowich served in many capacities for the AVMA nationally as: member, Council for Public Relations from 1985-1991, chair in 1990; MVMA State Delegate, 1991-2000; and member House Advisory Committee (HAC) 1993-1999, chair, HAC 1995-1996. He is Past President of the National Association of State Public Health Veterinarians, Past President of the Missouri Livestock and Poultry Health Council. He was Missouri's representative to the American Public Health Association, Member of the National Rabies Compendium and established and chaired the Psittacosis Compendium. He was also a member of the Columbia-Boone County Board of Health from 1984-1995 and chair from 1986-1995. He has been a member of the K-State Veterinary Medical Alumni Association for 40 years, president from 1996-1998 and member of the Kansas State University Alumni Association's Board of Directors.
Significant honors bestowed on Dr. Satalowich are many. They include: Honorary Diplomat of the American Veterinary Epidemiology Society, 2002; Veterinarian of the Year, Missouri Animal Control Association; the Helwig-Jennings Award for significant and lasting contributions to the totality of veterinary preventive medicine, American College of Veterinary Preventative Medicine, 1999; Governor's Proclamation/Commendation for service to the State of Missouri, 1998; and a Special Recognition, American Association of Food Hygiene veterinarians, 1997.
Dr. Satalowich retired in 1998 from the Missouri State Health Department but stepped up his work as Adjunct Professor at CVM University of Missouri, providing lectures and doing Clinical Research Trials on Human Rabies Vaccine until 2001. He is now doing private consultation, but is officially retired. Now I am working hard at developing 50 acres of land close to Columbia. "Dr. Frick always told us to buy land just outside the city limit for retirement purpose," confirms Dr. Satalowich. He and Roberta, who is Director of Nursing for a dialysis clinic, live one half mile outside of Columbia. "I spend my time taking care of the wild rather than domestic animals," explains Dr. Satalowich "It's not Wisconsin or Kansas but with Roberta, the trees, lakes, the animals, and two outstanding sons, it's paradise. My life is complete. I owe a great deal to Kansas State University, all of my instructor, but especially Dr. John Noordsy and of course E.J. Frick"