Dr. Richard Bowman - DVM 1975
American Association of Equine Practitioners 2013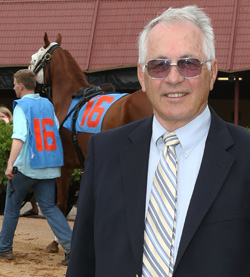 Dr. Richard Bowman, Rhame, N.D., was selected to receive a 2013 Alumni Recognition Award at the American Association of Equine Practitioners (AAEP) annual conference held in Nashville, Tenn., on Dec. 9, 2013.
Dr. Bowman earned a doctor of veterinary medicine degree at Kansas State University in 1975. He became interested in equine dentistry while practicing large animal medicine in southwestern North Dakota. In 2000, he decided to limit his practice to equine dentistry, and began operating a mobile dental unit when he had one of the first dental trailers in the U.S. built. His practice covered North Dakota and Minnesota and other states in the upper Midwest. Dr. Bowman also works as a state veterinarian for the Minnesota Horse Racing Commission at Canterbury Park from May through September each year. He operates a beef ranch with his brother in southwestern North Dakota, and rehabilitates and re-homes injured thoroughbreds.
"This is one of the highest honors a veterinarian can receive from his alma mater for doing something good," Dr. Bowman said. "There were an awful lot of the people selected before me who are terrific people. I'm just proud to be associated with them."
"Dr. Bowman has been recently noted by the AAEP for his 'good works' in rescuing thoroughbreds," said Dr. Ralph Richardson, dean of the College of Veterinary Medicine. "His compassion, bridled with his outstanding service to equine health and the horseracing industry makes him an inspirational role model for future generations of veterinarians."
Dr. Bowman provides a home for around 60-70 ex-racehorses at his family ranch, nicknamed the "Second Chance Ranch." His rescue efforts started several years ago when trainers at Canterbury Park asked for assistance finding new homes for racehorses that were no longer racing. Dr. Bowman's rescued ranch horses receive quality veterinary care and nutrition, with much of the expense coming out of his own pocket. Many of the horses have been placed as police mounts, polo ponies, working ranch horses and riding horses. In addition to receiving the Good Works Award from the AAEP, Dr. Bowman was awarded the Carl Nafzger Thoroughbred Retirement Award from the Minnesota Thoroughbred Association.
Dr. Bowman is a member of the American Veterinary Medical Association and the AAEP, the latter of which he serves on the welfare committee. He has one son, Seth, who is a graduate of North Dakota State University and is deployed in Washington, D.C., in the National Guard.