Dr. William "Billy" Bergin, DVM 1967
American Association of Equine Practitioners 2008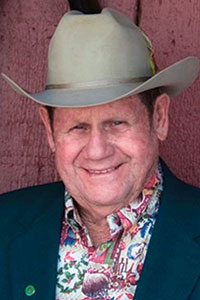 Dr. William "Billy" Bergin, Kamuela, Hawaii, was selected to receive a 2008 Alumni Recognition Award at the American Association of Equine Practitioners annual conference in San Diego, Calif., on Dec. 8, 2008. Dean Ralph Richardson presented the award on behalf of the Kansas State University Veterinary Medical Alumni Association.
Dr. Billy Bergin studied at K-State and received a bachelor's degree in agriculture in 1959, bachelor's degree in biological science in 1965, Doctorate in Veterinary Medicine in 1967 and master's degree in physiology in 1968.
After college, Dr. Bergin established the first purely private veterinary practice in Kealakekua, Hawaii, that within a year grew to include North and South Kohala and Hamakua Districts. In 1981, he built the Case Memorial Veterinary Hospital in Waimea, where four practitioners provide practice to both small and large animals. From 1970 to 1995, he was the lead veterinarian for the Parker Ranch, one of the largest and oldest cattle ranches in the United States.
"It is quite an honor to be recognized by my alma mater," Dr. Bergin said. "The education I got at K-State placed a great emphasis on the practical side of practice. Most of my professors were former practitioners who exposed students to a lot of situations. This later gave me the confidence I needed in being able to take on the responsibility of providing health care for a large operation like the Parker Ranch."
Since 2007, Dr. Bergin has established Aina Holi Animal Hospital in Lalamilo, which is a full service equine health facility.
"The selection of Dr. Billy Bergin for this alumni recognition award is a very natural choice," Dr. Richardson said. "He has enjoyed an extremely productive career working closely with equine health and livestock at the Historic Parker Ranch in Hawaii. Dr. Bergin has also established himself as an exceptional historian, and his books provide a valuable resource to veterinarians and history buffs alike."
Dr. Bergin has held leadership roles in multiple organizations. Early in his career he served as secretary and later chair of the Hawaii State Board of Veterinary Examiners (1974-83), board of directors of the Hawaii Veterinary Medical Association (1974-78), and charter president of the Kohala Chapter of the West Hawaii Humane Society (1975). He served as president of a variety of organizations that include: the National High School Rodeo Association (1999-2000), Hawaii Preparatory Academy Parents' Association (1983), Rotary Club of North Hawaii (1970-1990), and the Hawaii County Police Commission, serving twice as chairperson (1982-1986). He also served on the Board of Regents of the University of Hawaii from 1998 to 2002.
In 1999, Dr. Bergin founded the Paniolo Preservation Society, a nonprofit foundation with the mission of preserving the rich heritage of the livestock industry and ranch life in the Hawaiian Islands. In 2000, he joined the board of directors of the Rodeo Historical Society of the National Cowboy and Western Heritage Museum in Oklahoma City. He has recently been nominated as associate director of the National Cowboy and Western Heritage Museum.
An established author since 2003, Dr. Bergin has written the first two of the four volumes of "Loyal to the Land," and has projected that volume three will be out this year, with the fourth and last volume slated for completion in 2012. Within these four volumes, he covers information about ranch life on the island of Hawaii from 750 A.D. to present day. Dr. Bergin is also a co-author for "Richard Smart of the Legendary Parker Ranch," a biography that will be released in fall 2009. He will release "Horses of Old Hawaii, 1803-1953" in late 2009, a book that chronicles the evolution and development of the horse industry in the Hawaiian Islands.
In addition to historical books, Dr. Bergin has written articles on veterinary medicine that have appeared in the Journal of the American Association of Equine Practitioners, Veterinary Medicine/Small Animal Clinician, Journal of the Hawaii Medical Association, Cornell Veterinarian and Journal of the American Veterinary Medical Association.
Dr. Bergin is currently a member of the American Association of Equine Practitioners, Hawaii Veterinary Medical Association, American Veterinary Medical Association, Hawaii Cattlemen's Association, and National Cattlemen's Beef Association as a charter member. He was a member of the American Association of Bovine Practitioners from 1972 to 1995.
In 1971, he was appointed a veterinary medical officer with the Livestock and Disease Control Division, State of Hawaii Department of Agriculture, a position he currently holds in addition to his private veterinary practice.
Dr. Bergin is married to Patricia (Cockett), who received a bachelor's degree in 1964 and a master's degree in 1968 from the College of Education at K-State. She currently serves as director for a bilingual charter preschool through grades K-5 and is a retired Department of Education District and State administrator. The Bergins had three sons: William, Holi (deceased) and Brady; a daughter, Erin; and two hanai children: Kathleen Kaaua Schwartze and Christopher Kaaua. Brady, who earned a DVM from Colorado State University in 2002, took over his father's practice in 2007, significantly expanding veterinary service to the horse industry of the Big Island.