Dr. John Barnes
American Veterinary Medical Association 2010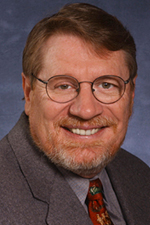 Dr. John Barnes, Raleigh, N.C., was the 2010 recipient of the Alumni Recognition Award for the American Veterinary Medical Association Convention. The award is in recognition of Dr. Barnes' work with avian pathology, his studies with ovarian cancer and his revamping of the senior microbiology clinic at North Carolina State University, Raleigh, which is one of the top rated clinics in the nation.
The alumni award was presented Aug. 2, 2010 at the annual convention of the American Veterinary Medical Association in Atlanta.
"My time at K-State in the veterinary college was one of the best times of my life, so it's a tremendous honor to be recognized with this award so many years later," Dr. Barnes said. "I tell my students that my wish for them is that they have a future in veterinary medicine that is as fulfilling and rewarding as mine has been."
"We are extremely pleased to recognize Dr. John Barnes for an extraordinary career," Dean Richardson said. "He is a top expert in poultry medicine, which reflects very well on the quality of veterinary education at K-State. We also honor his dedication in educating future veterinarians and his service to the animal health industry."
Dr. Barnes graduated from K-State with his DVM in 1970 and a doctorate from Ahmadu Bello University, Zaria, Nigeria, in 1976. His early career started at K-State where he was a temporary instructor. He used this experience to prepare for a position in K-State's project to develop a College of Veterinary Medicine at Ahmadu Bello University, where he later taught courses on pathology and poultry diseases. After five years there, he accepted a joint position in pathology at the College of Veterinary Medicine and Veterinary Medical Research Institute, Iowa State University, Ames, working with swine and poultry diseases. He then took and passed his pathology board examinations in 1977. In addition to being a diplomate of the American College of Veterinary Pathologists, Dr. Barnes is a charter member of the American College of Poultry Veterinarians and was instrumental in its establishment.
After seven years in Iowa, an opportunity to develop a poultry medicine program arose at North Carolina State's new College of Veterinary Medicine. Dr. Barnes put together the teaching, service, extension, and research programs in poultry medicine. Dr. Barnes' team of six faculty members maintains one of the few poultry programs remaining in veterinary colleges in the United States. Forty-nine veterinarians have completed postgraduate internships, residencies, or graduate degrees in the Poultry Health Management program. Many of them now hold key positions in the poultry industry, government agencies, or academic institutions. In addition, over 26 graduates from NCSU's College of Veterinary Medicine have either specialized or plan to specialize in poultry medicine.
Dr. Barnes served as the president of the American Association of Avian Pathologists. He is a member of the North Carolina Veterinary Medical Association and American Veterinary Medical Association. Dr. Barnes is a contributor to the past five editions of Diseases of Poultry and co-editor for four of the five editions, in addition to being author or co-author of numerous chapters and publications. He has been recognized with numerous other awards including the North Carolina State University 1985 Outstanding Teacher Award, Phibro Animal Health Excellence in Poultry Award and Outstanding Extension Service Award from the North Carolina State University Office of Extension and Engagement.
Dr. Barnes and his wife, Nona, have two children: Valerie and Melissa, and two grandchildren – one of whom arrived at the end of May.