Dr. Jack Lee Anderson - DVM 1965
Nebraska Veterinary Medical Association 2011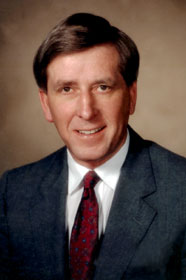 Dr. Jack Lee Anderson, Columbus, Neb., was the 2011 recipient of the Alumni Recognition Award at the winter meeting of the Nebraska Veterinary Medical Association held Jan. 21, 2011 in Lincoln, Neb.
Dr. Anderson received his DVM from K-State in 1965. After graduation, he worked as a captain in the Air Force Veterinary Corps for two years. He went into general practice in Sycamore, Ill., from 1967 to 1978, and then founded and practiced a swine consulting practice in Columbus from 1978 to 2005. He also owned and managed small animal practices in Fremont, Neb., and Grand Island, Neb., from 1982 to 2007. Dr. Anderson participated in the Swine Executive Program at the University of Illinois from 1991-1993. He retired in 2007.
"I greatly appreciate receiving this award," Dr. Anderson said. "It is rewarding to be recognized by one's peers. My veterinary education from KSU has allowed me to pursue my veterinary career to its fullest."
"This is our second time in recognizing Dr. Anderson with an alumni award," Dean Richardson said. "He has had a long distinguished career that deserves special attention in his home state in front of his peers and professional colleagues. His commitment to animal health in Nebraska is stellar, and we take great joy in sharing our appreciation for his service to the profession and region."
Dr. Anderson has held several leadership roles throughout his career. He served as the Nebraska Veterinary Medical Association district president from 1988 to 1990; president of the American Association of Swine Practitioners in 1991; board member for the Northern Illinois Veterinary Medical Association from 1976 to 1978, including vice president from 1977 to 1978. He taught a 15-hour swine production and health management course annually at the Central Community College in Columbus from 1985 to 1988. Dr. Anderson served on the American Veterinary Medical Association General Health Life Insurance Trust board from 1989 to 2003.
Dr. Anderson has received several awards throughout his veterinary career. In 1999, he was the recipient of the Nebraska Veterinary Medical Association Distinguished Service Award. He was also selected for a K-State veterinary alumni recognition award at the American Veterinary Medical Association convention in Nashville, Tenn., in 2002.
Dr. Anderson is a member of Nebraska Veterinary Medical Association, American Veterinary Medical Association and the American Association of Swine Veterinarians.
Dr. Anderson is married to Patricia (Gell). They have two daughters: Amy and Beth; and one son: Todd. His daughter, Beth, earned a DVM degree at K-State in 1996. She owns and manages practices in Fremont and Millard, Neb.