Dr. J. David Wheat - DVM 1980
Western Veterinary Conference 2021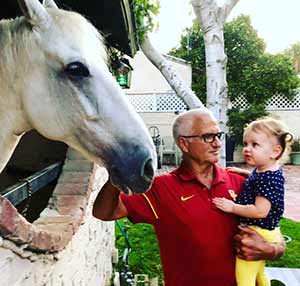 Dr. J. David Wheat, Arcadia, California has been selected by the Kansas State University College of Veterinary Medicine and its Veterinary Medical Alumni Association to receive a 2021 Alumni Recognition Award. The award will be presented Sept. 7 in conjunction with the Western Veterinary Conference in Las Vegas in recognition of his career in veterinary medicine and for having served as an exemplary role model for future alumni in a professional and community setting.
Dr. Wheat grew up in Manhattan, Kansas, where his father was a genetics professor for 30 years at Kansas State University. Having a keen interest in horses, he spent several years as a wrangler at Rock Springs Ranch, southwest of Junction City. Dr. Wheat earned a bachelor's degree in animal science and industry in 1976 and a Doctor of Veterinary Medicine degree in 1980, both at Kansas State University.
"I am honored to have been considered for this award, in light of the large number of exceptional veterinarians that my school has produced," Dr. Wheat said. "I proudly share my KSU connection with my clients and associates. My family are ALL Wildcat fans, and we always cherish the trips we make to Manhattan, my first home."
"Dr. Wheat has led an exciting career working 'behind the scenes' with high-profile equine patients, including working horses in Hollywood and participants in the annual Rose Parade," said Dr. Bonnie Rush, dean of the College of Veterinary Medicine. "His career exemplifies some of the diverse ways veterinarians make a broad impact in their local and regional communities. The Western Veterinary Conference allows a perfect opportunity to recognize Dr. Wheat among his former classmates, colleagues and peers."
Dr. Wheat began his career at a five-person equine practice in San Dimas, California. The practice was involved with the care and treatment of pleasure horses, and racehorses at Santa Anita, Hollywood Park and Del Mar. In 1983, Dr. Wheat opened his own practice that was geared toward equine sports medicine. Currently, it is a four-person practice that travels to large stables in the area, where it services horses used in various athletic disciplines.
"In addition to working with my regular patients, I also provide the veterinary treatment for the Los Angeles Police Department Mounted Unit," Dr. Wheat said. "I am responsible for the care of approximately 300 horses who participate in Pasadena's Rose Parade each year. I have been the veterinarian for the Professional Polo League's horses in Los Angeles, as well as the on-field veterinarian for the University of Southern California mascot, Traveler."
Dr. Wheat said that practicing in the foothills of the San Gabriel Mountains in L.A. County provides some unusual occurrences.
"Sometimes, raging wildfires threaten to burn riding facilities and horses, and evacuations are ordered," Dr. Wheat said. "Very often, my clients work in the entertainment industry. I have made appearances as a resource person on Animal Planet's series, 'Uncut and Untamed' a few times."
Dr. Wheat is a member of the American Association of Equine Practitioners and American Veterinary Medical Association.
Dr. Wheat and his wife, Annette, have two sons and a daughter, and "3.5" grandchildren (No. 4 is coming January 2022).