Dr. John Voegeli - DVM 1980
Fetch dvm360 Conference 2019 (formerly Central Veterinary Conference)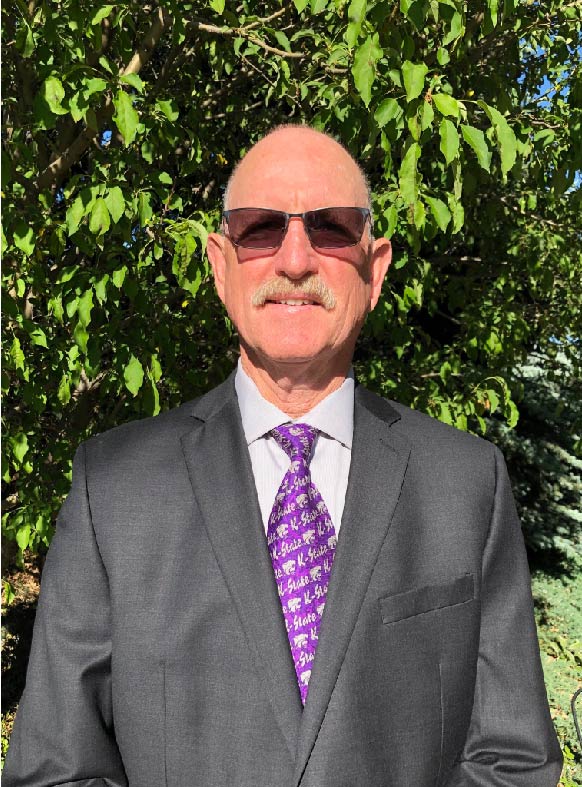 Dr. John Voegeli, Winner, South Dakota was the recipient of the 2019 Alumni Recognition Award presented during the annual Fetch dvm360 Conference held in Kansas City, Missouri, on Aug. 24, 2019. The award is given to veterinarians whose careers have served as exemplary role models for future alumni in a professional and community setting.
Dr. Voegeli, originally from Wichita, Kansas, earned his DVM at Kansas State University in 1980. Upon graduation he began his career working with Dr. Al Pravecek at the Animal Clinic in Winner, where he is now a co-owner.
"I am very grateful to be selected for this alumni award," Dr. Voegeli said. "I owe a lot of thanks to all the great mentors who took the time to help me along the way. Kansas State University College of Veterinary Medicine did a tremendous job of instilling in me a lifelong passion for veterinary medicine. I can't imagine doing anything else. I have been blessed to belong to this great community of veterinary medicine."
"Our college is pleased to recognize Dr. Voegeli's accomplishments," said Dr. Bonnie Rush, dean of the College of Veterinary Medicine. "His service and leadership to a wide variety of professional associations over the course of many, many years makes him an inspiring role model for future veterinarians to invest and participate in organized veterinary medicine."
Dr. Voegeli has served on the South Dakota Veterinary Medical Association board of directors as a district representative and is a past president of the South Dakota Board of Veterinary Medical Examiners. He has also served on the advisory board for the South Dakota Animal Disease Research and Diagnostic Lab. He currently serves on the South Dakota Animal Industry Board.
Dr. Voegeli is a member of the South Dakota Veterinary Medical Association, Kansas Veterinary Medical Association, Nebraska Veterinary Medical Association, American Association of Bovine Practitioners, Academy of Veterinary Consultants, Society for Theriogenology and American Veterinary Medical Association. He was the South Dakota Veterinarian of the Year in 2012.
Dr. Voegeli and his wife Bobbie, have two children: Sam and Jace.