Brig. Gen. Erik H. Torring III - DVM 1989
American Veterinary Medical Association 2018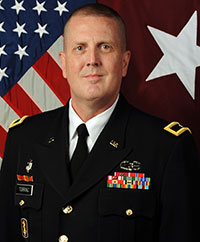 Brig. Gen. Erik H. Torring III, Fort Belvoir, Virginia, was chosen by the Kansas State University College of Veterinary Medicine and its Veterinary Medical Alumni Association for the 2018 Alumni Recognition Award. It was presented at the annual convention of the American Veterinary Medical Association (AVMA) in Denver, Colorado, on July 13, 2018. A veterinarian is selected each year for this award due to their outstanding careers that can inspire future alumni to go above and beyond.
Brig. Gen. Torring received his bachelor's degree in 1987 and a Doctor of Veterinary Medicine from K-State in 1989. He was commissioned through ROTC in the US Army Veterinary Corps upon receiving his DVM. Brig. Gen. Torring also earned a master's in public health from the University of Oklahoma Health Science Center in 1994 and a master's in strategic studies from the US Army War College in 2009. While he has had a very decorative career, Brig. Gen. Torring stays humbled and is thankful for his Wildcat roots.
"Receiving this award from the KSU Veterinary Medical Alumni Association is truly an honor," said Brig. Gen. Torring. "My life and career have provided me opportunities and taken me to places that I never imagined and it all started with the firm foundation that I received at K-State. I have been able to apply my education and experience to a variety of issues that have contributed to improving both animal and human health. Along the way I have been truly blessed with a beautiful family, fantastic friends and colleagues, and an extremely diverse and rewarding veterinary career."
"For almost 30 years, Brig. Gen. Torring has been devoted to improving animal and human health in his country," said Dr. Bonnie Rush, interim dean of the college. "To shape his veterinary career into becoming a brigadier general is truly remarkable, and demonstrates the flexibility and impact of the degree. We are honored to present this award to him and hope he will be an inspiration for years to come."
Since 2015, Brig. Gen. Torring has served as the uniformed services delegate for American Veterinary Medical Association House of Delegates. He is a diplomate of the American College of Veterinary Preventive Medicine and holds the Army Surgeon General's "A" proficiency designator for Veterinary Preventive Medicine.
Brig. Gen. Torring's awards and decorations include the Army Distinguished Service Medal, Legion of Merit with 2 Bronze Oak Leaf Clusters, Bronze Star, Meritorious Service Medal with Silver Oak Leaf Cluster and Bronze Oak Leaf Cluster, Army Commendation Medal, Army Achievement Medal, National Defense Service Medal, Iraqi Campaign Medal with 2 stars, Global War on Terrorism Service Medal, Korea Defense Service Medal, Army Meritorious Unit Citation with Bronze Oak Leaf Cluster, Army Superior Unit Award, Combat Action Badge, and he has been inducted into the Army Medical Department Regiment's Order of Military Medical Merit.
Brig. Gen. Torring and his wife, Jennifer, have been married 25 years. The couple has two children, Kristen and Erik.