Dr. Pete Sherlock - DVM 1980
Fetch dvm360 Conference 2018 (formerly Central Veterinary Conference)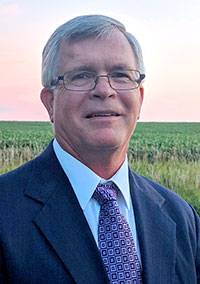 Dr. Pete Sherlock, Washington, Kansas, was selected by the Kansas State College of Veterinary Medicine's Alumni Association for its 2018 Alumni Recognition award in conjunction with the annual Fetch dvm360 Conference in Kansas City, Missouri, on Aug. 18, 2018. The award is presented to veterinarians whose careers have served as exemplary role models for future alumni in a professional and community setting.
Dr. Sherlock received his bachelor's degree in animal science and industry in 1976 and his Doctor of Veterinary Medicine degree in 1980, both from Kansas State University. He was a partner in the Washington Veterinary Clinic PA for 32 years and a partner in Ag Management Services for 15 years. Dr. Sherlock currently works for Elanco Animal Health in the Beef and Dairy division in Kansas and Nebraska.
"I am honored to be selected for the alumni award," Dr. Sherlock said. "The veterinary profession has been so rewarding for myself and family. To be selected by my peers is special. There are countless other colleagues who are as deserving and I accept this alumni recognition award for all veterinarians who strive to make a difference every day in their profession and community. Thank you."
"Dr. Sherlock has earned this recognition for his lifetime commitment to food animal medicine," said Dr. Bonnie Rush, interim dean. "With almost 40 years of service in practice and industry, he is an excellent role model for future K-State CVM graduates and new practitioners. We are proud to recognize Dr. Sherlock's commitment to the veterinary profession and appreciate his impact on generations of veterinarians."
This is not the first honor Dr. Sherlock has received. In 1995, he was recipient of the Kansas Veterinary Medical Association (KVMA) President's Award and in 2011 the KVMA Distinguished Service Award. Dr. Sherlock is a life member of the Kansas State University Veterinary Alumni Association. He has been a member of the American Veterinary Medical Association, KVMA, American Association of Bovine Practitioners and American Association of Swine Veterinarians since 1980.
Dr. Sherlock is active in his local community and state affairs. Rotary International since 1984, twice local Rotary president, Paul Harris Fellow. St Augustine parish council and president. Knights of Columbus member, Grand Knight and Fourth Degree Knight. County extension council member and president. Washington County Hospital committee board member. Professional Veterinary products board member 1998-2003, president 2003. Kansas Pork Association board member 2004-2011, president 2007. Member of the KVMA Legislative and Auction committees and former AASV program committee and program moderator.
Pete and Mary Kay Sherlock have three children, Megan (Jeff) Brooker, Kellen (Devon) Sherlock and Caitlin (Jacob) Kongs and two grandchildren: Emma, 4, and Allison, 2.