Dr. Marshall E. Scott - DVM 1978
Western Veterinary Conference 2017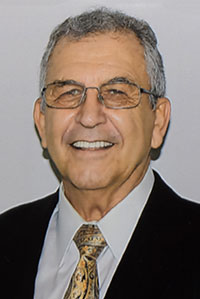 Dr. Marshall E. Scott, Riverside, California, was selected by the Kansas State University College of Veterinary Medicine and its Veterinary Medical Alumni Association to receive a 2017 Alumni Recognition Award. The award was presented March 6, 2017 at the Western Veterinary Conference in Las Vegas and is in recognition of his career in veterinary medicine and for having served as an exemplary role model for future alumni in a professional and community setting.
Dr. Scott was born in Greensburg, Kansas. He served in the US Army from 1965 to 1968, and then attended Shasta Junior College from 1970 to 1972, Chico State University from 1972-1974. He earned his Doctor of Veterinary Medicine degree at Kansas State University in 1978. Dr. Scott attended Church of Rock Bible College from 2006 to 2008 and graduated as valedictorian.
As a veterinary clinical practitioner and consultant, Dr. Scott is currently the owner/operator of Pedley Square Veterinary Clinic and Lincoln Plaza Veterinary Clinic. He also serves the city of Moreno Valley, California, as manager of the Animal Clinic as well as consultant to the animal shelter and the city, at large.
"It is always nice to be recognized for service," Dr. Scott said. "The real reward comes from the satisfaction of giving back and helping to continue the work of those who got it all started. We owe a lot of gratitude to those who set the standards to maintain the integrity of our profession. I continue to be grateful for the legislative safeguards they put in place. Guaranteeing the quality of our education, providing continuing education, establishing statutes and regulations that protect us, the veterinarian, our clients and patients are among the many roles that organized veterinary medicine plays. I am proud to be among the many who serve our profession."
"The college takes great pride in presenting this award to Dr. Scott," said Dr. Tammy Beckham, dean of the College of Veterinary Medicine. "He has shown tremendous commitment and dedication to the veterinary profession through his service to his community, leadership in several professional associations and support for the greater welfare of animals through involvement in shelter medicine and emergency preparedness."
Dr. Scott has had advanced training in ultrasonography, embryo transfer, advanced orthopedic surgery in small animals and equine. He is board certified by the International Veterinary Acupuncture Society.
Dr. Scott is a member of the American Veterinary Medical Association, American Association of Equine Practitioner, American Association of Animal Hospitals, Southern California Veterinary Medical Association, California Veterinary Medical Association, International Veterinary Acupuncture Society and Orange Belt Veterinary Medical Association and has served as vice president for the past six years along with being a CVMA delegate. He has served the CVMA as a Governor and Member at Large. He has served the CVMA on numerous committees including, finance, legislation, RVT, disaster preparedness, CVMF Foundation, leadership development and currently as their liaison to the California Veterinary Medical board.
He has one daughter, Heather Elizabeth Scott, born in 1983.