Dr. George Saperstein - DVM 1978
North American Veterinary Conference 2012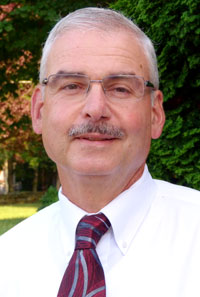 Dr. George Saperstein, Pomfret Center, Conn., is the recipient of the 2012 Alumni Recognition Award for the annual North American Veterinary Conference held in Orlando, Fla., on Jan. 15.
Dr. Saperstein earned his DVM in 1978 from K-State. After graduating, he worked in a private mixed animal practice in Woodstock, Conn., for a year and a half. Dr. Saperstein then went on to work at the University of Maryland in 1980 as an assistant professor. He joined the Tufts Cummings School of Veterinary Medicine faculty in 1981 and is still there today. He directed the large animal ambulatory service for 13 years. Dr. Saperstein's responsibilities at the college have included administration, teaching, research and service.
"Words cannot express how proud and happy I am to receive this award," Dr. Saperstein said. "Whatever I have achieved in my career to benefit animals and the people who care for them I owe to my mentors; all of them K-Staters. From my dad (K-State DVM 1949) to the likes of Professors Leipold, Upson, Noordsy, Frey and some very special classmates, I have stood on the shoulders of giants. Most of all, I'd like to thank my greatest K-State supporter over the past 40 years; my best friend and lovely wife, Barbara."
"Dr. Saperstein has been a great representative for the veterinary profession from every angle imaginable," Dean Richardson said. "His research and teaching have enhanced and promoted good animal health in this country as well as many others. We are truly honored to recognize him with this Alumni Recognition Award."
Dr. Saperstein has been involved with many projects throughout his career. He is currently the director of contract research and the chair of the Department of Environmental and Population Health. From 1999 to 2002, he led a major livestock disease control project between Israel, Egypt, Jordan and the Palestinian Authority. Since 1998, Dr. Saperstein has been assisting personnel at the Swiss Village Farm Foundation in their efforts to collect and freeze germplasm, cells and blood from endangered breeds of livestock.
Dr. Saperstein has received several awards recognizing his career accomplishments. In 2008, he was elected into Tuft's Faculty Hall of Fame. Dr. Saperstein was also recognized as a Distinguished Practitioner in the National Academies of Practice in Veterinary Medicine in 2002. In 1994, he was named the Amelia Peabody Chair in Agricultural Sciences.
Dr. Saperstein is a member of many professional organizations, including: American Association of Bovine Practitioners, American Livestock Breeds Conservancy, American Veterinary Medical Association, Connecticut Mastitis Council, Massachusetts Veterinary Medical Association and the National Mastitis Council.
Dr. Saperstein and his wife Barbara have two sons: Joseph and Benjamin.