Dr. Judy and Randall Norton - DVM class of 1989
Central Veterinary Conference 2016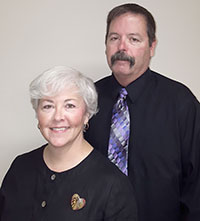 Drs. Judy and Randall Norton, Utica, Kansas, were selected by the Kansas State University College of Veterinary Medicine's Alumni Association for its 2016 Alumni Recognition Award presented during the annual Central Veterinary Conference held in Kansas City, Missouri, on August 27, 2016. The award is given to veterinarians whose careers have served as exemplary role models for future alumni in a professional and community setting.
Dr. Randall Norton is a native of Ness County, where he was raised on the family farm. He attended Fort Hays State University before transferring to Kansas State University to complete his pre-veterinary course work. He graduated from the College of Veterinary Medicine in 1989. He then practiced in Albion, Nebraska, for a year before returning to the family farm. He opened a mobile veterinary practice while farming with his father.
Dr. Judy (Harper) Norton grew up in Overland Park, Kansas. She also attended Kansas State University and graduated with her Doctor of Veterinary Medicine degree in 1989. Dr. Norton practiced in Woodville, Washington, and Overland Park. Then she and Randall were married in 1992.
The Nortons opened Walnut Fork Veterinary Service in 1995 in Utica. The Nortons continue to farm, run a beef cowherd and practice veterinary medicine.
"We are humbled to be nominated for this award," Dr. Judy Norton said. "Even among our classmates, there are many ho have done as much for our profession and their communities. The Bible says, 'much is required from the person to whom much is given.' We have been blessed with supportive families, and amazing education, great mentors and wonderful clients. Our goal is to give back a little of what we have been given."
"The Nortons are a wonderful example of veterinarians who are dedicated to veterinary service and education," said Dr. Tammy Beckham, dean of the College of Veterinary Medicine. "They have provided mentorships for many of our first-, second- and third-year students and primary care externships for some of our fourth-year students, which gives them valuable experience in the field. It is our pleasure to recognize the Nortons for their many contributions to the profession."
Dr. Randall Norton was presented with the Kansas State University Beef Cattle Institute's Beef Cattle Veterinarian of the Year award in 2010. Dr. Judy Norton has worked extensively with the Kansas Specialty Dog Service (KSDS) as a puppy raiser and Breeding Committee member. Walnut Fork Veterinary Service received the Award of Merit from the Kansas Department of Commerce and Housing in 2002.
The Nortons are members of the Kansas Veterinary Medical Association, American Veterinary Medical Association, American Association of Bovine Practitioners, Academy of Veterinary Consultants and Society for Theriogenology.
Dr. Randall Norton serves on the Kansas Veterinary Medical Loan Repayment Program task force from 2010 to present. He was a national panel reviewer for the federal Veterinary Medical Loan Repayment Program from 2011-2013. He served on the Kansas Board of Veterinary Examiners from 2011 to 2015. Since 2006, the Nortons have participated in student-admissions interviews for the College of Veterinary Medicine.
The Nortons have one son, James, who was born in 1985.