Dr. Michael Moore - DVM 1968
Central Veterinary Conference 2012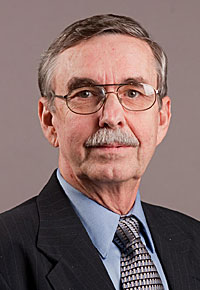 Dr. Michael Moore, Overland Park, Kan., is the recipient of the 2012 Alumni Recognition Award from the Kansas State University College of Veterinary Medical Alumni Association to be presented at the annual Central Veterinary Conference in Kansas City, Mo., on Aug. 25.
Dr. Moore, originally from Courtland, Kan., earned his DVM in 1968 from K-State. After graduation, he went to work as a veterinarian at an animal hospital in Superior, Neb. After six months, Dr. Moore joined the army and served as a captain for two years before returning to the animal hospital in Superior where he practiced until 1998. He joined Novartis Animal Health (then known as Grand Laboratories) in 1999 as the territory manager, custom vaccine/feedlot adviser, manager trainer and professional services veterinarian, and has continued with that company through the present time. He is a frequent speaker to local livestock associations and has represented the American Veterinary Medical Association (AVMA) at the Livestock Publications Council Conventions.
"I have wanted to be a veterinarian for as long I can remember," Dr. Moore said. "Attending the Kansas State University College of Veterinary Medicine allowed me to pursue that dream. Veterinary medicine has been a great life and has allowed me to travel to many interesting places and interact with people of many walks of life. Although challenging at times, I would not trade it for anything"
"Dr. Moore has long been an active supporter of the veterinary college and our alumni association," said Dr. Ralph Richardson, dean of the College of Veterinary Medicine. "Through his career, he has served with distinction, not only in the animal health profession, but to the greater livestock and agricultural industry in his community and state. We are pleased to have this opportunity to recognize his dedication and service."
Dr. Moore has been a member of the AVMA, American Association of Bovine Practitioners, Nebraska Veterinary Medical Association (NVMA), American Association of Industrial Veterinarians, Kansas Veterinary Medical Association (KVMA), Nebraska Board of Examiners for Veterinary Medicine and the American Association of Corporate and Public Service Veterinarians. In these organizations he has held several leadership positions, including president of the NVMA in 1989 and president of the K-State Veterinary Medical Alumni Association from 2010-2011and a member of its board of directors. He has also served as chairman of the board of directors for Professional Veterinary Products in Omaha, Neb.
In the military, Dr. Moore received the Army Commendation Medal in 1970. He has also been recognized with the Service to Agriculture Award from Nebraska Ag Educators, Friend of 4-H awards from Nuckolls County Extension Council, Veterinarian of the Year and Commercial Rep of the Year from the NVMA and Commercial Rep of the Year from the KVMA.
Dr. Moore and his wife, Judy Jo (Trussell), have three children: Dr. Eric Moore (DVM 1994), Dr. Jon Moore and Dr. Katina Moore; and six grandchildren.