Dr. Joseph G. Merriam
Dr. Joseph G. Merriam Receives K-State Veterinary Medical Alumni Recognition Award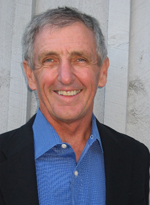 Dr. Joseph G. Merriam, Uxbridge, Mass., was honored for his time and effort devoted to the practice of veterinary medicine by the Kansas State University College of Veterinary Medicine and its Veterinary Medical Alumni Association.
Merriam was awarded the 2005 American Association of Equine Practitioners Alumni Recognition Award at the Grand Hyatt in Seattle, Wash., Monday, Dec. 5, 2005. Merriam has been a member of the association for 36 years and has established himself as a role model for future veterinarians, both professionally and personally.
Merriam graduated from K-State with a bachelor's degree in chemistry in 1967 and his doctor of veterinary medicine degree in 1969. Merriam was an instructor of equine surgery at K-State, the University of Missouri and Auburn University. In 1974, he began providing his surgical services to horse racetracks in Rhode Island. At the time, his practice was the only equine surgical facility in southern New England.
Merriam's current practice, the Massachusetts Equine Clinic, evolved from a need for an equine surgical facility in the New England area in the mid-1980s. He and his five veterinarians on staff specialize in equine lameness and sports medicine, with an emphasis on preventive medicine and in-depth diagnosis and treatment. The clinic treats show horses, event horses, jumpers and sport horses. Many of Merriam's clients have even participated in the Olympic Games.
Fifteen years ago, Merriam became involved in international relief work, a passion that he pursues today. As president of the Massachusetts Veterinary Medical Association, Merriam felt outreach was needed to other parts of the world. He created Project Samana, an outreach program to bring veterinarians -- many from K-State -- to the Dominican Republic to serve those less fortunate. Through this program, Merriam and others have taken veterinarians and students to a small jungle community in the Dominican Republic to provide medical and surgical services to thousands of large and small animals.
Merriam said providing veterinary services to an underdeveloped country has been a life-changing experience for him in many ways. "It has allowed me to study the effects of our practices on animals and economies in the Third World, and appreciate the importance of animals in the lives of their owners. It has also encouraged me to learn Spanish, appreciate cultural differences and train people with life skills required to live in the Third World."
In the coming year, Merriam hopes to expand this same work to parts of Mexico and Afghanistan.
Merriam's service as a veterinarian has given him the opportunity to hold various leadership roles throughout his career. From 1991-96 he was chair of the Animal Welfare Committee for the American Association of Equine Practitioners. In 1994, he was welfare delegate to the Pre-Olympic Trials on behalf of the association. In 1996, Merriam received the Veterinarian of the Year Award from the Massachusetts Society for the Prevention of Cruelty to Animals for his work with Project Samana.
When he is not working with horses, Merriam and his wife of 35 years, Shelly, enjoy fly fishing and spending time visiting Cuttyhunk Island, Mass. Merriam said Shelly has been a constant source of support throughout his career.
Merriam said he is honored to receive an award from his alma mater recognizing his career in veterinary medicine, which began at K-State. "Shelly and I owe everything we have to K-State and are humbled by receiving this honor."