Dr. Bill McBeth - DVM 1981
North American Veterinary Conference 2013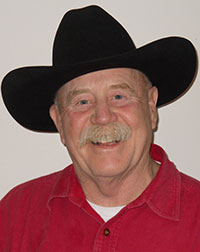 Dr. Bill McBeth, Morgantown, Pa., was the recipient of the 2013 Alumni Recognition Award at the North American Veterinary Conference in Orlando, Fla., presented Jan. 20, 2013 by the Kansas State University Veterinary Medical Alumni Association.
Prior to attending K-State, Dr. McBeth was appointed from Nebraska to the United States Military Academy at West Point, graduating in 1970. He then served in the Army Corps of Engineers for six years serving in Korea and Germany. After leaving the military, Dr. McBeth earned his DVM at K-State graduating 1981, and then entered private practice. He practiced as an associate for one year with the Metzger Veterinary Clinic, Gordon, Neb., a mixed practice in the Nebraska Panhandle. In 1982, he left Nebraska for Northeast Colorado where he served first as an associate, then partner, and then sole owner of his own mixed practice, Sun Prairie Veterinary Clinic, in Wray, Colo. In 2001, while still in private practice, Dr McBeth was engaged by Pfizer Animal Health as a livestock consultant. In 2003 he left private practice and became a full time Pfizer employee, first as a drug safety livestock veterinarian and then as a manager of the Pfizer Veterinary Medical Information and Product Support Livestock-Equine team, a group of food animal and equine veterinarians taking technical service calls from food animal and equine veterinarians, producers and owners. His public health experiences in the Veterinary Corps combined with the focus on food quality and safety by food animal veterinarians motivated him to pursue a master's degree in food safety from Michigan State University, which he completed in 2010.
"This award means the world to me," Dr. McBeth said. "Kansas State took a long shot on a Nebraska soldier back in 1976, and I'll never forget it. The scientific education I was offered was second to none, but the people I was associated with – Dr. Dan Upson, Dr. Keith Beeman, Dr. John Noordsy and most of all, the class of 1981 – really prepared me for a career in the best profession in the world – veterinary medicine."
"This award helps recognize a very diverse and distinguished career, but one with a common theme of service both to the nation and to the veterinary profession," said Dr. Ralph C. Richardson, dean of the College of Veterinary Medicine. "Beef cattle medicine is an important part of the curriculum and mission at Kansas State University, so it's very appropriate for us to recognize an alumnus who has been such an outstanding leader in this field of veterinary medicine, where Dr. McBeth has made a great impact in many different parts of the world."
Alongside his clinical practice, Dr. McBeth has dedicated 26 years of service to the U.S. Army Reserve, first in the Corp of Engineers and then in the Veterinary Corps. He has served in Costa Rica, Panama, Turkey, Italy and Malaysia. He also served on the board of directors for the Wray Community District Hospital from 1992 to 2000, six years as president of the board.
Dr. McBeth is a member of the American Veterinary Medical Association, the American Association of Bovine Practitioners, and the Academy of Veterinary Consultants.
Dr. McBeth is married to Anneliese R. McBeth and has two sons, Rick Fernandez and Ian McBeth, two daughters, Eleanor and Aislinn McBeth, and six grandchildren.