Dr. James Kenyon - DVM 1975
Fetch dvm360 Conference 2021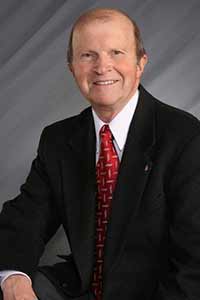 Dr. James Kenyon, Cedar Falls, Iowa, is the recipient of the 2021 Alumni Recognition Award to be presented during an alumni reception being held in Kansas City, Missouri, on Aug. 28 in conjunction with the annual Fetch dvm360 Conference. The award is given to veterinarians in grateful recognition for time and effort devoted to advancing veterinary medicine and for being an exemplary role model for future alumni in a professional and community setting.
Dr. Kenyon grew up on a farm caring for cattle, pigs, chickens, and horses in Graham County, Kansas, and graduated from Bogue Rural High School in 1966, one of a class of six people. He earned his Doctor of Veterinary Medicine (DVM) degree at Kansas State University in 1975.
Dr. Kenyon served on active duty in the Army Veterinary Corp from 1975 to 1977 active, and as a major in the Reserves through 1990. He worked as a mixed animal veterinarian for 35 years in Cedar Falls and Waterloo, Iowa. Through his mentoring, 18 student workers went on to become veterinarians.
"I am honored to receive this recognition," Dr. Kenyon said. "Just 50 years ago this month, I sat in Burt Hall for that first anatomy lecture from Dean [Don] Trotter. Dr. Railsback had welcomed us, telling us that in just 500 class days we would be veterinarians. His challenge to us was that we were to be leaders in our communities in many areas. Forty years later, while in a tribal community center in Grayling, Alaska, playing cribbage with fellow K-Staters Dean Bauman and Phil Meyer, I posed the question, 'Why are there so many K-Staters among the 50 some veterinarians volunteers for the Iditarod Dog Sled race?' Dr. Bauman said quickly and simply, 'Because we were taught to volunteer and become involved!'
"I accept this honor for every one of my colleagues who were also so active in their careers and communities."
"We are delighted to recognize Dr. Kenyon with this award," said Dr. Bonnie Rush, dean of the College of Veterinary Medicine. "His longstanding career, veterinary military service and dedication to mentoring future veterinarians is admirable and inspirational. His career as an author devoted to the history or rural education is a story in itself that we are eager to share. We look forward to seeing what the next chapter brings for Dr. Kenyon."
Dr. Kenyon has volunteered seven times a track veterinarian for the Alaska Iditarod Dog Sled Race. He was named Iowa Veterinarian of the Year and served as the state president of the Iowa Veterinary Medical Association, as well as the chairman of the Iowa Veterinary Medical Examining Board.
Dr. Kenyon continues a family tradition of community involvement with 24 years of service on his local school board. This made him the fourth generation of his family to serve as a school board member. He credits the importance of team work and leadership learned in school as having guided him through his adult years.
In retirement, Dr. Kenyon has authored several books: "The Art of Listening to the Heart," published in 2017; "A Cow for College and Other Stories of 1950's Farm Life" in 2018; "Golden Rule Days, History and Recollections of 109 Closed Kansas High Schools," which was named winner of the 2018 Martin Kansas History Book Award; "Echoes in the Hallways, History and Recollections of 99 Closed Iowa High Schools" in 2021; and "Kansas City Kitty" in the fall of 2021.
His wife, Cynthia (Staley) Kenyon, earned a bachelor's degree at K-State in 1971 and went on to receive an education doctorate at the University of Northern Iowa. She is a retired secondary level and college teacher.
The Kenyons' oldest daughter, Jennifer, is an elementary school counselor; the second daughter, Carolyn, is a veterinarian (she earned her DVM at Iowa State University); and their son, John, is a graphic designer. They have six grandchildren.