Dr. Susan Keller - DVM 1985
American Association of Bovine Practitioners 2016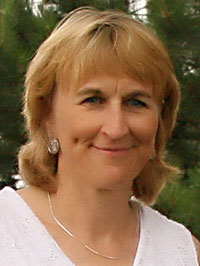 Dr. Susan Keller, Mandan, North Dakota, was the recipient of the 2016 Alumni Recognition Award presented at the American Association of Bovine Practitioners Conference (AABP) held in Charlotte, North Carolina, Sept. 16, 2016. The award was sponsored by the Kansas State University Veterinary Medical Alumni Association in the College of Veterinary Medicine and was presented by Dean Tammy Beckham.
Dr. Keller was born and raised on a dairy, beef and crop farm near Corning, Kansas She earned a bachelor's degree in animal science and industry in 1981 and her Doctor of Veterinary Medicine degree in 1985, both at Kansas State University. She has been serving as the North Dakota State Veterinarian in Bismarck, North Dakota, since 2004. She has served North Dakota as the designated state tuberculosis and brucellosis epidemiologist, foreign animal disease diagnostician and as a member of the North Dakota Veterinary Medical Examining Board.
"It is more than humbling to receive an award from people that I know are so much more deserving than I am of this award in particular," Dr. Keller said. "I came to fully appreciate ruminants while I was still an undergraduate who worked for two professors I deeply admired and consider my first mentors, Dr. E.E. Bartley and Dr. T.G. Nagaraja. Their own personal passion and respect for the value of cattle, in their ability to convert poor quality protein to a high quality protein, motivated me to want to find a way to work with livestock and serve and preserve the future of the livestock industry. After graduating from veterinary school at Kansas State University, I thoroughly enjoyed private practice in North Dakota for almost 10 years. Although I really never anticipated serving as a state veterinarian, that is my role at this time. And although the daily work is a bit different, my goal remains the same."
"Dr. Keller has an outstanding track record of public service as the state veterinarian in North Dakota," said Dr. Tammy Beckham, dean of the College of Veterinary Medicine. "She has been responsible for helping to manage and monitor livestock health on a statewide level, and in particular, she has specialized in food animal medicine. Because of her expertise, we are very pleased and proud to have this opportunity to recognize her among her peers at the AABP conference."
Prior to becoming the state veterinarian, Dr. Keller server as the deputy state veterinarian for North Dakota from 1997 to 2004. Before that she owned and operated the Countryside Animal Clinic for 10 years. Earlier in her career she was employed by Midway Veterinary Clinic and Bowman Veterinary Clinic, both in North Dakota.

Dr. Keller is a member of the North Dakota Veterinary Medical Association, Society for Theriogenology, American Veterinary Medical Association, United States Animal Health Association, National Assembly of State Animal Health Officials and the Mandan United Methodist Church.
Dr. Keller and her husband, Dwight, have three children, Luke, Jake and Tess, and live on the Keller Broken Heart Ranch, south of Mandan, North Dakota.