Dr. Scott Hay - DVM 1988
American Association of Equine Practitioners 2012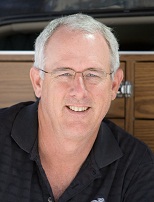 Dr. Scott Hay, Fort Lauderdale, Fla., was the recipient of K-State's 2012 Alumni Recognition Award for the annual conference of the American Association of Equine Practitioners (AAEP) in Anaheim, Calif., on Dec. 3, 2012.
Dr. Hay received his DVM from K-State in 1988. After spending a few months as a staff veterinarian at Ottawa Veterinary Clinic in Ottawa, Kan., he moved to Fort Lauderdale, Fla., to work with Teigland, Franklin and Brokken, DVMs. Dr. Hay is now the president and managing partner of the business, focusing on horseracing and the treatment of racetrack thoroughbreds. His primary interests lie in lameness evaluations and purchase examinations. Dr. Hay particularly enjoys consulting with and advising clients on their potential purchases at thoroughbred auctions.
Dr. Hay has had a lifelong interest in both horses and veterinary medicine. His late father, Dr. William Hay, who earned his DVM at K-State in 1952, was a veterinarian in Ottawa, Kan., who raised and raced American Quarter Horses. Scott shares his father's passion for racing American Quarter Horses and as a teenager, competed with their horses in roping events at local rodeos.
"It is a tremendous honor being chosen for this award particularly knowing some of the names that have preceded me," Dr. Hay said. "It is extremely humbling to be included in that group."
"We're very proud to recognize Dr. Hay for this award, particularly because of the broad and extensive leadership role he has had as an AAEP member," said Dr. Ralph Richardson, dean of the College of Veterinary Medicine. "His commitment to the veterinary profession and equine industry is outstanding, showing that it's possible to successfully combine one's passions on both a professional and personal level."
Dr. Hay has held numerous positions with the AAEP, including a stint on its board of directors, serving on the Professional Conduct and Ethics committee, and being the facilitator of the Purchase Examination at Public Auction Forum. Currently he is serving on the Racing Committee, Executive Director Review Committee, and is the moderator for the AAEP Racing Rounds.
In addition to his involvement with AAEP, Dr. Hay is a member of the American Veterinary Medical Association, Florida Veterinary Medical Association and Florida Association of Equine Practitioners. He has also served on the Grayson-Jockey Club Research Advisory Committee.
Dr. Hay is married to Darlene, and they have three children: Baylee, Lindsay and Kylee.