Dr. James E. Dale - DVM 1967
Western Veterinary Conference 2013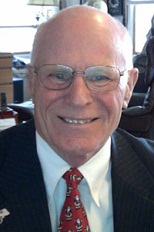 Dr. James (Jim) E. Dale, Golden Colo., was the recipient of the 2013 Alumni Recognition Award for the Western Veterinary Conference that was held in Las Vegas on Feb. 18, 2013. The award is given in thanks and acknowledgement of time and effort devoted to advancing veterinary medicine and for acting as an exemplary role model for future alumni of the College of Veterinary Medicine at K-State.
Dr. Dale received his DVM from K-State in 1967. After practicing in Lawrence, Kan., he enlisted with the U.S. Air Force Veterinary Corps. During the 30 years he served with the U.S. Air Force, he spent time in Japan, Thailand, Turkey, Spain and eight different U.S. states. At the time he retired, Dr. Dale was the chief of prevention in the Office of the Air Force Surgeon General. After military retirement, he worked as the health program director for Koop Foundation Inc. He then moved to Golden, where he served as director of environmental health for Jefferson County Public Health before fully retiring in 2011.
"I am so honored to be recognized by my colleagues: the alums of the K-State College of Veterinary Medicine," Dr. Dale said. "I was fortunate that my parents, Lewis and Louise, sent my brother, sister and me to K-State. My K-State experience and education in veterinary medicine opened doors and opportunities for which I'm extremely grateful."
"We're very pleased to recognize Dr. Dale for his distinguished career, especially as a leader in the field of public health, where the role of veterinary medicine has become stronger today than ever," Dr. Richardson said. "Through this award, we also salute Dr. Dale's military service as well as his commitment to national security, higher education and lifelong learning."
In addition to a DVM, Dr. Dale earned a Master of Public Health degree in epidemiology at University of North Carolina in 1975. He also completed an MBA from the University of Utah in 1988. Dr. Dale received a graduate certificate in Veterinary Homeland Security from Purdue University in 2010. He is a diplomate of the American College of Veterinary Preventive Medicine.
Dr. Dale has been recognized for his work with Jefferson County, including awards from the Colorado Public Health Association (CPHA), Colorado Environmental Health Association (CEHA), Colorado Professionals in Onsite Wastewater, Leadership Jefferson County, Central Colorado Area Health Education Center and the Colorado Department of Public Health and Environment.
Dr. Dale has been an active leader serving as president of the Colorado Directors of Environmental Health from 2001 to 2002. In 2003, he was president of the CPHA after being its secretary and served as a member of the State Bioterrorism Planning Committee. In 2004, he became a member of the board of directors of the CEHA. Dr. Dale has been program chair and secretary for the Veterinary Public Health Special Interest Group of the American Public Health Association (APHA) from 2006 to present. He has also been secretary of the APHA Council of State Public Health Associations and currently serves as its chair. Dr. Dale is presently a member of the APHA Executive Board and is treasurer for the national One Health Commission Board. Dr. Dale was treasurer for the Regional Institute of Health and Environmental Leadership Board and is on both the Colorado State University Environmental Health Program advisory committee and Central Colorado Area Health Education Center Board. He is on the City of Golden Planning Commission, Citizens Budget Advisory Committee and Visitor's Center Board.
Currently, Dr. Dale is a professional member of the Colorado Veterinary Medical Association, American Veterinary Medical Association, Colorado Environmental Health Association, CPHA and APHA.
Dr. Dale and his wife, LouAnne Dale, have two children: daughter Sara and son John, and three grandchildren: A.J., Lola and Lukas.