Dr. Mike Apley - DVM 1987
American Association of Bovine Practitioners 2015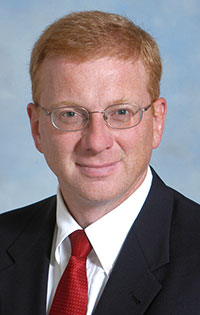 Dr. Mike Apley, Olsburg, Kansas, was the recipient of the 2015 Alumni Recognition Award presented at the American Association of Bovine Practitioners Conference (AABP) held in New Orleans, Louisiana, Sept. 18, 2015. The award was sponsored by the Kansas State University Veterinary Medical Alumni Association in the College of Veterinary Medicine and was presented by Dean Tammy Beckham.
Dr. Apley began his veterinary medicine career with a general practice in central Kansas, followed by a feedlot consulting/contract research practice in Colorado. He later joined the faculty at Iowa State University College of Veterinary Medicine and worked there until 2005, when he joined the Kansas State University College of Veterinary Medicine as a professor of veterinary clinical sciences. He teaches beef production medicine, large-animal medicine and clinical pharmacology courses and he holds the E.J. Frick Professorship in Veterinary Medicine.
"We're very proud of the contributions Dr. Apley has made to the veterinary profession, particularly in bovine pharmacology and antimicrobial resistance. His impacts can be seen on both a national and international level," said Dr. Tammy Beckham, dean of the College of Veterinary Medicine. "He is truly an outstanding faculty member and an excellent instructor and researcher. He is making a difference on many levels, so this award give us a chance to thank him for his service and commitment to veterinary medical education."

In addition to his role as an educator, Dr. Apley has conducted industry research focusing on infectious disease, antibiotic efficiency and resistance, drug residues and applications of drugs in food animals. He is well-known for his work with veterinarians and producers throughout the United States regarding the use of pharmaceutical drugs in food animals, as well as feedlot health. In August 2015, the Secretary of Health and Human Services Sylvia M. Burwell appointed Dr. Apley as a member of the Presidential Advisory Council on Combating Antibiotic-Resistant Bacteria.
Dr. Apley is a second-generation veterinarian from Larned, Kansas. His father, Dr. A.D. Apley, a 1964 Kansas State University veterinary medicine alumnus, operated the Apley Veterinary Clinic in Larned from 1964-2004. Dr. Mike Apley earned a bachelor's degree in 1981, a Doctor of Veterinary Medicine degree in 1987 and a Ph.D. in clinical pharmacology in 1992, all from Kansas State University. He is a Diplomate and past president (2007-2009) of the American College of Veterinary Pharmacology and a member and past president (2004-2005) of the Academy of Veterinary Consultants, and a member of the American Association of Bovine Practitioners.
In 2013, Dr. Apley received an Outstanding Service Award "for dedicating his career to improving animal health and veterinary medicine by sharing his insights and expertise on antibiotic use in livestock" from the Academy of Veterinary Consultants. He has also received the Kansas State University Center for the Advancement of Entrepreneurship's Emerging Entrepreneur of the Year Award in 2009, the Kansas Veterinary Medical Association KSU Distinguished Service Award in 2009, and the Award for Excellence in Faculty Mentoring in 2008 and the Bayer Animal Health Teaching Excellence Award in 2007, the latter two from the College of Veterinary Medicine. In 2007, Bovine Veterinarian Magazine named him one of the most influential veterinarians in the cattle feeding industry for his years of research and dedication. Apley is also a contributing editor to Beef Magazine. In 2013, he was named on a list of 20 influential beef and dairy veterinarians by BovineVetOnline.com. In 2014, Dr. Apley was listed as one of the "Top 15 Large Animal Vet Professors" by VetTechColleges.com.
Dr. Apley and his wife, Kathryn, have two sons: Doug and Kyle.