2011 Alumni Fellow
Dr. Guy H. Palmer, DVM 1980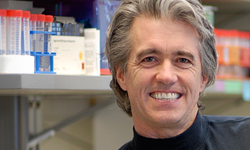 Dr. Guy H. Palmer, Pullman, Wash., is the 2011 Alumni Fellow for the K-State College of Veterinary Medicine. Dr. Palmer will be on campus Feb. 23 and 24 for a variety of activities and seminars. A banquet honoring all the university's alumni fellows will be held at the Alumni Center on Feb. 24. At the banquet, the K-State Alumni Fellows program, sponsored by the Dean's Council, the President's Office and the Alumni Association, will present its Alumni Fellows awards to Dr. Palmer and the recipients from the other eleven academic colleges.
Dr. Palmer graduated with his bachelor's degree summa cum laude in 1977 and his DVM in 1980 both from K-State. He received his doctorate in pathology from Washington State University in 1984. He is board-certified in anatomic pathology.
"I am truly honored and delighted to have the opportunity to return to campus as an Alumni Fellow," Dr. Palmer said. "I look forward to meeting with not only the faculty and students but also with the other Alumni Fellows — learning across disciplines is at the heart of a great university"
"Our college is very proud to welcome back Dr. Palmer as our Alumni Fellow this year," Dean Ralph Richardson said. "This is a wonderful opportunity for us to recognize Dr. Palmer's accomplishments in the research of diseases that affect animal and human health on a global scale."
As a researcher, Dr. Palmer had a goal to improve control of animal diseases with direct impact on human health and well-being. Within this focus, he currently leads collaborative disease research programs in sub-Saharan Africa and throughout Latin America as well as directing investigation into genetic change in microbial pathogens and the risk for shifts in disease pattern and emergence.
With his research on animal disease and human public health, Dr. Palmer was elected into membership in the National Academy of Sciences and currently is a member of the Board on Global Health within the Institute of Medicine. He is also a member and serves on the board of directors of the Washington State Academy of Science. This organization provides expert scientific and engineering analysis to inform public policy-making. Dr. Palmer has received the Merck Award for Creativity, the Sahlin Award for Research, Scholarship and the Arts, and holds a Merit Award from the NIH. He is a Fellow of the American Association for the Advancement of Science. In 2009, Dr. Palmer was recognized by the K-State College of Veterinary Medicine with its Distinguished Alumnus Award.

Currently, Dr. Palmer is an adviser for the U.S. National Institute of Health, International Science Foundation and the Bill and Melinda Gates Foundation. Dr. Palmer is married to Dianne Lea Palmer.