Dr. Janice M. (Lilly) Miller
2000 Distinguished Alumni Fellow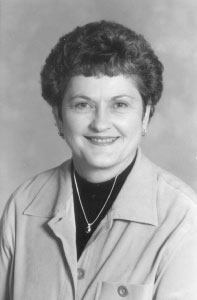 Dr. Janice M. (Lilly) Miller
1962 Kansas State University
MS 1963 Kansas State University
PhD 1969 University of Wisconsin
Diplomate, American College of Veterinary Pathologists
Dr. Janice M. (Lilly) Miller is a veterinary medical officer at the National Animal Disease Center, USAD Agriculture Research Service in Ames, Iowa. Dr. Miller has served as a member of the NADC staff since 1972 and during her tenure, has conducted research on a variety of food animal diseases including retrovirus and herpesvirus infections of cattle, and transmissable spongiform encephalopathies and mycobacterial infections of ruminants. She is currently assigned to the respiratory and neurological disease section of the NADC where she serves as lead scientist on a CRIS project entitled, "Advanced Diagnostic Methods for Infectious Diseases", a project which has been in place since 1995.
Dr. Miller has been involved with biomedical research for over 35 years. During her career, Dr. Miller has authored or co-authored a total of 134 research or professional publications and presented over 90 invited professional presentations to colleagues and fellow scientists. She has been the recipient of several professional awards and recognitions including the ARS Distinguished Scientist in 1988, the USDA Distinguished Service Award in 1990, and the American Feed Industry Award from the AVMA in 1999. Dr. Miller was elected to the National Academy of Science in 1999 and is known nationally and internationally for her discovery of the bovine leukemia virus, an accomplishment which was featured on the cover of Cancer Research in February of 1984.
Dr. Miller is a native of Mentor, Kansas and received her bachelor's, Doctor of Veterinary Medicine, and Master's degrees from Kansas State University in 1960, 1962, and 1963 respectively. Her doctoral credential and research were performed at the University of Wisconsin and completed in 1969. She is a diplomate of the Amercian College of Veterinary Pathologists and possesses special competence and abilities in the diagnosis of bovine viral, mycobacterial and prion associated disease.