2009 Alumni Fellow
Dr. Joe Mauderly, DVM 1967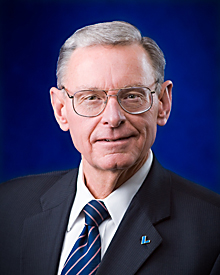 Kansas State University has announced Dr. Joe L. Mauderly as the 2009 Alumni Fellow in the College of Veterinary Medicine. Dr. Mauderly was on campus Feb. 24-27, 2009 for a seminar, tours and other activities. The K-State Alumni Fellows program, sponsored by the Dean's Council, the President's Office and the Alumni Association, presented its Alumni Fellows awards to Dr. Mauderly and the recipients from K‑State's eight other academic colleges during a banquet on Feb. 26 at the K-State Alumni Center.
"I am honored by the opportunity to represent the College of Veterinary Medicine as its 2009 Alumni Fellow," said Dr. Mauderly, who is originally from Strong City, Kan. "It is especially meaningful to receive such an honor for success in pursuing a non-traditional veterinary career. The award signifies the college's recognition that the comparative medicine and clinical skills of veterinarians are important to resolving both human and animal health issues."
"Dr. Mauderly has had a tremendous career as a veterinarian, educator and scientist," said Dr. Ralph Richardson, dean of the College of Veterinary Medicine. "As such, he is a true pioneer in the way he combined his skills to advance the veterinary profession. Dr. Mauderly represents the same path that many of today's students will follow, where science and research are more important than ever, and we are proud to celebrate his success as our alumnus."
Dr. Mauderly is a vice president and senior scientist of the Lovelace Respiratory Research Institute in Albuquerque, N.M.; director of the National Environmental Respiratory Center; and an adjunct professor in the University of New Mexico Health Sciences Center. He earned a bachelor's degree in biological sciences in 1965 and a DVM in 1967, both from K-State. After a brief clinical and military experience, Dr. Mauderly specialized in research on comparative respiratory physiology and pathophysiology, comparative lung aging, and the health hazards of inhaled air contaminants.
Dr. Mauderly's research focuses on identifying the individual pollutants and combinations causing the different respiratory and cardiovascular effects of complex air pollution mixtures. He has authored or co-authored 319 scientific articles, book chapters, books, and technical reports. Dr. Mauderly has been associate editor or a member of the editorial boards of four scientific journals. He has chaired and participated in numerous national, university, and NGO advisory committees, and chaired and held other offices in sections of the American Thoracic Society and Society of Toxicology.
Dr. Mauderly is a member of the New Mexico Veterinary Medical Association, American Veterinary Medical Association, Society of Toxicology, Inhalation Specialty Section, Comparative and Veterinary Section; American Thoracic Society, Assembly of Environment and Occupational Health; American Physiological Society, Respiration Section, Comparative Physiology Section; American Association for the Advancement of Science, Biological Sciences Section; New Mexico Chapter, American Thoracic Society.
Dr. Mauderly's wife, Cheryl (Gaines), graduated from K-State in 1967 with a bachelor's degree in elementary education. They have two children: Laurie and Jameson.