2012 Alumni Fellow
Dr. Sara Mark, DVM 1983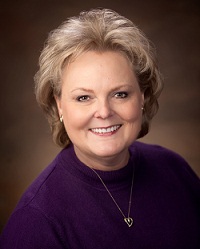 Dr. Sara Mark, Littleton, Colo., has been selected as the 2012 Alumni Fellow for the Kansas State University College of Veterinary Medicine. Dr. Mark will be on campus Feb. 22 through 24 for a variety of activities, tours and seminars. On Feb. 23, she will present a seminar to the college. In the evening, there will be a reception for the Alumni Fellows at the Alumni Center at 6:30 p.m. During the banquet, the K-State Alumni Fellows program, sponsored by the Dean's Council, the President's Office and the Alumni Association will present the Alumni Fellows awards to Dr. Mark and the recipients from the other eight academic colleges, graduate school and division of continuing education.
Dr. Mark earned her bachelor's degree in life science and physical science in 1977 and her DVM in 1983, both from K-State. After graduation, she worked at the Wingate Veterinary Hospital in Englewood, Colo., for two years. Then Dr. Mark worked at the Alpine Animal Hospital Southwest in Littleton for three years. She then went to work at the Southwest Veterinary Hospital in Littleton, where she has become the owner of the practice.
On top of her busy veterinary practice, Dr. Mark dedicates a great deal of her time and expertise as a volunteer at the Prescription Pet Program in the Children's Hospital Colorado in Denver. This program consists of dog-assisted therapy and pet visitations with patients, which was the result of collaboration between Children's Colorado and the Denver Area Veterinary Medical Society. In 1998, she shared one of her profound experiences with the Prescription Pet Program in a story she wrote, entitled "Darlene," which was published in the book "Chicken Soup for the Pet Lover's Soul." Dr. Mark conducts pet screening for the program, and she wrote a protocol that can be used by other hospitals seeking to use pet-visitations. She has worked with the Lutheran Medical Center, Porter Hospital and Littleton Hospital to help each develop and implement its own pet-visitation program.
"For an 'everyday' practicing veterinarian, receiving this award is an incredible honor," Dr. Mark said. "Being chosen as the Alumni Fellow is a humbling and overwhelming experience. I hope that the students can use any insights I share with them throughout their careers, and inspire each of them to pursue a personal path of volunteerism."
"Dr. Mark has set an extraordinary example for future and current veterinarians," said Dean Ralph Richardson. "She has gone beyond and above the call of the duty, especially in reaching out as a volunteer who makes a big difference in her community. We are proud to recognize Dr. Mark with this year's Alumni Fellow award."
Dr. Mark has received many honors and recognitions throughout her career, such as: Children's Colorado Volunteer of the Year in 1991, The Seeing Eye Veterinary Recognition Award in 2009, and the Littleton Independent Best Veterinarian in 2011. She is married to Stuart Mark.