2006 Alumni Fellow
Dr. David R. Franz, DVM 1970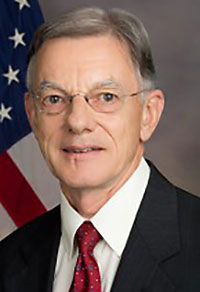 Dr. David R. Franz was the College of Veterinary Medicine's 2006 Alumni Fellow. He visited the college Feb. 26-28, 2006. Dr. Franz gave a seminar entitled, "Veterinary Medicine: A World of Opportunities" on Monday, Feb. 27, 2006 in Frick Auditorium at 12:15 p.m.
As Director of the National Agricultural Biosecurity Center at Kansas State University, Dr. Franz facilitates development of a broad program in preharvest and postharvest biosecurity and promotes collaborative activities to strengthen the role of public health and national security activities at the university and the College of Veterinary Medicine.
As Chief Biological Scientist of Midwest Research Institute, he develops business activities in the areas of biodefense education and preparation, nonproliferation, cooperative threat reduction and biosafety. He introduces scientists and staff at KSU and MRI to potential collaborative opportunities nationally and internationally.
Dr. Franz served in the U.S. Army Medical Research and Materiel Command for 23 of 27 years on active duty and retired as Colonel. He served as Commander of the U.S. Army Medical Research Institute of Infectious Diseases (USAMRIID) and as Deputy Commander of the Medical Research and Materiel Command. Prior to joining the Command, he served as Group Veterinarian for the 10th Special Forces Group (Airborne).
Dr. Franz was the Chief Inspector on three United Nations Special Commission biological warfare inspection missions to Iraq and served as technical advisor on long-term monitoring. He also served as a member of the first two US-UK teams that visited Russia in support of the Trilateral Joint Statement on Biological Weapons and as a member of the Trilateral Experts' Committee for biological weapons negotiations.
Dr. Franz was Technical Editor for the Textbook of Military Medicine on Medical Aspects of Chemical and Biological Warfare released in 1997. Current committee appointments include the Defense Intelligence Agency Red Team Bio-Chem 2020, the Defense Threat Reduction Agency's Threat Reduction Advisory Committee, the National Academy of Sciences' (NAS) Committee for Research with Russian Biological Institutes (chair), the NAS Committee on International Security and Arms Control, the Department of Homeland Security Science & Technology Advisory Committee, the Department of Health and Human Services' National Science Advisory Board for Biosecurity.
Dr. Franz holds an adjunct appointment as Professor for the Department of Diagnostic Medicine and Pathobiology at the College of Veterinary Medicine, Kansas State University, and serves on the Dean's Advisory Council. He also holds an adjunct appointment as Professor in the Department of Emergency Medicine at University of Alabama at Birmingham. Dr. Franz serves as a Senior Fellow in the Combating Terrorism Center of the U.S. Military Academy at West Point.
Dr. Franz holds a D.V.M. from Kansas State University and a Ph.D. in physiology from the Baylor College of Medicine.
Numerous military honors and awards were given during his career including the Distinguished Graduate Award of the AMEDD officer orientation course, National Defense Service Ribbon, Meritorious Service Medal, Parachutist Badge, Special Forces Qualification Tab, Expert Field Medical Badge, Army Commendation Medal, with Oak Leaf Cluster, Army Achievement Medal, Meritorious Service Medal, Army Research and Development Achievement Award, Overseas Service Ribbon, Order of Military Medical Merit, Proficiency Designator-Physiology, National Defense Service and Legion of Merit with Oak Leaf Cluster. He was also a resident graduate of the Army Command and General Staff College.
Honors while at K-State and honor society memberships include: Kansas State University Outstanding Small Animal Clinician, 1970; Upjohn Outstanding Small Animal Clinician Award, 1970; Gamma Sigma Delta and Phi Zeta honor societies.
Dr. Franz and his wife, Patricia, who graduated from K-State in 1970 with a degree in family and child development, reside in Frederick, Maryland. They have two adult children, Matthew and Eric.