2003 Alumni Fellow
Dr. Ross David Clark, DVM 1961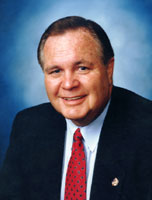 Dr. Ross David Clark was chosen by the College of Veterinary Medicine at Kansas State University to receive the 2003 Alumni Fellows Award. Dr. Clark received his award along with nine other Fellows representing the Colleges of Agriculture, Arts and Sciences, Architecture Planning and Design, Business Administration, Education, Engineering, Human Ecology, Technology and Aviation.
Dr. Clark and his wife, Linda, were in Manhattan from February 23-26, 2003. As a deserving alumnus, the college and university hosted Dr. Clark and his family during their visit. The awards were presented at a banquet hosted by the KSU Alumni Association on February 25, 2003 at 6:30 p.m. in the Alumni Center.
Dr. Ross Clark is co-founder of National PetCare Centers Inc., a group of 72 small animal hospitals located mostly in Oklahoma, Texas and the west coast. He received his doctor of veterinary medicine in 1963 from K-State.
Dr. Clark has served as practice management editor for Veterinary Economics Magazine since 1982, and he was president of the Oklahoma Veterinary Medical Association in 1984. He served as president of the K-State Veterinary Medical Alumni Association from 1990 to 1992. He also was president of the Western Veterinary Conference in 1998-1999. In December 2002, he was appointed honorary chairman from Oklahoma to the Congressional Business Advisory Council.
Dr. Clark is author of Medical, Genetic and Behavioral Aspects of Purebred Cats and editions I and II of Medical and Genetic Aspects of Purebred Dogs. He also is the author of three management books and hundreds of articles on practice management. His most recent book, Mastering the Marketplace - Taking Your Practice to the Top, was published in 1996.