1994 Alumni Fellow
Dr. Wade O. Brinker, DVM 1939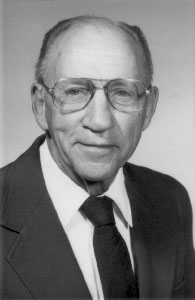 Wade O. Brinker is a part-time professor emeritus with Michigan State University's College of Veterinary Medicine.
He earned a doctorate in veterinary medicine from K-State in 1939, a master's degree in pathology from Michigan State University in 1947 and a diplomate in veterinary surgery in 1965 from the American College of Veterinary Surgeons, an organization of which he was one of the five founding members.
Brinker began his career in 1939 with a private practice. From 1941 until 1946 he served in the U.S. Army. He moved on to Michigan State University in 1946, where he became an assistant professor and two years later became an associate professor. In 1950 Brinker became a professor.
From 1957 to 1967, he was chairman of the Surgery and Medicine Department with Michigan State University.
Brinker was a part-time visiting professor with Tuskegee University's College of Veterinary Medicine from 1981 to 1990.
His professional organization memberships include the American Veterinary Medical Association, the Veterinary Orthopedic Society, for which he was president form 1982 to 1983, and the National Academics of Practice.
Brinker, whose professional interests involve orthopedics and research and plastic and reconstructive surgery, has received numerous honors. He was named Veterinarian of the Year by the American Animal Hospital Association in 1953, has been listed in "Who's Who in America" from 1961 to 1994, received the Centennial Award from K-State in 1963, and the World Small Animal Veterinary Association's Award for Service to the Profession including Michigan State University's Outstanding Veterinary Medicine Teacher Award in 1964 and the university's Distinguished Faculty Award in 1969.
Additionally, he is the chair of the Brinker Surgery endowment with Michigan State University's College of Veterinary Medicine. Established in 1978, the endowment currently consists of $2 million.
He has published 78 journal articles and several books.
Brinker has been a speaker for 265 meetings and short courses in the U.S., Switzerland, France, the Netherlands, England, South Africa, Australia, New Zealand, and Israel.