Conference Speakers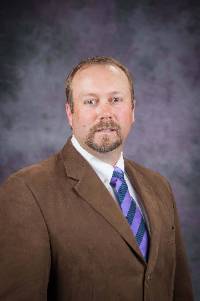 Dr. Brian Lubbers, DVM, PhD, DACVCP
Associate Professor
Director, Microbiology Lab
Kansas State University
Dr. Lubbers is currently an Associate Professor of Food Animal Therapeutics at Kansas State University. Dr. Lubbers began his veterinary career as a private practitioner in California and Iowa working primarily with dairy and beef producers. In 2005, he returned to Kansas State University, where he completed his PhD in Microbiology (Pharmacology). He served as the Director of Clinical Microbiology at the Kansas State Veterinary Diagnostic Laboratory for 10 years. He is a Diplomate of the American College of Veterinary Clinical Pharmacology and currently serves as the chairholder for the CLSI – Veterinary Antimicrobial Susceptibility testing subcommittee. His teaching and research interests are antimicrobial stewardship & therapy, antimicrobial resistance and application of antimicrobial susceptibility testing in food animals.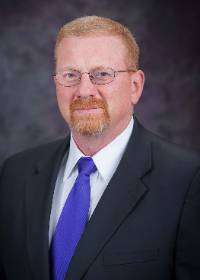 Dr. Michael Apley, DVM, PhD, DACVCP
Frick Professor of Clinical Sciences
Kansas State University
Dr. Apley is a veterinarian with a PhD in physiology (pharmacology). He is a Diplomate of the American College of Veterinary Clinical Pharmacology. His practice background includes general practice in central Kansas and a feedlot consulting/contract research practice based in Colorado. Dr. Apley was on the College of Veterinary Medicine faculty at Iowa State University for 9 years through 2005. He is currently a professor in the Department of Veterinary Clinical Sciences at Kansas State University. Dr. Apley works with veterinarians and producers throughout the United States concerning the use of drugs in food animals and also in the area of beef cattle health with an emphasis on feedlots.
Dr. Apley teaches in the beef production medicine, large animal medicine, clinical pharmacology and pharmacology courses. His research interests include infectious disease, antibiotic efficacy and resistance, antibiotic stewardship, drug residues, and applications of drugs in food animals. In 2016, he and collaborators started a 5-year study funded by the FDA which focuses on quantifying antibiotic use in feedlots and dairies.
Dr. Apley is a past president of the Academy of Veterinary Consultants, the American College of Veterinary Clinical Pharmacology, and the American Association of Bovine Practitioners. In 2015, Dr. Apley was appointed as a voting member of the Presidential Advisory Council on Combating Antibiotic Resistant Bacteria. In 2019 he was reappointed to another 3 year term.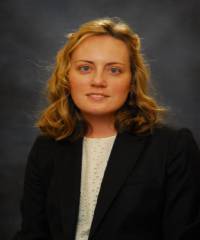 Dr. Kellie Wark
Assistant Professor
Division of Infectious Diseases, Department of Medicine, University of Kansas
Kansas State University College of Veterinary Medicine
Kellie earned her Masters of Public Health at George Washington University, and completed undergraduate, medical school, internal medicine residency and infectious disease fellowship all at the University of Kansas. She now serves as core faculty and assistant professor of infectious disease at the University of Kansas Health System in Kansas City. There she serves on the antibiotic stewardship committee which predominantly has focused on inpatient antibiotic stewardship efforts over the past 5 years. She is currently leading efforts towards developing an ambulatory stewardship program. Additionally, she works as the infectious disease expert to the Kansas Department of Health and Environment's Division of Healthcare Associated Infection and Antibiotic Resistance (KDHE HAI/AR). Her work with KDHE HAI/AR involves improving antibiotic use and raising awareness of antibiotic resistance across the Kansas Healthcare continuum -from acute care and critical access hospitals, to larger tertiary centers, as well as ambulatory and long term care centers. Currently, she is working with KDHE under the 6|18 initiative with the Centers for Disease Control and Prevention, the Centers for Healthcare Strategies, Center for Medicare and Medicaid Services, to improve antibiotic prescribing amongst Kansas clinicians.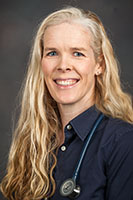 Dr. Katherine KuKanich, DVM, PhD, Diplomate ACVIM (SAIM)
Associate Professor of Internal Medicine, Director of Veterinary Research Scholars Program
Kansas State University College of Veterinary Medicine
Dr. KuKanich earned her veterinary degree from the University of Minnesota, did an internship at Tufts, and a 5-year combined residency/PhD at the University of Tennessee. She has been on faculty at Kansas State University since 2008, and she is currently an associate professor and Director of the Veterinary Research Scholars Program. She is board certified in small animal internal medicine, and her research interests are infectious disease and public health, with much of her research related to antimicrobial stewardship. Her husband Butch KuKanich is a veterinary clinical pharmacologist also on faculty at Kansas State. They have 2 young boys, an Old English sheepdog, several cats, and barn full of ducks.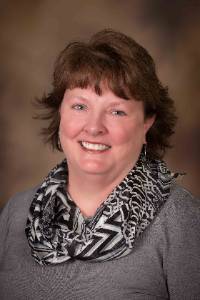 Nadyne Hagmeier, RN
Quality Improvement Consultant
Kansas Foundation for Medical Care, Inc.
Nadyne is a Quality Improvement Consultant at the Kansas Foundation for Medical Care, Inc., in Topeka, Kansas. In this capacity, Nadyne has led efforts to help Kansas hospitals ensure healthcare that is safe, timely, effective, efficient, patient-centered, and equitable. She has worked with hospitals and providers to reduce healthcare associated infections and improve performance on quality measures. She works with members of the project team, advisory committees, healthcare delivery personnel, and others in the project concept design, development of the project idea/plan, mobilization, implementation, evaluation and reporting of quality improvement projects. Recent work has been with outpatient environments to adopt antimicrobial stewardship guidelines and she served as the outpatient antibiotic stewardship Regional Task Lead for the Great Plains Quality Innovation Network for that work.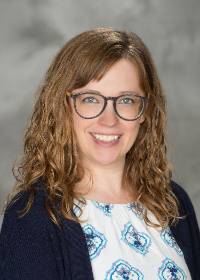 Bryna Stacey, BSN, RN, MPH
Director, Healthcare-Associated Infections
Antimicrobial Resistance Program
Kansas Department of Health and Environment
Bryna Stacey is the director of the Healthcare-Associated Infections and Antimicrobial Resistance (HAI/AR) Program at the Kansas Department of Health and Environment (KDHE). She earned a Master of Public Health degree from Kansas State University in May 2012 and a Bachelor of Science degree in Nursing from Washburn University in May 2015. She is a licensed registered nurse in Kansas. Bryna worked as a critical care nurse in the Intensive Care Nursery at Children's Mercy Hospital from July 2015 to January 2017 before accepting the HAI/AR Program Director position at KDHE in January 2017.