Frontier students learn about vector-borne diseases in historic Charleston, S.C.
By Wendy Barnes, student communications assistant in CVM Marketing and Communications
Fifteen K-State students and faculty members crossed both academic and geographic frontiers on a journey through time when they embarked on the 39th Frontier Field Trip. From March 23-26 students participated in "Archives and Anopheles: An historical journey into vector-borne disease in the American South," in Charleston, South Carolina. Dr. Justin Kastner, professor of food safety and security in the College of Veterinary Medicine, and Dr. Ellyn Mulcahy, professor and director of the Master of Public Health program, led 13 students on the journey.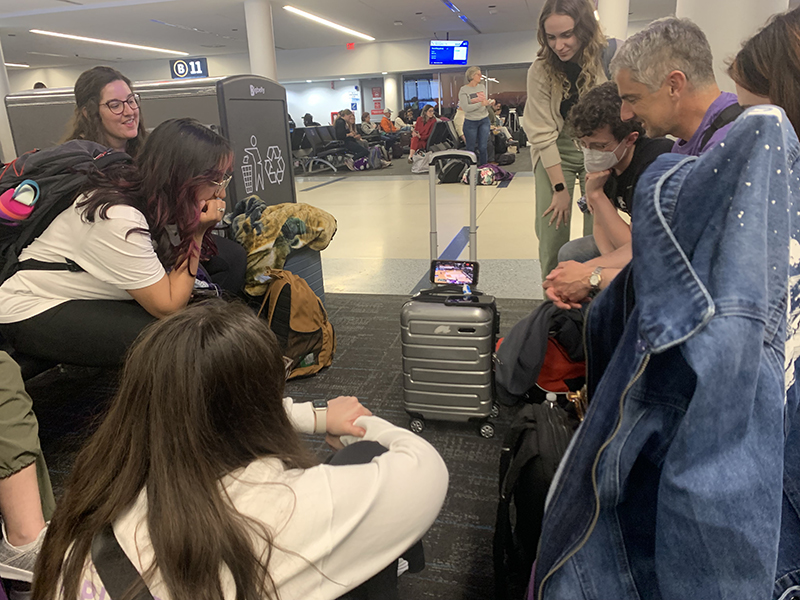 Left to right: Between flights en route to the 39th Frontier Field Trip! Theresa Quintana, Margarita Alvarez-Macias, Alexa Heseltine, Kortnee VanDonge, Chris Carter, Justin Kastner, and (barely visible) Kaitlyn Rhine huddle around a livestreaming phone in the Charlotte airport to watch the Wildcats in their Sweet 16 victory that propelled them to the Elite 8.
Participants came from across campus and various majors. Students who went on the journey included: Margarita Alvarez-Macias, junior, pre-vet and animal sciences and industry; Chris Carter, MPH and trip co-coordinator; Karsen DeWeese, MPH; Lucy Fisher, senior, pre-vet and animal sciences and industry; Jodi Hendon, senior, economics; Alexa Heseltine, junior, microbiology; Alexis Justice, senior, pre-vet and animal sciences and industry; Kate Lewis, senior, pre-vet and animal sciences and industry; Alyssa Miller, senior, public health; Theresa Quintana, MPH and doctoral candidate in pathobiology; Kaitlyn Rhine, senior, public health; Jordan Vail, senior, animal sciences and industry; and Kortnee VanDonge, MPH and veterinary medicine.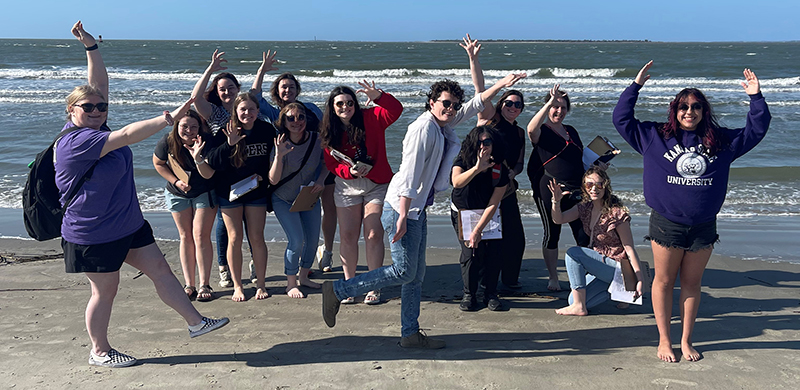 The group pauses for a "K-S-U" pic. Pictured, left to right, are Alyssa Miller, Alexis Justice, Jordan Vail, Lucy Fischer, Kate Lewis, Karsen Deeese, Alexis Heseltine, Chris Carter, Kaitlyn Rhine, Theresa Quintana, Jordan Vail, Jodi Hendon, Kortnee VanDonge, and Margarita Alvarez-Macias.
The first group outing was to Sullivan's Island where each participant received a primary source document about the journey enslaved people from Africa endured. Participants were divided into groups based on different stages of the enslavement process.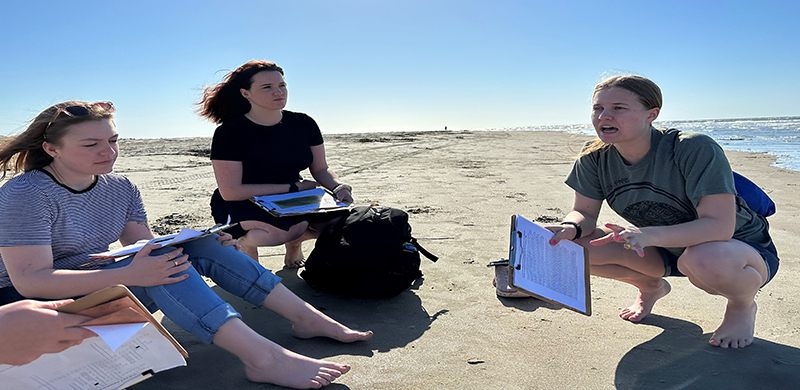 On Sullivan's Island, where most enslaved Africans were landed, students (left to right, Karsen DeWeese, Kaitlyn Rhine, and Lucy Fischer) read and discussed primary source documents describing the kidnapping, transatlantic transport, and enslavement horrors encountered by millions of Africans.
"We started with abduction in Africa, transport, the middle passage and then, finally, arrival on the island," Chris said. "We had them read through the documents and tie the story together and think through some health issues and implications for each of those steps."
Next, an historian at McLeod Plantation shared its involvement with enslaved people, its role in the Civil war and its efforts to free the slaves.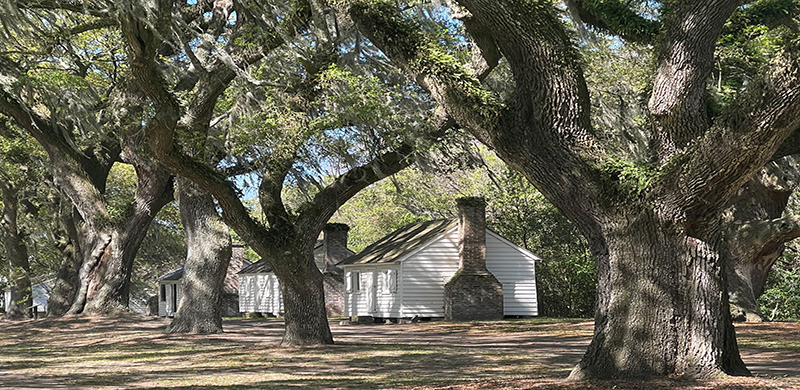 The group visited the McLeod Plantation Historic Site and the living quarters for the enslaved people. These one-bed cabins with no plumbing (or electricity) housed enslaved people and their descendants from 1851 to the 1990s.
"We started the day with the 16th – 17th centuries, this brought us into the 18th and 19th centuries and then we ended the day talking about modern issues; so, this was our bridge between the historical and the modern," Chris said. "It was really impactful, I think, for everybody."
The same afternoon students visited the historic Waring Library of public health and medicine, at the Medical University of South Carolina (MUSC). Students read historical books about a variety of vector-borne diseases that plagued Charleston over the centuries.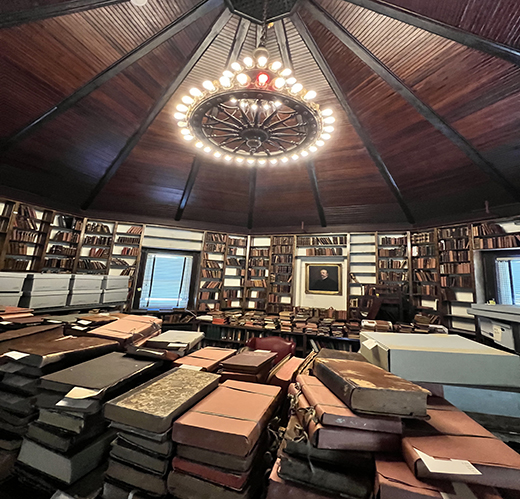 At the historic Waring Library at the Medical University of South Carolina (MUSC), students interacted with pre-pulled primary source documents covering a range of vector-borne disease and other public health topics. Several books dated from the 18th century.
The next day, students walked to the historic Francis Marion Hotel, where Dr. Jason Ackleson, Frontier Field Trip co-founder, principal director of law enforcement policy at the U.S. Department of Homeland Security and adjunct K-State faculty member, helped greet the group. Student organizers Chris, Kaitlyn and Theresa led activities and presentations.
Kaitlyn Rhine provided a report on past Frontier Field Trip alumni and what they learned on previous excursions. The Frontier Field Trip model has had an impact on hundreds of students over the last 15 years.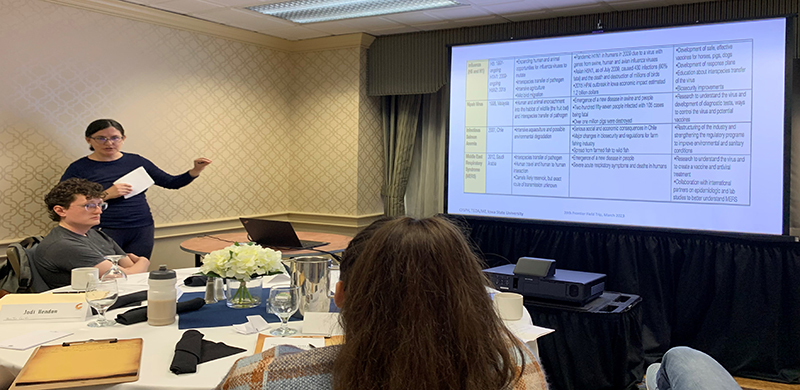 Dr. Mulcahy gives a talk about how understanding history helps public health practitioners be more effective.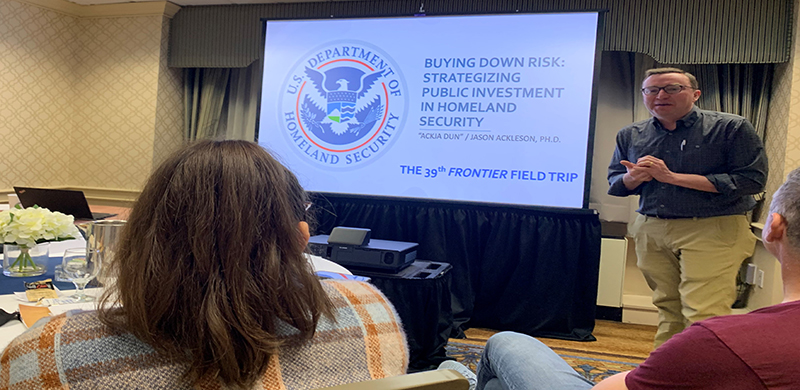 Frontier Field Trip model co-founder Dr. Jason Ackleson speaks to the students about the importance of strategic planning in the DHS mission and operations. Dr. Ackleson led an interactive workshop for the students in which they had to make strategic decisions about the DHS mission areas' budgets.
The morning ended with an interactive workshop led and facilitated by Dr. Ackleson focused on how to "strategize public investment in Homeland Security."
Students were given the top five mission areas of the department and a fictional budget. Their task was to rank the directives in order of priority and then allocate the budget for each.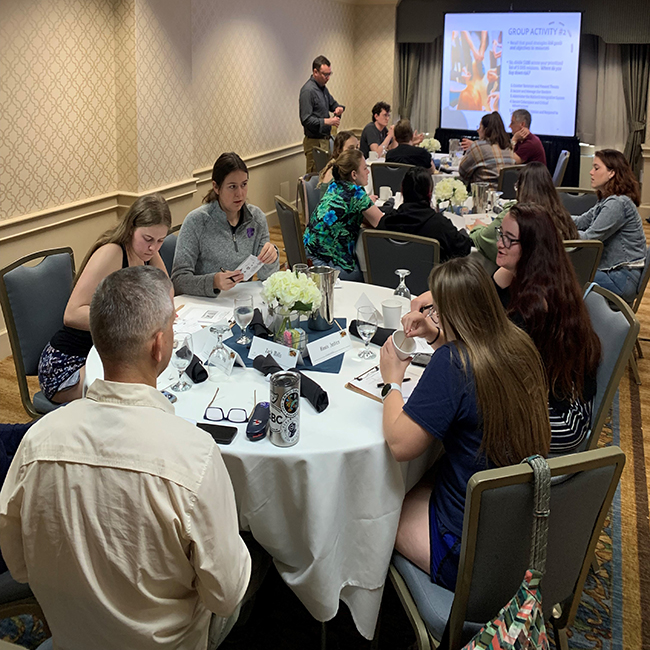 Students participate in the workshop led by Dr. Ackleson.
"We did that in small groups and then he revealed how the money is actually distributed and there were some surprises," Chris said. "It was very interesting to bring us fully back into the modern day and how we fund public health in this country."
Closing the trip was an optional ghost tour of historic Charleston, which most chose to attend.
"That put us back into some of the history of the area; we went to a lot of historic sites that we didn't necessarily talk about on the other day because we were trying to focus more on health and less on war history," Carter said. "The ghost tour was a fun way to cover the rest of the history of the area that we didn't really get."
About Frontier Field Trips
The Frontier Field Trip program was started by Dr. Kastner and Dr. Ackleson in 2007. It provides scholars the opportunity to explore disciplines other than their own, which is particularly relevant to public health.
"You can talk about history; you can talk about sociology and biology, and what we think of as separate fields, but you actually need quite a bit of understanding," Chris said. "You need to cross those disciplinary frontiers; that's where the name comes from. The other part of it is we cross actual frontiers; we travel and try to get as many diverse experiences as possible around the fields of food safety, public health and history."
The interactive, immersive field trips help students explore different career opportunities and let them connect with others outside of their academic disciplines.
"The big one for us is making sure these students know that public service, meaning serving in a local health department, a state agency or federal government, like Jason, is a good and honorable profession," Dr. Kastner said. "It's important that we have public servants who actually are good scientists and who care about serving society with their gifts, talents and education."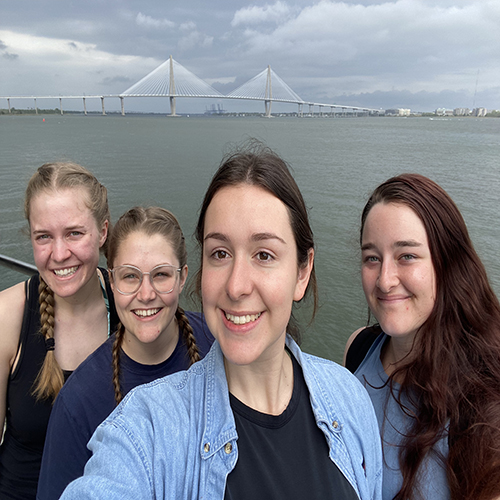 Left to right: Lucy Fischer, Alexis Justice, Kate Lewis, and Jordan Vail pause for a selfie in Charleston