28th Annual Dog-N-Jog - April 16th, 2023
Registration is currently open!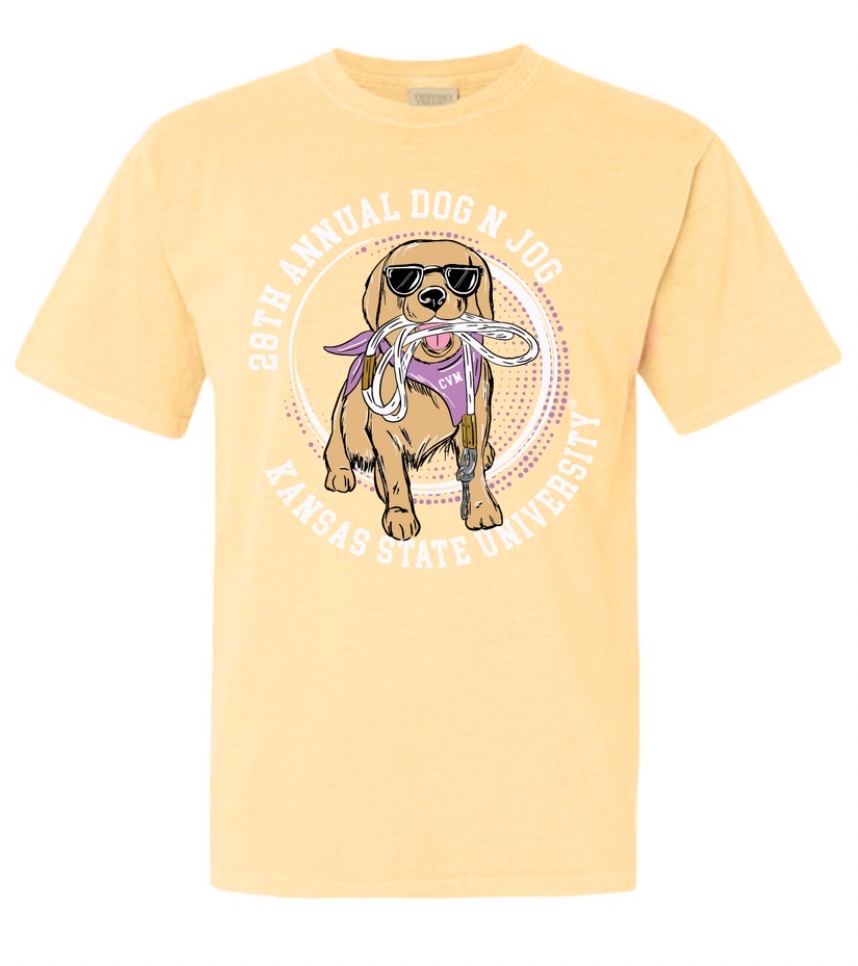 5K and 1mile races
Sunday, April 16th - check in at 1:30PM
Dogs are welcome to come and run, but are not required!
All participants will receive T-shirts with a new logo.
Day of Race Information - April 16th
Registration will start at 1:30PM and take place at the tables by the flagpoles in front of the school! Please come with enough time to sign in and pick up your bib and event t-shirt.

Address:

1800 Denison Ave, Manhattan, KS 66506

Please do not block parking to the Emergency entrance of the hospital!

If you ordered a non-participant t-shirt, please come pick them up from registration after 2:30 PM.

Please contact our race coordinators if you need a different time.


The 1-mile event will start at 2:30PM - Please be around the starting line no later than 2:15 PM so we can start on time!
The 5K event will start at 3:15PM - Please be around the starting line no later than 3:00 PM, but be cognizant of runners who may be finishing the 1 mile race.
Event Sign Up
If you still need to sign up for the event,
click here!
Registration is now $40 and we cannot guarantee an event t-shirt.
Raffle Information
Below are the items being raffled this year to support the Dog N Jog! All proceeds from the raffle will be combined with our proceeds from the Dog N Jog and donated to KSDS. This year you are able to purchase raffle tickets even if you are not at the Dog N Jog event. Tickets are $2/ entry and you can purchase as many tickets as you would like. Photos are included on the google forms!
1 entry = 1 ticket, if you want more than 1 ticket please fill out the form once for each ticket you want
Example: You want to buy 3 Hoka tickets, 2 Airpod tickets and 2 Stanley Cup tickets. Fill out the Hoka form 3 times, Airpod form 2 times, and Stanley cup form 2 times and Venmo with caption (3 Hoka, 2 airpod, 2 stanley cup)
You can purchase tickets until 1PM on 4/16/23. Payments can be made by venmo (@angtb) or the day of with EXACT cash.
Muttschool Goody Basket: Includes a $120 voucher for free evaluation (*), purple and white snuffle mat, kong ball, training treats, and training clicker
https://forms.gle/KcetxhLYhsh3YLLn9
Hosted by the Veterinary Health Center & the College of Veterinary Medicine, Class of 2023
Proceeds benefit KSDS Assistance Dogs, Inc.
KSDS Assistance Dogs, Inc. is a 501(c)(3) non profit that provides service, guide, and facility dogs to individuals in need. Their mission statement is: "To provide professionally trained guide, service and facility dogs for people in need of a canine partner to enhance their independence, to fully function in society and or to enrich their professional career responsibilities with the ongoing support of our trainers to ensure proficient working partnerships."
All proceeds from this year's event will go to benefit this amazing organization. For more information about or to make direct donations please visit: http://www.ksds.org/