St. Joseph Veterinary College History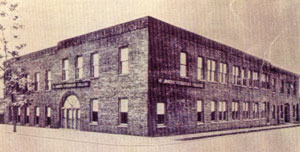 St. Joseph was founded in 1843 by Joseph Robidoux, an early fur trader. It evolved from an earlier fur trading post established by Robidoux in approximately 1826 known as Blacksnake Hills after a tribe of Sioux related Indians. The town occupied a very favorable location on the Missouri River and was the western terminus of the Hannibal and Saint Joseph Railroad, the first railroad to reach the Missouri River. Several years later it was the eastern terminus of the Pony Express established by Russell, Majors and Waddell. Some miles west of Saint Joseph, the Saint Joseph Trail joined the trail from Independence and Westport, forming the California and Oregon Trail.
St. Joseph Veterinary College was established in 1905. For two years, classes were held in a building in South St. Joseph. In 1907, Drs. Steele, Good, and Lomax moved the school to a building at 7th and Sylvanie Streets. The College offered a 3-year course, similar to other veterinary schools at that time, with a degree of Doctor of Veterinary Science. The St. Joseph Veterinary College graduated its first class, a class of 13, on March 13, 1908; one graduate completed the requirements in 1906.
The College soon outgrew this building and needed new facilities of all kinds, as well as more teachers. A building was purchased at 9th and Mary; the following nine men took stock in the school and provided the money for the building: Drs. Fred and A.C. Holkenbrink (SJ 1912), Dr. Carl Wank, Dr. R.C. Moore, Mr. Claud Madison, Dr. Rogers, Dr. E.A. Logan, J. Haukenberry, and Dr. F.M. Cahill (SJ 1908). Dr. R.C. Moore had been associated with Dr. Sesco Stewart at the Kansas City Veterinary College, but resigned there in 1912 and came to St. Joseph to help open the new school in 1913. Later, he served as president of the school until it closed in 1923.
Dr. Robert C. Moore graduated from the Chicago Veterinary College in 1887. He was engaged in general practice in Holton, Kansas, until 1895 when he became associated with Dr. Sesco Stewart and Dr. J.C. Sihler in the purchase of the Kansas City Veterinary College from Dr. J.H. Wattles and his associates. Dr. Moore was president of the KCVC from 1898 to 1913. Later, 1914-23, he was president of the St. Joseph Veterinary College. While in Kansas City, he was also a senior member of a firm (Drs. Sesco Stewart and F.F. Brown were other members of the firm) that had a very large practice there.
In the new school, there were plenty of classrooms, dissection rooms, laboratory facilities, and a large recreation hall where basketball games could be played, and where much of the social life of the student body was enjoyed. The Ladies Auxiliary was formed, and it planned dances enjoyed by all and also held picnics in Krug Park in summers. A majority of the students were married, so they lived in St. Joseph during the entire year.
The curriculum was rigidly controlled by the U.S. Government both with respect to the course of study and the amount of hours required per subject. In 1914, the faculty consisted of 21 members, including two physicians and an attorney who taught medical jurisprudence. One of the physicians taught laboratory chemistry and the other taught intestinal suturing. Among the subjects offered were: anatomy, chemistry, histology, language of medicine, parasitology, pathology, and physiology. Heavy emphasis was placed upon the course material medica.
Some of the presidents and deans of the school, who contributed greatly to the success and to the excellent education of the students, were: Drs. Fred and A.H. Holkenbrink, Dr. F.M. Cahill, Dr. E.A. Logan, Dr. R.C. Moore, Dr. Joseph Weinman (SJ 1921; he later taught at the University of Missouri and his son Donald Weinman, KSC 1946, taught anatomy at K-State), Dr. W.H. Bailey (SJ 1914), Dr. Hans Jensen, Captain F.H. Spencer, M.D., Dr. H.J. Hearington (SJ 1919), Attorney A.F. Lindsay, Dr. L.D. Brown, and numerous others.
After the United States entered World War I, the government found there was a large need for veterinarians. All men of draft age were required to sign a voluntary enlistment, subject to 24-hour call to service if the need arose, and to enter the armed forces as veterinarians immediately after graduation. Most of the classes of 1917-18 went into the service in this manner. They not only served in remount stations, where horses and mules were purchased for our government and for its allies in the War, but also served as food inspectors.
After World War I, the U.S. Government closed all private veterinary colleges, as veterinary colleges were established in conjunction with the state universities. It was with great regret that the announcement was made to close the St. Joseph Veterinary College, perhaps in 1924. Later, it was decided to continue the school on through the summer of 1923, after graduation in April. The last class received their full quota of hours of study and graduated in November 1923; one student did not graduate until 1924. For several years, a 4-year course had been given, and the degree of Doctor of Veterinary Medicine awarded upon graduation. A total of more than 420 men graduated from 1908 to 1924. With the closure of St. Joseph Veterinary College, all records were transferred to Kansas State Agricultural College, Manhattan, Kansas.