Harry "Doc" Ashton Hopson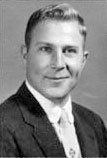 Harry "Doc" Ashton Hopson, DVM, age 73, of Wolf Point, passed away March 3, 2008, at Trinity Hospital in Wolf Point, from complications from a brain tumor and heart disease.
Harry was born July 28, 1934, to Edna (Drake) Hopson and Cornelius Hopson in Phillipsburg, Kan., the youngest of four children. Harry graduated from Phillipsburg High School and Kansas State University with a doctorate in Veterinary Medicine in 1957.

Harry married Mary Lynn Hepburn and had two sons, Michael and Timothy. They divorced. He married Mary Lou Poyser in 1957. Together, they had four children, David, Kelly, Douglas and Tasha.

Harry came to Wolf Point as a federal vet in 1957 and stayed for almost two years before entering the Air Force in 1958. They were stationed at William's Air Force Base in Chandler, Arizona, where he served as base veterinarian. He mostly did sanitization inspections. He was honorably discharged with the rank of Captain in 1960.

Harry and Lou then traveled back to Wolf Point, where he set up a private practice which he operated for over 40 years.

"Doc" was involved in the Montana Veterinary Medical Association, serving on its executive board for five years, was Vice President for one year and President for one year. He served on the Wolf Point School Board for 18 years, serving as chairman for two terms. He coached Babe Ruth and Legion baseball for 10 years, ran the Demolay Program for 10 years, and a youth golf clinic for eight years. Harry served on the Stampede Committee for 18 years and served as Grand Marshal in 2004. He was a Mason and Shriner for many years.

"Doc" was an elder of the First Presbyterian Church. He loved to garden, golf and play bridge, and loved traveling to see his grand kids and their activities.

"Doc" was preceded in death by his parents and his son, David.

He is survived by his loving wife, Lou; sons, Mike of Omaha, Neb., Tim (Sondra) of lincoln, Neb., and Doug (Nancy) of Wolf Point; and daughters, Kelly (Jerry) Doomek of Glasgow and Tasha (Zane) Stiner of Cut Bank; daughter-in-law, Sharon Hopson of Louisiana; 18 grandchildren; two great-grandchildren; brothers, Avery (Virginia) of Phillipsburg, James of Butler, Pa.; sister, Geraldine (Merl) Francis of Philipsburg.

He was a loving brother, husband, father and grandfather, and will be dearly missed.