Class of 1957 - Dr. Robert "Bob" Kind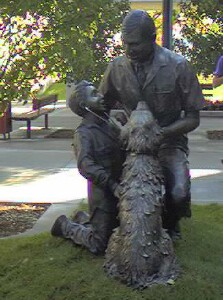 Dr. Robert "Bob" Kind was born on December 5, 1933 in Herington, Kansas. A member of Acacia Fraternity, Dr. Kind received his Doctor of Veterinary Medicine degree from Kansas State University College of Veterinary Medicine in 1957. He served his country as a military veterinarian in the Air Force from 1958 to 1960.
In 1961, Bob joined Dr. Robert Miller in the Conejo Valley Veterinary Clinic in Thousand Oaks, California where he enjoyed 37 years of veterinary practice. Throughout his career, Dr. Kind distinguished himself in caring for dogs, cats, horses, and a broad range of exotic animals and wildlife.
Bob enjoyed golf, tennis, bridge and camping. He was an enthusiastic but terrible joke teller. He loved yard work, which is probably due to his earlier farm background. He enjoyed his work and considered himself the luckiest fellow in the world to have been in a practice with such an interesting variety of wonderful animals and their very special owners. Bob considered every animal and every person a Child of God and tried to do the best he could for each.
Dr. Kind was a member of the American Veterinary Medical Association, California VMA. He was also a member of and served as president of the American Society of the American Society of Veterinary Ophthalmology from 1988 to 1989.
In 1994, Dr Kind was recognized by the Conejo Community Chamber of Commerce as "Businessman of the Year." He helped establish pet emergency facilities in Thousand Oaks and Ventura, California.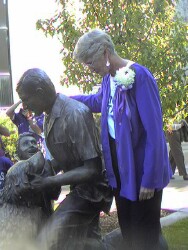 Bob is survived by his wife of 40 years, Mary Lee, KSU '58, daughter of M.A. Durland, Dean of the College of Engineering from 1949 to 1961.
He is also survived by three children, Steven Kind, MD, Marilyn Reiter, and Nancy Kind, and a grand-daughter, Taylor Ann Reiter.
Dr. Bob Kind was described as humorous, humble, compassionate, devoted, kind, conscientious, Christian, dedicated, and loyal. He was a loving husband, father, grandfather and friend. His manner was modest, his touch was gentle, and his laugh was legendary.
For more than 40 years, Dr. Robert Kind dedicated his life to the care and love of animals, extending to all - his "Kind Touch."
The donated bronze sculpture "A Kind Touch", pictured, resides at the College of Veterinary Medicine at Kansas State University as a memorial to honor his life and devotion to the practice of Veterinary Medicine.