To Discover. To Teach. To Heal.
K-State Veterinary Health Center
The Veterinary Health Center at Kansas State University is a full service veterinary hospital providing routine, specialty and emergency care. Our mission is to provide superior veterinary medical education, quality patient care and exceptional customer service in a caring environment.


News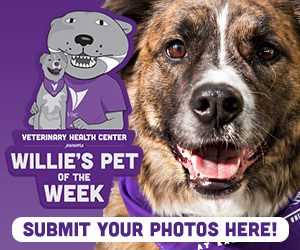 Willie's Pet of the Week
Enter your pet's photo for a chance to win K-State Football suite tickets, basketball season tickets and more!
Anti-Cancer Vaccine Clinical Trial Now Offered
See if your pet is eligible for a ground-breaking therapy for dogs with cancer.
Dr. Beth Davis Warns Against Blister Beetle Toxicity in Horses
The 2015 crop of alfalfa may be tainted with a dangerous beetle that could cause life-threatening illnesses in horses.

AnimaLIFE magazine
A magazine by the Veterinary Health Center celebrating the human-animal bond.