Equine Performance Testing Center
July 5, 2016 Update
The first dirt is moved, preparing the site for construction.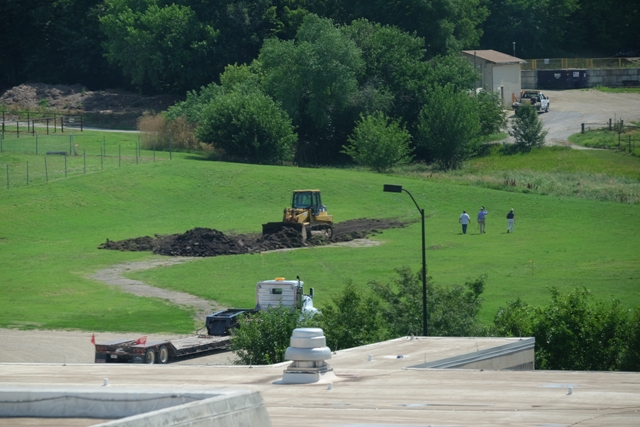 Breaking Ground
After nearly 10 years of detailed research and meticulous planning, a vision is coming to life. The Veterinary Health Center plans to break ground on a new state-of-the-art Equine Performance Testing Center (EPTC) within the next year.
Moving Forward
Our current facilities provide only a small indoor covered space for lameness exams in bad weather, and the space is limited. Outdoor space is available, but terrain, an important consideration in a lameness exam, is limited to grass or concrete.
The new facility will feature a covered riding arena with soft footing and lunging and trot-up areas with asphalt footing. As a stand-alone, outpatient facility, it will also provide four holding stalls, wash area, examination and patient preparation area, radiology services and an area for farrier services as well as easy-access pull-through truck and trailer parking.
"The planned EPTC is really essential to provide state-of-the-art care," said Dr. Elizabeth Davis, professor and section head of equine medicine and surgery. "Our goal is to build a facility that is practical, functional and will allow us to do our job to the best of our ability."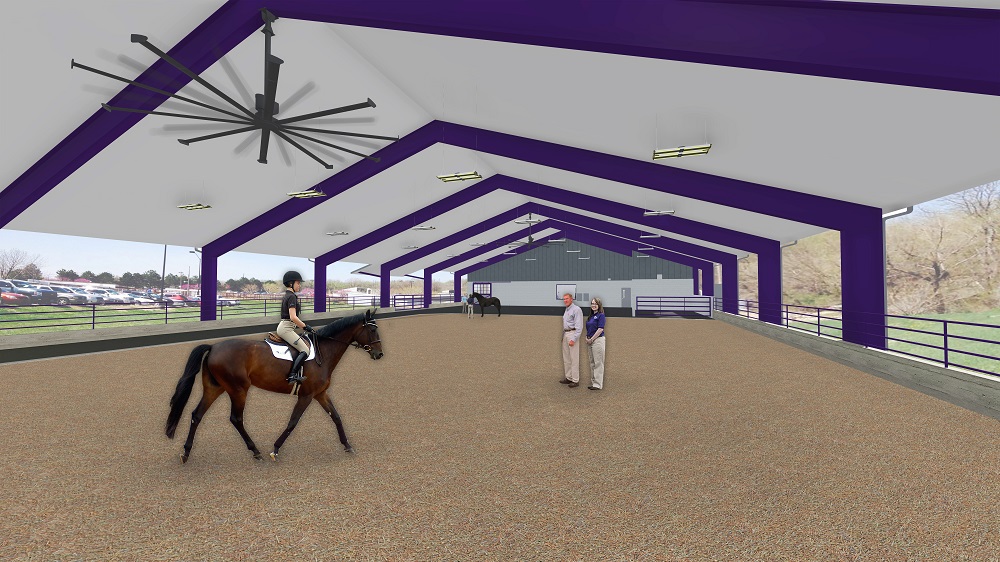 Nearly half of the equine patients seen by VHC clinicians suffer from performance-related conditions. Clients from around the Midwest depend on the VHC to treat their performance horses and family pleasure horses. With the gait assessment and diagnostic modalities available in the EPTC, these patients will have access to the best and most complete examinations in the Midwest.
Recent additions to the equine faculty amplify the positive effect a facility such as this will generate for the regional equine community. With the arrival of Dr. Elizabeth Santschi, professor of equine surgery, and her expertise in musculoskeletal disease, the EPTC will be the ideal place to evaluate lameness under saddle or on the ground.
Students First
The new EPTC will benefit veterinary students who must learn the critical skills required to evaluate and treat horses as well as VHC patients and clients. "The EPTC is intended to allow us to complete our mission of teaching veterinary students. It is a much more conducive area to teaching and discussing and observing patients than our current facilities. We will be able to provide superior education opportunities for our students," said Dr. Davis.
The EPTC will also have the capability of hosting special events for the VHC, College of Veterinary Medicine and equine groups in the area. The conference area will be ideal for consultation with clients, student education and outreach activities.
The $3 million building will be built just east of the VHC and is expected to be completed in 2017.
For naming opportunities and information on how you can contribute to the Equine Performance Testing Center, please contact the Development Office at 785-532-4378 or visit our Wish List.