Equine Surgery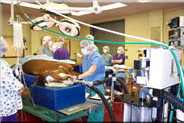 The Equine Surgery Service evaluates horses with lameness, bone and joint disorders, colic, wounds, and airway disease. The Equine Surgery clinicians, residents, veterinary technicians, and veterinary students utilize advanced imaging techniques including videoendoscopy, ultrasonography, radiography, and nuclear scintigraphy. The Equine Surgeons in the Veterinary Health Center have completed four years of advanced training beyond veterinary school and are board certified diplomates of the American College of Veterinary Surgery.
Equine Performance Testing Center
Our Equine Performance Testing Center features a climate-controlled treatment and farrier areas with in-house imaging and a consultation room that overlooks our fully enclosed performance evaluation area.
Articles