About Us
Meet the Clinical Trials Coordinator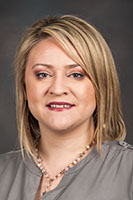 Misty Bear has accumulated more than 17 years of experience in molecular/cellular biology and biomedical laboratory research. Before becoming the VHC's first Clinical Trials Coordinator, Misty was a Research Associate for 10 years at The Ohio State University College of Veterinary Medicine, where she managed a cancer research lab for Dr. Cheryl London, Professor and Director of the Clinical Trials Office. During those 10 years, the progressive Clinical Trials Office grew into a core resource for the university and joined OSU's Center for Clinical and Translational Science.
As the Clinical Trials Coordinator for the VHC, Misty offers support to all investigators with current or upcoming clinical trials. This can include assistance with study design, IACUC submissions, CRF generation and data capture, creating and maintaining study binders, trial promotion and patient enrollment, in addition to facilitating daily study visit activities for each patient.
"I like to think of myself as a liaison or facilitator between everyone involved in a trial; from the clients and patients, to the study sponsors, primary investigators, and veterinary technicians. Each trial requires a team of people working together to see that an enrolled patient receives all the required study visit exams, treatments, and sample collections. As the coordinator, I am here to help on all fronts so that each trial runs as efficiently as possible, while maintaining the highest level of data integrity."
Misty is proud to be a native Wildcat, having received her Bachelor of Science degree in Animal Science & Industry from K-State's College of Agriculture, in 2002.
You can contact Misty at 785-532-3046 or email ClinicalTrials@vet.k-state.edu.