May 2020 - Vol. 15, No. 5
Top Stories
College celebrates 2020 graduates and new fourth-year students with virtual ceremonies
Due to circumstances in response to COVID-19, large gatherings were suspended and/or canceled in the state of Kansas this spring. This impacted in-person commencement exercises at Kansas State University. While some of the university's graduation exercises were being postponed, the CVM decided instead to schedule "virtual" ceremonies, which were held in May.
Read more ...

Screen capture of a Zoom meeting held to formally recognize the transition of students from the third year of studies into the fourth year, where clinical rotations begin. This took the place of the White Coat Ceremony since students are not allowed to be on campus until the university's comes of out of limited operations status.

The first virtual event took place May 8 to substitute for the annual White Coat Ceremony. Since students are unable to be on campus due to limited operations status at Kansas State University, a meeting was held on the Zoom so that Dr. Elizabeth Davis, head of Clinical Sciences could formally welcome third-year students into the fourth year of studies, where the students begin clinical rotations. As part of the meeting, students recited the Pledge of Professionalism, but they will receive their white coats later, when they are able to be back at the college. You can see video from this virtual ceremony here: http://vet.ksu.edu/commencement2020/conferringofdegrees_livestream.html

The College also used Zoom to celebrate its 2020 graduating class of Doctor of Veterinary Medicine students on May 15.

Graduates stand by as the virtual ceremony commences on Zoom.
A celebratory video with a full listing of all the students is posted at the 2020 Commencement Page. This video includes a greeting from Dr. Bonnie Rush, dean; keynote address from Dr. Dan Thomson, former faculty member; remarks from Dr. Alexandra Allen, the 2020 class president; faculty messages; and a video collage of students reciting the veterinarian's oath. An electronic program, in PDF format, is posted at the commencement page featuring a list of the graduating students and their respective hometowns.
Dean Rush was joined by Charles Taber, K-State provost, to greet the class of 2020 live where they formally conferred the degrees to the students. The students recited the Veterinarian's Oath together online. Video and information about the virtual commencement events are posted at the college's 2020 Commencement Page.

Dean Bonnie Rush welcomes the graduates and Provost Charles Taber confers the degree of Doctor of Veterinary on the 2020 graduates.


At the conclusion on the ceremony, a video showed each of the graduates in their regalia. Pictures were taken ahead of time so that proper social distancing guidelines could be followed instead of having the students gathered in one location.

Veterinary faculty target new ways to confront COVID-19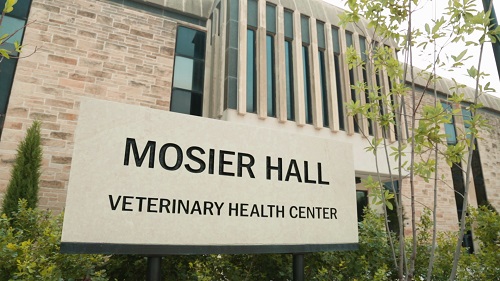 Scientific work continues in the College of Veterinary Medicine at Kansas State University to better understand and confront the virus that causes the COVID-19 disease. Faculty, staff, students and postdocs in the college are utilizing their respective areas of expertise to explore different aspects of the novel coronavirus, which reached pandemic levels this spring.
Click to read ...
"Our work ranges from physical protection from the virus to the creation of new diagnostics for detection of the virus and serology testing to detect antibodies," said Dr. Derek Mosier, head of the Department of Diagnostic Medicine and Pathobiology. "Our faculty are also working to develop new therapeutics and vaccines. Plus, we have faculty who are conducting detailed studies on the pathogenesis and features of the virus. The more we understand, the better we will be able to control the virus."


A pair of researchers in the diagnostic medicine department recently licensed a technology that may lead to the production of an antiviral drug to treat coronaviruses and noroviruses. Drs. Yungeong Kim and Kyeong-Ok "KC" Chang, virologists at K-State, collaborated with Dr. William Groutas, a medicinal chemist at Wichita State University. Jointly, they have been using National Institutes of Health grants to work on human norovirus therapeutics. They recently received an additional $3.7 million grant to develop antiviral drugs to treat Middle East respiratory syndrome, better known as MERS human coronavirus. Their work extends to other human viruses that have a similar viral protease, such as rhinoviruses and the newly emerged human coronavirus causing COVID-19.

No antiviral drugs are yet available for human norovirus or coronaviruses, which include SARS, MERS and SARS-CoV-2, the virus that causes COVID-19, but this could change as a result of the license agreement between K-State and Cocrystal Pharma Inc., a clinical stage biotechnology company that develops novel antiviral therapeutics. So far, Drs. Chang and Kim have agreements with Cocrystal for multiple therapeutic candidates. The company intends to pursue research and development of theses antiviral compounds, including preclinical and clinical development.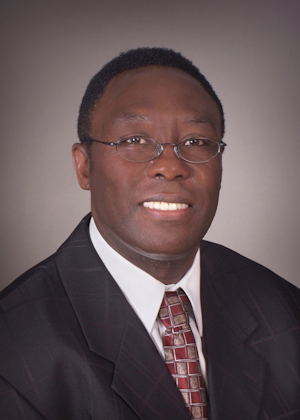 Another K-State researcher and professor, Dr. Waithaka Mwangi, has worked with his team to develop three patent-pending experimental immunogens to be evaluated for the ability to induce protection against SARS-CoV-2. Two candidates are designed for eliciting mucosal immunity through intranasal delivery — live-vectored replicons or live-vectored viral nucleic acid — and one is for parenteral immunization — a recombinant protein.

"My lab is scaling up these experimental immunogens in readiness for safety, immunogenicity and protective efficacy testing," Dr. Mwangi said.

Kansas State University has signed a nonclinical evaluation agreement with the National Institute of Allergy and Infectious Diseases for the materials to be evaluated.

"We are also working with Dr. Juergen Richt to test the materials at K-State's Biosecurity Research Institute," Dr. Mwangi said. "Plus, we are working on generation of therapeutic humanized-neutralizing antibodies. We hope these efforts will help produce a robust intervention against COVID-19."

Dr. Richt, a Regents distinguished professor and KBA eminent scholar, is director of the Center of Excellence for Emerging Animal Diseases, or CEEZAD, at K-State.

K-State's Molecular Research and Development team, a part of the Kansas State Veterinary Diagnostic Laboratory, has been working on a multiplex real-time PCR assay — a widely used molecular biology method — for faster detection of the SARS-CoV-2 virus.


"The current CDC-recommended protocol involves three molecular targets that are tested individually," said Dr. Jianfa Bai, professor and director of the team. "This means each sample requires three PCR reactions. The multiplex real-time PCR assay developed by the Molecular Research and Development team uses a single PCR reaction for each sample."

Dr. Bai said preliminary data generated using a plasmid control and an RNA sample extracted from a SARS-CoV-2 isolate indicated that the multiplex assay has similar analytical sensitivity but better linearity, and it has better repeatability on low concentration samples, as compared to the CDC assay.

"The multiplex assay is under validation with a number of positive and negative samples from human patients," Dr. Bai said. "An emergency use authorization application has been filed with the FDA for the assay, which will speed up the detection process three times that of the CDC protocol."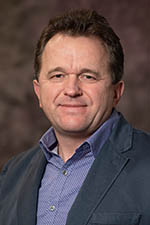 Dr. Roman Pogranichniy, an associate professor of virology, said team members in the Kansas State Veterinary Diagnostic Lab led by Dr. Jamie Henningson are working with Dr. Richt on developing diagnostic assays for SARS2-CoV-2 to detect antibodies and virus and to understand the virus's epidemiology and pathogenesis better.

Dr. Richt said CEEZAD is working to develop preclinical models and diagnostics, as well as treatments and subunit vaccines, that will be effective against COVID-19. This work will be conducted at K-State's Biosecurity Research Institute, the only facility on campus in which work with the infectious SARS-CoV-2 can be performed.

"Researchers at K-State have access to one of the nation's premier biosafety laboratories, the BRI, where research on noro- and coronaviruses can be done safely," said Peter Dorhout, vice president for research. "This facility is an investment by the state and the university. The BRI professional staff also train the next generations of biosafety and biosecurity researchers who will discover the vaccines and treatments of not just the human and animal diseases we face today, but those that will emerge in the future."

The therapeutic and vaccine research is taking place in collaboration with various academic and industry partners. Dr. Richt was recently appointed to an ad hoc expert group established by the World Health Organization. The WHO is tasking the group to develop preclinical models of COVID-19 that can be used for the evaluation of vaccines and therapeutics against the disease.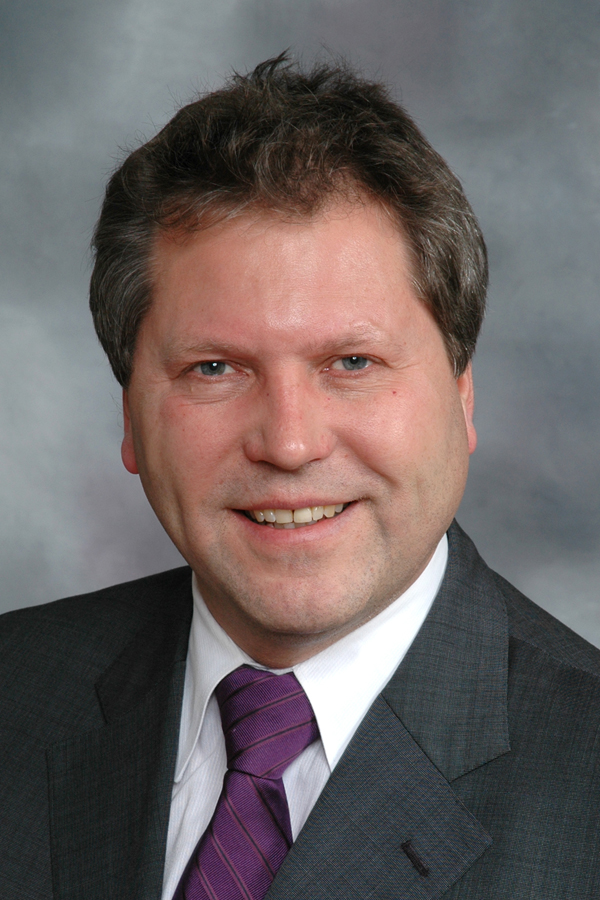 Although reports on the effects of COVID-19 have to date been focused on humans, there have been recent reports that the virus has been transmitted from humans to dogs and cats, and also to large cats in zoos. But Dr. Richt said there is currently no information that suggests that pets might be a source of infection for people with the coronavirus that causes COVID-19.

"That is most likely due to reverse zoonoses, meaning COVID-19 human patients transmitted it to the companion animals," Dr. Richt said. "CEEZAD's effort is designed to marshal the full range of the center's research expertise against COVID-19. CEEZAD is fortunate to have such dedicated employees with a wide array of expertise in infectious diseases."
National veterinary student association recognizes Dr. Kate KuKanich for outreach efforts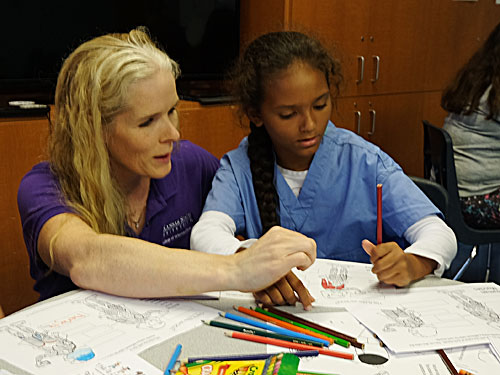 This spring, while unable to have its annual in-person symposium as scheduled at Cornell, the Student American Veterinary Medical Association gathered online using Zoom, a virtual meeting platform, to conduct Student AVMA–related business and elections. The organization also recognized several national faculty members for their work.
Click to read ...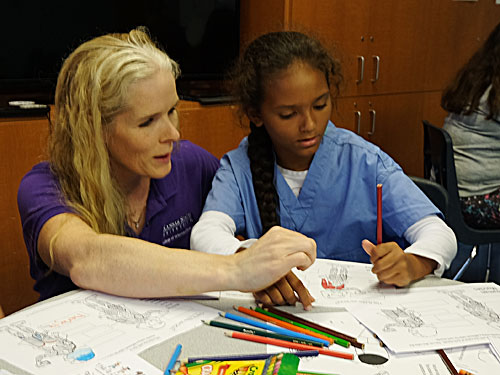 Dr. Kate KuKanich works with a student during a "This is How we ROLE" session at the Boys & Girls Club of Manhattan. Dr. KuKanich was presented with this year's SAVMA Faculty Community Outreach Award because of her leadership in this program and participation in other community outreach programs.

Kansas State University's Dr. Kate KuKanich, associate professor of small animal internal medicine in the College of Veterinary Medicine, was recognized with the association's Faculty Community Outreach Award.
The SAVMA Faculty Community Outreach Award nomination is intended for students to publicly acknowledge how a veterinarian faculty member has gone above and beyond their own professional responsibilities to make a difference in the local and/or global community as a servant leader. This recipient should be active in programs that serve the public; however, preference may be given to nominees with significant interactions with students.
"Dr. KuKanich is an excellent example of serving one's community," said Becca Tomasek, fourth-year veterinary student, who nominated Dr. KuKanich. "She serves as a mentor to many students, started the 'This is How We Role' chapter, actively participates in community events such Everybody Counts, Okt-FLU-ber Fest, and BugAPalooza, and has worked to improve accessibility at Kansas veterinary hospitals. She consistently goes above and beyond to serve and support her community, across all ages, races, ethnicities, socioeconomic statuses, and abilities. I can't think of anyone more deserving of this recognition."
"It is a great honor and I'm humbled to have been nominated and received this award," KuKanich said.
In lieu of a presentation at the national symposium, schools are allowed to arrange for an award reception at their own school, but due to COVID-19 and limited operations status at Kansas State University, Dr. KuKanich said the reception was appropriately postponed.
As a program participant, Becca included a description of "This is How We Role" in the nomination form, "This is a grant-funded program overseen by Purdue University," she wrote. "Dr. KuKanich established a collaborative relationship with the Boys and Girls Club of Manhattan and recruited veterinary students to partake in this endeavor. As instructor of the program, she plans weekly meetings, prepares lessons, and spends hours planning interactive activities that support the STEM lessons shared with our kindergarten through fourth-grade students, who affectionately call her Dr. Kate."
Tomasek pointed out how mentoring has also been a priority for Dr. KuKanich.
"At the Kansas Youth Leadership Forum, hosted by the Kansas Youth Empowerment Academy, she served as a mentor for teenagers with disabilities that are interested in veterinary medicine," Becca wrote. "Within Kansas State University, she has mentored talented undergraduate students in the McNair Scholars Program and socioeconomically and ethnically underrepresented students within the Developing Scholars Program, to encourage graduate and research study."
More information about the SAVMA awards is posted online.
More Headlines
Student joins search for reliable test to confirm marijuana exposure in dogs
Alyson Fitzgerald, fourth-year veterinary student and toxicology student worker, spent the past year collecting blood and urine samples from dogs exposed to marijuana at the Veterinary Health Center at Kansas State University, as well as other veterinary hospitals and colleges across the country.
Click to read ...

Fourth-year student Alyson Fitzgerald checks on samples during one of the testing procedures.

The tests to detect drugs in human urine have been reported to be unreliable in dogs, so Fitzgerald sought to identify the limitations of those tests and come up with a better alternative. Drs. Steve Ensley and Scott Fritz, veterinary toxicologists, and Yuntao Zhang, senior research scientist in the Kansas State Veterinary Diagnostic Laboratory, have been her mentors for this project.
Fitzgerald assisted Dr. Zhang on the creation of an ultra performance liquid chromatography - tandem mass spectrometer (UPLC-MS/MS) method to confirm marijuana exposure in dogs.
"Dr. Zhang and I worked on a sow firocoxib project together using UPLC-MS/MS last summer, and that experience sparked my interest in advanced chemistry equipment," Fitzgerald said. "I find it fascinating that a machine can reliably detect compounds of interest down to one-tenth of a part per billion. This project has helped develop my bench top research skills and has truly pushed the bounds of what I thought I was capable of. Veterinary school has been an immense time of growth for me in many respects, and I am grateful to be at a college where there is outstanding faculty support and dedication to students' research interests."
Fitzgerald said she aspires to become either a criticalist or a small animal internist after graduation, and scientific investigation is an integral part of any residency program.
"I thought this project would offer the opportunity to continue building upon skills I learned in the Veterinary Research Scholars Program (VRSP), such as method development, scientific writing and research communication," Fitzgerald said. "This project and the research I have been involved in at the college have fostered a desire to support the scientific community as part of my future career."

The team from the toxicology lab at the KSVDL: (back row, from left) Dr. Yuntao Zhang, Dr. Scott Fritz and Dr. Steve Ensley. (front) Dr. Geraldine Magnin, Alyson Fitzgerald, Jodee Webster and Paige Hess.

In addition to this project, Fitzgerald has also helped successfully develop and validate a sensitive UPLC-MS/MS method of detecting several human marijuana metabolites in canine serum and urine.
"We hope to offer a test to the public soon through the toxicology lab in the Kansas State Veterinary Diagnostic Laboratory," Fitzgerald said. "The manuscript for this project is in progress."
Additionally, Fitzgerald has been heavily involved in developing a method for brain cholinesterase in several species in the toxicology lab.
Fitzgerald received an award during Phi Zeta Research Day in March for her oral abstract presentation titled, "Detecting and Quantifying Marijuana Metabolites in Serum and Urine of Dogs Affected by Marijuana Toxicity."
Register for Annual Conference for Veterinarians
Due to concerns with COVID-19 the novel coronavirus, this year's Annual Conference will be held remotely. We recognize that this is a vastly different experience from previous years, but we hope that you will explore this new learning environment for 2020!

Due to the nature of remote learning, we will offer 5 hours of CE on May 31 and 5 hours of CE on June 1. Continue to check our website, https://www.vet.k-state.edu/education/continuing/conferences/annual-con20/index.html, for additional information as it becomes available.

10 hours of CE will be offered during the conference. You will also receive access to additional lectures for free for the months of June and July 2020.

Registration for Annual Conference is now open! Click here to register today.

Please stay tuned for details on class reunions!
Student receives

American Veterinary Medical Foundation scholarship
MaRyka Smith, second-year veterinary student, Hoyt, was chosen as Kansas State University's recipient of the Auxiliary to the AVMA Legacy Endowed Scholarship. The $1,000 scholarships are awarded to students at each of the 32 American Veterinary Medical Association-accredited veterinary colleges in the United States, the Atlantic Veterinary College in Canada and St. George's University and Ross University in the Caribbean to support their educational endeavors.
Click to read ...
"Being selected for an Auxiliary to the AVMA Legacy Scholarship helps me not only financially but also serves as a reminder that there is an entire community of veterinarians out there who believe in me and want to help me succeed," Smith said. "That sort of moral support from the AVMA/AVMF is unmatched."
To be eligible a school must be AVMA-accredited and have an active SAVMA chapter. Applicants must be citizens of the United States.

The Auxiliary to the AVMA Legacy Endowed Scholarship is offered through the American Veterinary Medical Foundation, the charitable arm of the American Veterinary Medical Association. Shortly after World War II, the auxiliary started a student loan fund to assist with the hardships facing veterinary families due to injury or death from the war. Despite the tough economic times of that era, the auxiliary was successful in raising money to assist practitioners. The auxiliary's support of the veterinary profession has continued uninterrupted since that time. The foundation is committed to helping offset the cost of veterinary medical education.
Dr. Roman Ganta tours India to build international partnerships
By Piper Brandt

Dr. Roman Ganta, director of the Center of Excellence for Vector-Borne Diseases, visited his home country of India in late February to early March to build partnerships and present research at three conferences and his alma mater. Dr. Ganta's first stop was BioSangam, a conference aimed at promoting innovation in biotechnology to motivate young researchers, held in Prayagraj.
Click to read ...
While there, he gave a keynote seminar on the recent research carried out at K-State by his team, "Sequence determinants spanning -10 and -35 motifs and spacer regions implicated in unique Ehrlichia chaffeensis RNA polymerase activity with its only two sigma factors; σ32 and σ70."
As BioSangam's guest of honor, Dr. Ganta shared his view on how established scientists from India and abroad can promote interactions with new generation scientists.
"BioSangam is a true integration of biological scientists for societal development," Dr. Ganta said. "I was delighted to interact with many scientists from India and other countries who attended the conference."

Dr. Roman Ganta visits his alma mater, Adhra University.

The next stop for Dr. Ganta was the Current Trends in Pharmaceutical and Medical Sciences conference, held in Kashipur, where he was invited to lecture about his recent E. chaffeensis research.
Dr. Ganta then visited his alma mater, Andhra University, in Visakhapatnam, to present "Mutagenesis in Ehrlichia and Anaplasma species aids in studying pathogenesis and vaccine development" to students and faculty.
As an alumnus of the biochemistry department, Dr. Ganta was excited to discuss extending collaborations with the university's administration to promote graduate research and education by exploring the available resources and technology in India. He also assisted in the planning of a golden jubilee celebration for next year.

Dr. Ganta is thanked for giving a presentation at BioSangham 2020.

"It was a very rewarding experience to interact with many young and energetic graduate students aspiring to be scientists," Dr. Ganta said. "It was great to see the pool of graduate students was nearly 80% women. This is a welcome change from my time at the university, nearly four decades ago, where the male-to-female ratio was the opposite!"
In previous collaborations, Dr. Ganta had established a memo of understanding between Kansas State University and Andhra University through which several students have visited K-State for graduate education. The memo of understanding also included a faculty exchange program that supported a College of Veterinary Medicine faculty member visiting Andhra University several years ago.
"It was pleasure for us to have Dr. Ganta in our midst after such a long time," said Dr. Subhashini Devi, head of the Andhra University department of biochemistry.

Dr. Ganta at the Recent Advances in Chemical, Pharmaceutical and Biological Sciences conference in Guntur.

The last stop on Dr. Ganta's tour was the Recent Advances in Chemical, Pharmaceutical and Biological Sciences conference in Guntur, where he served as a keynote speaker and chief guest for the valedictory function of the conference.
Dr. Ganta safely returned to the U.S. before the COVID-19 travel ban was instated. He has since self-quarantined for the recommended two weeks.
Dr. Susan Nelson

shares tips for a bite-free quarantin

e
By Cheyenne Swoope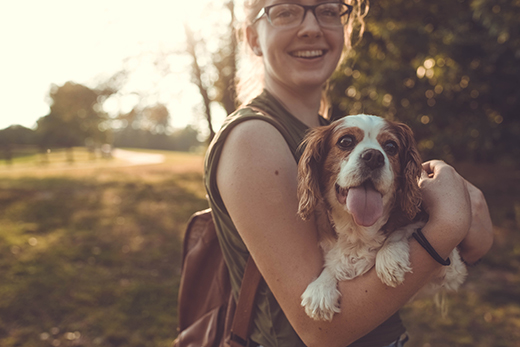 A lot of pets and pet owners have been spending more time together because of COVID-19. But while the extra time together can be fun for both pets and their owners, a Kansas State University veterinarian says that it also can be a stressful time for dogs that results in unusual behavior, including biting.
Click to read ...
According to the American Veterinary Medical Association, there are an estimated 77 million dogs living in the U.S. and 38% of U.S. homes have at least one dog.

"The AVMA also estimates that more than 17,800 dog bites occur every year in the United States, with many of the victims children under 2 years of age," said Dr. Susan Nelson, clinical professor and veterinarian with the K-State Pet Health Center. "According to the Insurance Information Institute, dog bites resulted in homeowner insurance payouts of $796.8 million in 2019. This was a 2.9% increase over the previous year. The national average for insurance claims related to a dog bite is $44,760."

Dr. Nelson has tips for both pets and their owners to stay safe and avoid biting experiences.

"If you have a new puppy, it is very important to socialize it properly as well-socialized dogs are less likely to bite due to fear of strange people or being stressed by being in an unfamiliar environment," Dr. Nelson said. "This needs to happen very early during the first few months of life as this is a puppy's critical formative time. Ask your veterinarian for tips and good resources on how to do this."

Dr. Nelson also recommends using positive reinforcement during training, avoiding rough play between humans and dogs, giving dogs a safe space to enjoy meals where they won't feel threatened by other animals or humans, and giving dogs ample rest time to be away from both humans and other pets.

"Humans are responsible for keeping themselves and their pets safe in difficult situations to avoid bites," Dr. Nelson said. "Assume that all dogs are capable of biting — because they are. Dogs need a safe place where they can go to be alone and not be bothered by people or other pets. This can be in the form of a crate, bed or small room."

Dr. Nelson cautions that children and pets should never be left unattended and children should be taught to never approach an unfamiliar or sick dog, take a treat or food from a dog, or to never crowd a dog in a manner that could bring the animal stress. She emphasizes the importance of making sure all family members are educated on animal safety. This includes respecting the animal's need for privacy.

Finally, Dr. Nelson said it's important to keep dogs current on rabies vaccines.

"Dog bite prevention needs to be practiced year-round for the safety of people, especially our children, and for the benefit of our dogs," she said.
Fourth-year student's externship in Nepal cut short by COVID-19
By Dr. Sara Wilkes

During the summer of 2018, I traveled to Kathmandu, Nepal to spend a month working with the Kathmandu Animal Treatment (KAT) Centre. That trip united my love of veterinary outreach and international travel, as well as encouraging my interest in animal welfare and forensic investigation.
Click to read …

Performing a cranial nerve examination on a puppy with suspected head trauma.

This spring, I was fortunate enough to be able to return there for a fourth-year clinical externship working closely with the Nepali veterinary staff to spay/neuter street dogs as well as perform triage and rehabilitation work for sick and injured patients. Upon my return, I was warmly greeted by the staff and some of the dogs that have come to call the KAT Centre home. It was rewarding to reunite with Dr. Bidur Piya and the staff members from my previous visit, as well as meet the second veterinarian (Dr. Samir Thapa) and new veterinary technicians who have been hired as the center expands its outreach.
What started as a month-long stay was rudely interrupted by the emergence of COVID-19. My stay was shortened to only 10 days, nevertheless I was able to perform several neuter surgeries and assist with spay surgeries, as well as triage and create management plans for injured and sick animals.
Most of the Nepali dog population lives on the street, so these animals are frequently subjected to vehicular accidents, fights and numerous illnesses and dermatologic conditions. Among the highlights of my 10-day stay, I helped to manage the pain and discomfort of a puppy with a dislocated jaw and worked closely to come up with surgical plans for a dog with a ruptured calcanean tendon.

Rupesh, one of the KAT Center veterinary technicians, and me after a long day of surgery.
Unfortunately, many of the KAT Centre patients have suffered severe wound infections prior to arrival due to the transient nature of their existence. Every day at the Centre starts with careful cleaning and assessment of wounds for the inpatients. Cases may range from lacerations to large hot water or acid burns (human-inflicted) or dramatic dog fight wounds.
It is remarkable to see the level of attention and care that is paid to each dog at the KAT Centre and the dramatic changes in the dogs over the first couple days as they realize that they are in a safe place where they will be healed and cared for delicately. Arriving in Nepal and working with these dogs required a dramatic change in my definition of the "human-animal bond."
Growing up with dogs in my house and a keen awareness of our American relationship with domestic animals, it was eye-opening to enter a culture where rabies is a very real threat and influences the ways that humans and animals interact.
It is uncommon to have privately owned dogs in Nepal, although it is becoming more common, thankfully. This does not, however, mean that there is any less care or concern for the well-being of animals within Nepali culture. The KAT Centre receives dozens of calls or Facebook messages daily from concerned citizens who have noticed behavioral changes in the dogs that live near their home.
There is an incredible level of cooperation and care undertaken to get help to these animals. Frequently, people will ride on the backs of motorcycles for miles carrying a stray dog or cat so that they can much-needed veterinary care.
Just as I was settling in, my time in Nepal was cut short due to COVID-19. As the news broke about spread of the virus, I learned I had approximately 24 hours to get out of the country prior to the international airport shutting down indefinitely. I had to choose between continuing my experience or being able to complete my fourth-year rotations and graduate on time.

Dr. Bidur Piya and Jenny, a dog with hind limb paralysis who never lets anything slow her down.


As I rode to the airport in my taxi, I couldn't help looking out the window, realizing this could be my last visit to Nepal for the next few years. On top of my sudden departure from Kathmandu, I was disappointed to learn about the cancellation of my veterinary school in-person graduation due to concerns over transmission of the virus in the U.S. As I contemplated the unique beauty of the city, the Beatles song "Ob-La-Di, Ob-La-Da (Life goes on)" came on the radio and it brought a profound sense of calm and contentment. While this may be a trying time, life does indeed go on.

I am so grateful for the time I was able to spend in Nepal, even though it was cut short. I know it has made me a more compassionate and open-minded veterinarian and I cannot wait to see how it will continue to shape my career and personal values.
Regular features
Alumni Events, Development and Continuing Education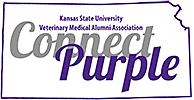 The Veterinary Medical Alumni Association organizes alumni receptions at several of the national annual conferences plus continuing education events and more. This month's section includes the monthly listings of recently departed alumni and links to their obituaries, plus a new link for submitting nominations for Alumni Recognition Awards.
Read more …
Retired Dean Ralph Richardson to receive Dillingham Award in July
The Agricultural Business Council of Kansas City will honor two of the region's leading agricultural figures on July 14 at a luncheon in the Chamber Board Room in Kansas City's historic Union Station. The honorees will receive the Council's highest award, the Jay B. Dillingham Award for Agricultural Leadership and Excellence.
Agricultural Business Council Chairman Greg Krissek notes the honorees are champions for agriculture in separate but very key areas in the region. The honorees are Diane Olson with the Missouri Farm Bureau and Dr. Ralph Richardson former dean of the College of Veterinary Medicine and the K-State Olathe campus.
Dr. Ralph Richardson served as dean and CEO of the K-State Olathe campus for four years after serving as dean of the College of Veterinary Medicine at Kansas State University from 1998-2015. He graduated from Kansas State University's College of Veterinary Medicine in 1970 and served as a Captain in the United States Army Veterinary Corps for two years. He completed an Internship in Small Animal Medicine and Surgery at Purdue University and a Residency in Small Animal Internal Medicine at the University of Missouri-Columbia. After a year in private practice in Miami, FL, he returned to Purdue for 22 years. At Kansas State University, Dr. Richardson was instrumental in establishing legislation that provided debt forgiveness to new veterinary graduates who serve the Kansas livestock industry. He was a member of the inaugural Board of Directors of the Kansas City Animal Health Corridor, and he facilitated the creation of numerous programs at K-State such as the Beef Cattle Institute, the Center for Vector-borne Diseases, the expansion of the Kansas State Veterinary Diagnostic Laboratory, and the building of the National Bio- and Agro-Defense Facility. Dr. Richardson received the animal health industry's lifetime achievement award, the Iron Paw Award in 2015, and the Association of American Veterinary Medical College's Recognition Lecture award in 2016. Dr. Richardson has had a life-long commitment to agriculture, particularly the livestock industry. He was active in 4-H and livestock showmanship from grade school through college. Throughout his professional life he has championed the importance of safe food production, animal welfare, animal health, and public health.
"These individuals have had a positive and lasting effect on our community," said Council Chairman Krissek. "They are strong examples of what being an advocate for agriculture can accomplish."
The event will be held at the Chamber of Commerce Board Room in Union Station beginning at 11:30 a.m. for networking followed by lunch at noon. Visit www.agbizkc.com for more information and to register to attend.
Three-time alum and longtime bovine practitioner Dr. Bruce Wren passes away

Dr. Bruce Wren earned his DVM in 1958, a master's in veterinary pathology in 1962 and Ph.D. in veterinary pathology in 1968. AgriLabs (now Huvepharma) named its $10,000 CE awards the Dr. Bruce Wren Continuing Education Grant in 2010. Multiple K-Staters have received this award.

Dr. Wallace "Bruce" Wren, 85, of Lenexa, Kansas, was born Aug. 1, 1934 in Muncie, Kansas, to Ethel and Wallace Wren. He passed away May 20, 2020. He grew up in Kansas City, Kan. and on the family farm in Ottawa, Kansas. Inspired by his dairy veterinarian uncle Dr. Walter Johnson, Dr. Wren graduated from K-State in 1958 and later obtained a Master's (1962) and PhD in veterinary pathology (1968) there. In 1958 he entered the U.S. Army Veterinary Corps, Ft. Jackson, South Carolina. From 1960 on, Wren worked in a veterinary practice in Ottawa, Kansas, as well as later working in diagnostic labs including his own as well as the Nebraska Veterinary Diagnostic Lab in Lincoln. He also was a technical services veterinarian (livestock) for several animal health companies including Dellen Labs, Pioneer Hi-Bred, Sanofi, Rhone Merieux, Merial and AgriLabs. Upon retirement, he continued to consult in the veterinary industry.
Dr. Wren has been a member of the AVMA, AABP, AASV, AVC (district director and 2018 Outstanding Service Award recipient), AAVLD, AAIV (past president), NMC and state VMAs including Nebraska (past president), Iowa, Kansas and Georgia. From 1983-2000 he served in many roles at the Western Veterinary Conference including board member and program chair. He was a recipient of the WVC Distinguished Service Award (2013); and member of the WVC Food Animal Incentive Award committee which was renamed the Dr. Bruce Wren Food Animal Incentive Award. AgriLabs (now Huvepharma) named its $10,000 CE awards the Dr. Bruce Wren Continuing Education Grant.
Dr. Wren has been a member of the Nebraska Veterinary Medical Association (Past President), Iowa Veterinary Medical Association, Kansas Veterinary Medical Association, Georgia Veterinary Medical Association, American Association of Industrial Veterinarians, Academy of Veterinary Consultants (board member and recipient of the 2018 Outstanding Service Award), American Association of Bovine Practitioners (Honor Roll member), American Association of Veterinary Laboratory Diagnosticians, American Veterinary Medical Association, National Mastitis Council, Western Veterinary Conference in Las Vegas (Board member 1983-2000; Bovine, Equine, Small Ruminant, Swine and Exotics Program Coordinator; recipient of the WVC Special Recognition award; and member of the WVC Food Animal Incentive Award committee recently renamed the Dr. Bruce Wren Food Animal Incentive Award). AgriLabs (now Huvepharma) has named its $10,000 CE awards the Dr. Bruce Wren Continuing Education Grant. He has spoken at numerous local, state, national and international veterinary conferences over the years, and his passion was continuing education for veterinarians. He served as a mentor for many.
On the personal side, Dr. Wren enjoyed all things aeronautic and had a private pilot's license as well as taught flying lessons in Omaha, Neb. He was an avid fan of the Reno Air Races. He enjoyed traveling and worked to become conversational in Spanish to communicate with veterinarians he worked with in Mexico. He was an avid K-State fan.
Dr. Wren is preceded in death by his wife of 65 years, Fran. Dr. Wren is survived by four children, Mark (Shirley) Wren (Portland, Ore.), Leslie (John) Bauer (Dallas, Texas), Russell (Sherri) Wren (Lincoln, Neb.) and Geni Wren (Overland Park, Kan.), two granddaughters, Elizabeth Bauer and Emma Wren, and his brother Lynn (Marsha) Wren, as well as an extended family of nieces and nephews.
In a school paper written by granddaughter Emma Wren from Oregon (2020 K-State grad) when she was in junior high school called "You need to know Eastern Kansas if you're going to find W.B. Wren", Emma wrote: "You need to know how to find your way home the long way. The scenic route is what Grandpa strives for. All roads in eastern Kansas can take me to the same place if Grandpa is driving. Everything looks the same. You need to know the small differences to find your way."
NEW - Submit nominations for Alumni Recognition Awards online
See our new online nomination form to nominate a fellow alumnus for one of our many annual recognition awards, presented at the national conferences: VMX, WVC, AVMA and the Annual Conference for Veterinarians. See full details at the link below.
In Memoriam - Recently Departed Alumni (click highlighted names for obituary)
Dr. Robert Neal Parker, DVM 1961
May 30, 2018
Questions about Alumni or CE events?
Contact:
Tony Ballard
Alumni and Events Coordinator
785-532-4833
tballard@vet.k-state.edu
Sarah Keatley
Event Coordinator
785-532-4528
keatley@vet.k-state.edu

The Clinical Nutrition Symposium for Small Animal Veterinarians, sponsored by Hill's Pet Nutrition, is now available online for free! To access the video, register with Continuing Education Online: http://vet.ksu.edu/onlinece/index.aspx. The symposium can be found under the Small Animal icon.
News Ticker
More activities and accomplishments in the College of Veterinary Medicine:
Dr. Megan Niederwerder was an invited author contributor to the Blueprint issue of National Hog Farmer. Her article, entitled "Foreign animal disease: The risk in feed" was published on May 7, 2020 and can be read here: https://www.nationalhogfarmer.com/feed/foreign-animal-disease-risk-feed
Nine MPH students graduated in Spring 2020. In place of the graduation ceremony and the MPH celebration for students and their families, Dr. Ellyn Mulcahy visited with each student individually over the past two weeks, and the MPH program recorded a graduation video outlining the student projects. Please click on the link for more details: www.k-state.edu/mphealth. Dr. Ellyn Mulcahy was recently interviewed with Dr. Elaine Johannes for an episode of The Extension Files podcast about the partnership between Extension and Public Health in Kansas. https://extensionfiles.libsyn.com/elaine-johannes-and-ellyn-mulcahy-public-health-in-kansas. She also participated in a national project of the de Beaumount Foundation (https://whypublichealthmatters.org/) to highlight public health efforts across the country. Dr. Mulcahy talked about her work with the Flint Hills Wellness Coalition in Riley County, Kansas. https://www.youtube.com/watch?v=wgcMJx85zUI.
Congratulations to Ariel Carruth, DVM class of 2023, who has received funding as a Morris Animal Foundation Veterinary Student Scholar for her research with Dr. Katie Reif in this summer's KSU Veterinary Research Scholars Program titled "Identifying Cytauxzoon felis infections through detection and evaluation of immunodominant C. felis antigens."
Dr. Susan Nelson receive Pritchard Service and Outreach Award

Dr. Susan Nelson was selected to received the 2020 Dr. William and Deanna Pritchard Veterinary Service and Outreach Award. This award was established in 2012 to emphasize the importance of service and outreach to the veterinary profession.
Dr. Nelson has been actively involved with many outreach activities over the years. She has contributed to the success of Everybody Counts, the Kansas State Disaster Animal Response Team (KSSART) during the Manhattan floods in 2019 (serving as a founding member and current contributor, 2011-present), Riley County Health Department's Okt-FLU-ber Fest, Bug-a-Palooza, the microchip clinic for Dog-N-Jog (annually), the Mayor's Spirit of the Holidays Lighted Parade, VetMed ROCKS, GROW events and planning and organization for Operation Santee (2018 and 2019), plus many more for nearly 17 years.
Congratulations to Dr. Nelson for this well-deserved recognition for all of her contributions in the areas of service and outreach as a member of the K-State CVM.
COVID-19 Testing at the KSVDL: New information to share
Working with several partners, within and outside the university, the Kansas State Veterinary Diagnostic Laboratory has moved several pieces of equipment and personnel into the Biosecurity Research Institute (BRI) to conduct human testing. Testing human samples has to be completed in a highly controlled environment to protect the laboratory staff and allow for continued operation of our veterinary testing. You can read about current efforts with human testing here.
Although human testing procedure requirements established by the CDC are very similar to the requirements KSVDL has to fulfill to be accredited by the American Association of Veterinary Diagnosticians, the KSVDL did complete test validation procedures and staff training to perform testing on human samples. The KSVDL rabies human titer testing performed in the rabies section, which is CLIA certified, assisted in getting the human testing established. Another important part was the foreign animal disease planning preparation including training KSVDL personnel at BSL3.
The KSVDL has adjusted operational hours and staffing schedules to assure it can continue to provide all of its normal diagnostic services to its veterinary clients and animal owners.
All laboratory sections, including the KSVDL rabies laboratory, continue to test incoming samples under normal business hours. The KSVDL anticipates only very minor changes to normal test turnaround times.
The KSVDL thanks you for using the lab for your diagnostic needs and appreciates your business! If you have questions, please continue to contact KSVDL at clientcare@vet.k-state.edu or 866-512-5650.
We're expanding our social channels!
Join the College of Veterinary Medicine on LinkedIn and add us to your profile under education and/or employment to help build and engage our online social community! Follow the LinkedIn page here: www.linkedin.com/company/kstatevetmed
New Arrivals/Recent Departures
Click here to see the New Arrivals/Recent Departures at the CVM …
Welcome to:
Seth Brummer, Veterinary Health Center, Veterinary Nurse III
Farewell to:
Penny Crawford, Veterinary Health Center, Client Services Assistant
Dr. Gary Anderson, Diagnostic Medicine/Pathobiology, Professor
Mackenzie Showalter, Veterinary Diagnostic Laboratory, Research Assistant
Dr. Daniel Thomson, Diagnostic Medicine/Pathobiology, Professor
Tanya Purvis, Veterinary Diagnostic Laboratory, Microbiologist III
Lifelines is published each month by the Marketing and Communications Office at the College of Veterinary Medicine. The editor is Joe Montgomery,
jmontgom@vet.k-state.edu.